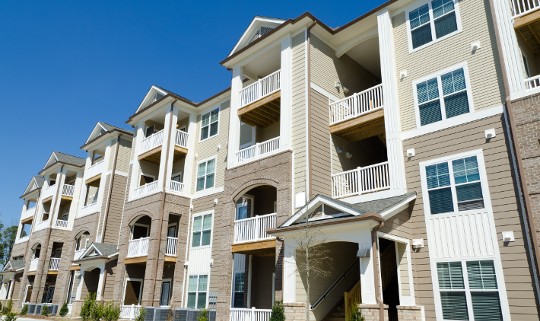 In our last blog post we described the advantages of taking travel nursing company provided housing and offered some tips to consider when accepting a travel nursing company provided Motel/Hotel/Extended Stay. In this blog post, we'll provide some tips for dealing with company provided apartments and offer some basic information on hospital provided lodging.
Tips for Travel Nursing Company Provided Apartments
My experience indicates that many first time travel nurses tend to believe that taking a company provided apartment is a matter of simply agreeing to take a 1 bedroom apartment, no questions asked. However, the apartment can be more complicated than the Motel/Hotel/Extended Stay. Apartments come in all grades, shapes and sizes. Both agencies and apartment properties offer varying amenities. Therefore, you should always inquire for specifics. Below is a list of items for consideration:
1)      Is the company providing an apartment in an apartment complex, or a condo, or a vacation home? You'll want to know in order to set your expectations. Different places come equipped with different things and you need to be prepared. For example, if it's a vacation home or condo, is there a yard and if so is yard maintenance included in the cost?
2)      Is the lodging furnished? What furnishings are included? What size is the bed?
3)      Are house wares included? House wares typically include pots, pans, linens, towels, silverware, a coffee maker, and a toaster. However, it's best to determine what specifically is included.
4)      Is there a microwave? You'd be surprised. Many apartments have not yet been fitted with a microwave and I've had many occasions where we had to add one after the fact.
5)      Is a cleaning package included? Cleaning packages typically include a broom, dust pan, and mop. They may or may not include a vacuum cleaner.
6)      Is a TV included? If you care about TV, you'll want to find out what size the TV will be. Most standard furnishing packages include a 26 inch TV. If you want to hook electronics to the TV such as a computer to watch Netfilx, or a game console, then you should make sure that the TV has applicable hook ups.
7)      How are the utilities, cable, and other bills handled? Some agencies put everything in their name and the traveler doesn't have to do anything. Some agencies require that nurses put the utilities in the their own name and then the agency provides a fixed amount per month as a utility reimbursement. They do this to protect against risks such as the purchase of $500 worth of Pay Per View movies, or leaving the Air Conditioner running on 65 for 30 days straight in the middle of summer.
8)      What's the parking situation? Parking costs extra in many urban areas. Some places have parking garages. Some have open parking lots. Some have assigned parking spaces. Some have covered parking. Some have no parking and you need to find street parking nearby. If this is important to you, then you'll want to know.
9)      Do they accept pets? If they do accept pets, what's the deposit and who's responsible for it, or any additional "pet rent" costs?
10)   Are a washer and dryer in unit, or is there a laundry facility on site? Sometimes there are hookups for the washer and dryer in the unit, but the facility charges extra to supply them, or expects you to bring or rent your own.
The main point in all of this is that you should cover all of these issues with your travel nurse recruiter prior to accepting an assignment if you're going to take a company provided apartment. Ideally, you should let your recruiter know everything you need before agreeing to be submitted for an assignment. Things can move very fast once you're submitted. You may sometimes have an interview and offer in the same day you're submitted.
If you haven't discussed the housing details beforehand, they can become deal-breakers for you. I've had several occasions where these issues became last-minute deal-breakers and that's not a good situation for anyone. You'd be stuck at that point without a travel nursing job. Depending on your financial situation, you may get forced in to accepting the assignment with lodging that does not meet your standards.
So, if you don't discuss housing with your recruiter in detail, then you're taking your chances. It's always possible that a travel nurse company provides something after the fact, but they're not obligated to. For example, you may arrive to find that there is no cleaning package at the apartment and then call the company to request one. They may or may not provide it. Chances are good that they'd provide an item or two, but beyond that, you can expect them to deny further requests. At some point it becomes an issue of costs that the company won't be able to afford. This means that you would have to purchase items out-of-pocket, or go without for the duration of the assignment.
Travel Nursing Hospital Provided Lodging
There is another type of company provided lodging that you should be aware of, hospital provided lodging. I know this sounds funny, but it exists, albeit rarely. In this scenario, the hospital has secured lodging for use by travel nurses. This situation is most common in very remote locations, or in other locations where housing is very difficult to come by. For example, I've often seen hospital provided lodging in some of the more remote parts of Alaska. I've also seen it in expensive resort areas like Aspen, Colorado.
In my experience I have found that hospital provided lodging is typically not glamorous. It can often be more like a barracks than an apartment complex. These accommodations sometimes have communal bathrooms and kitchen areas. They rarely accommodate pets and lack the amenities that typically come with apartments or hotels.
Despite all these potential negatives, hospital provided housing can have its advantages. First, it's not always as described above and can be quite nice and accommodating. It can allow you to take jobs in some really great places. As mentioned previously, hospital provided housing typically exists in locations where housing would be extremely difficult or even impossible to find otherwise. Hospital provided housing can also result in some really good pay rates. Hospitals will typically adjust the bill rate down to factor in the cost of housing, but the resulting bill rate is typically still enough to offer a very attractive travel nursing pay package. In any case, you'll want to approach hospital provided housing the same way you would approach company provided apartments, find out everything you can before proceeding.
http://blog.bluepipes.com/wp-content/uploads/2012/09/travel_nurse_housing_stipend_1.jpg
360
540
Kyle Schmidt
http://blog.bluepipes.com/wp-content/uploads/2013/12/bluepipes-logo-blog-7g7-300x137.png
Kyle Schmidt
Travel Nurse Housing - Company Provided Apartments and Hospital Provided Lodging