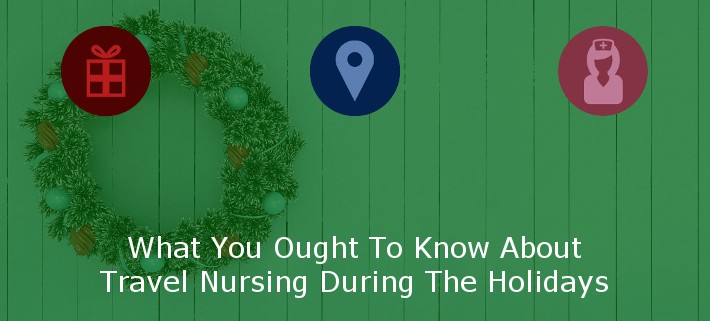 Signing a travel nursing contract in September or October will typically cover the holiday season. As a result, travel nurses need to start considering the holidays a little earlier than most. There are so many potential issues to consider that things get a little overwhelming. In this blog post, we'll provide some tips and insight to help travel nurses get the most out of their holiday contracts and have a wonderful holiday season.
Plan Ahead To Benefit From The Flexibility Of Travel Nursing During The Holidays
Flexibility is one of the many reasons that nurses choose to travel. It's important to remember that flexibility can be an asset during the holiday season. But, you have to plan in advance.
A fairly large percentage of travel nursing contracts flow around the holidays. These contracts start in October and end in early January. Of course, that's the beginning of winter which is when flu season kicks in and Southern states like Florida and Arizona start experiencing census spikes. So, another big round of travel nursing contracts starts and the rest of the year flows from there in 13 week increments. How can travel nurses benefit from that reality?
Find An Assignment In A Location Of Interest
Consider Climate
For starters, you can focus on finding assignments in locations that interest you. As a travel nurse, you could opt for the warmer climates of Florida, Arizona, Southern California and others. Or perhaps you prefer snow and skiing during winter. If so, you can look into Norther California, Colorado, Oregon, or Washington state.
Consider Events
Of course, holidays are for celebrating and there are tons of amazing events all over the country. If you've always wanted to go to the Thanksgiving Day Parade, then look into New York City for your holiday assignment. While you're there, you can attend the tree lighting in Rockefeller Center and the New Year's Eve bash that's watched around the world.
And it's not just New York, of course. Seattle has its annual Winterfest wonderland open between the end of November and the end of December. You could see the National Christmas Tree Lighting and Pageant of Peace in Washington, DC. And the list goes on and on from big cities to small.
If you want to plan an assignment around an event like this, it's important to get an early start. Be sure your state license is in order. Also, make sure the agencies you're working with have contracts in your areas of interest. If they don't, then you'll need to find agencies that do.
Find An Assignment Near Home
One of things we all love about the holidays is that we get to see our family and friends. Being a travel nurse doesn't necessarily mean that you have to miss out on that. You can always try to secure an assignment close to home, or even at home. You can even look into working PRN at home over the holiday season.
Again, make sure the recruiters you work with have contracts in your area of interest. Also, remember that you'll need to pay taxes on all the income you earn if you take an assignment at your tax home.
Find Shorter Assignments
If you really want to be home during the holidays, then you can always try to land shorter term assignments during this period in order to ensure that you're freed up by the holidays. Contrary to popular wisdom, there are some 4, 6 and 8 week assignments available between September and October. You may just need to find an agency that specializes in them. Fastaff and NurseChoice are two such options.
Are Travel Nurses Required To Work The Holidays?
Of course, one of the main questions that many travelers (especially newer travelers) have is whether or not travel nurses are required to work all the holidays. The simple answer is no they are not. However, you will find some contracts that do have this requirement.
Facility Specific Or System Specific
You see, holiday work requirements for travel nurses vary from facility to facility. It's important to point out that many recruiters tell their travelers that it varies from hospital system to hospital system. And there is a very important distinction for travelers to be aware of here.
For example, as a system, the Hospital Corporation of America (HCA) might require that travelers be available to work 2 of the 3 major holidays. But, it's an assumption to believe that every HCA facility maintains this requirement. It's always best to ask during an interview to find out exactly what the policy is.
Common Requirements
In any case, the common requirement is for travelers to be available to work 2 of the three major holidays. The interviewer will sometimes ask the traveler which holiday the traveler would like to have off. In this case, the traveler can make the selection and have it written into their contract. This is great because it allows you to make plans in advance. If you aren't asked which holiday(s) you want off during the interview, then it never hurts to ask if it's an option to get it worked out in advance.
Unfortunately, many hospitals aren't open to this alternative. Instead, they want to give their staff nurses first crack at choosing which holidays they prefer off. This way, they can have the travelers work the holidays with the most need. Either way, it's always important to ask what the policy is if the holidays are important to you.
Scheduling All Holidays Off
It's also possible for travel nurses to request all of the holidays off during an assignment that includes the holidays. There are travelers who always work over the holiday season, but never actually work a holiday. Of course, this stipulation will reduce the number of available options, but it's possible nonetheless.
You Might Want Work All The Holidays
Some travelers actually prefer to the holidays. They argue that the shifts tend to be slower paced and more enjoyable. They also like to get paid the extra money. However, be sure it's worth your time if you're only in it for the money. We discuss what to watch out for with holiday pay below.
What's Considered A Holiday For Travel Nurses?
It's also important for travel nurses to find out how the holidays are defined. Different hospitals define them in different ways. Some hospitals consider Christmas Eve and New Year's Eve holidays. Most of them don't.
More commonly, different hospitals start and end their holidays at different hours. For example, one hospital might start the Christmas holiday with the 7p-7a shift on Christmas Eve and end the holiday at 7p on Christmas day. Others won't start the holiday until 7am on Christmas day and end it the following day at 7am. There are other variations as well, so it's always best to ask about the policy if this is important to you.
Holiday Pay For Travel Nurses
Of course, one of the incentives to work the holidays is increased pay. Employers in general typically pay at least time-and-a-half. However, time-and-a-half for travel nurses can be a bad deal.
You see, "time-and-a-half" is typically based on an employee's taxable hourly base rate. The taxable hourly base rate is only a small portion of a travel nurse's pay package. For example, it's quite common for agencies to pay travelers $20 per hour taxable, with the rest of the compensation package coming in the form of tax-free reimbursements.
In this case, time-and-a-half is $30 per hour. That's only $10 more per hour. Which is only $120 extra for the entire shift.
So, it's important for you to find out how these hours will be paid. Also, it's important to note that agencies aren't necessarily ripping travelers off when they pay for holiday hours this way. Bill rates for holidays and overtime are rarely more than 1.3 times the normal bill rate, so agencies don;t necessarily have a lot more money to pay for these hours. You can review this article on overtime bill rates for more information on this subject.
Bonuses For Travel Nurses Working Holidays
Many agencies recognize that there is little incentive for their travelers to work the holidays given that the only additional compensation they receive is time-and-a-half of their hourly base rate. So, many agencies offer bonuses for working the holidays. For example, Fastaff offered a holiday assignment bonus of up to $2,000 for being on assignment during the holidays and being available to work them.
This is great. However, travelers should watch out for bonuses that aren't really bonuses. You see, many agencies offer "bonuses" that are actually factored into the rate of the contract so they don't really add any value to the pay package. Essentially, the agency isn't taking less money for themselves, they're simply classifying part of the pay package as a bonus. There is nothing wrong or duplicitous about this; it's just something travelers should be aware of.
Fastaff posted their holiday bonus plan on their company blog. As a result, their travelers were able to comment on the blog post. The comments indicate that Fastaff's travelers did not qualify for the holiday bonus if they were also due another bonus on the same contract (a "Loyalty Bonus" for example). This is an indication that the agency is factoring these bonuses into their calculations when developing their pay packages. You can view the blog post and comments here.
In any case, this is one of the reasons that it's so important to consider every last compensation variable when evaluating and comparing travel nursing pay packages. You can check out our popular how to video or our pay category to discover everything you need to know about compensation packages.
Can Travel Nurses Take Time Off During The Holidays?
Another common question travelers have is whether or not it's possible to schedule time off during a holiday contract. It certainly is! Again, different hospitals are going to approach this in different ways. Some are open to it and others are not.
As always, be sure to get this worked out during the interview or even prior to being submitted for the assignment. And be sure that your recruiter is aware of any agreed upon days off prior to sending the assignment confirmation to the hospital. This way, the days off can be added to the confirmation so the hospital can be held accountable.
Also, it's important to remember that missing a full week of work might subject to you additional costs regardless of whether or not an extra week is added to the end of the contract to make up for it. The agency will still be on the hook for costs like housing, medical benefits, and other routine costs. Some agencies will charge for this and others will not.
To avoid this, you can schedule your time off around your shifts. For example, request to be scheduled Sunday, Monday and Tuesday of the first week and Thursday, Friday, Saturday of the following week. This way, you're off 7 days in a row including a full weekend. Be sure to bring this up during the interview if you choose to go this route.
Things For Travel Nurses To Do During The Holidays
Of course, many travelers will find themselves away from home during at least one holiday. In this case, it's good to remember what the holidays are all about. Sharing time with friends and family, enjoying delicious food, exchanging goodwill, and reminiscing about the past year and what's in store for the future are all holiday cornerstones.
Here are some things travelers might consider:
Find others in the same boat and celebrate together. There are tons of travelers out there. You can find them in Facebook Groups, on LinkedIn, on the travel nursing forum on Delphi Forums and many other places. There are also folks in the same boat who aren't travelers. Use MeetUp to find them.
Celebrate another day. Remember, it's not the actual day that's important it's the celebration. If you and your crew can't all get together on the actual holiday, then pick another day that works for everyone and celebrate as usual.
Celebrate with coworkers. Most hospitals are friendly to travelers. Be sure to join in with your co-workers when invited. There is always a good chance that one of them will invite you over for the holiday too!
Volunteer. Volunteering during the holidays is a humbling, nurturing and fulfilling experience.
Schedule a time to call home. If possible, schedule a time to call home when your loved ones will be together. Setting up a Skype chat can help fill the void often left by the absence of family.
Skipping The Holidays
Finally, many travel nurses choose to skip working over the holidays altogether. After all, flexibility is one of the many benefits of travel nursing! If you choose to go this route, then it's important to note that a significant percentage of travel nursing contracts start in early January. In fact, January is usually the busiest month of the year for most healthcare staffing agencies.
As a result, it's a good idea to get your January assignment locked down sometime in December. Waiting too long could force you to take a contract you don't really want or risk missing work for a short yet costly period of time.
We hope you found this information useful and we hope you have a wonderful holiday season! As always, we'd love to hear about your experiences with this topic or answer questions you may have about it. Please post them in the comments section below! And please let us know if we missed something useful!!
http://blog.bluepipes.com/wp-content/uploads/2015/09/travel-nurse-holidays.jpg
360
710
Kyle Schmidt
http://blog.bluepipes.com/wp-content/uploads/2013/12/bluepipes-logo-blog-7g7-300x137.png
Kyle Schmidt
What You Ought To Know About Travel Nursing During The Holidays