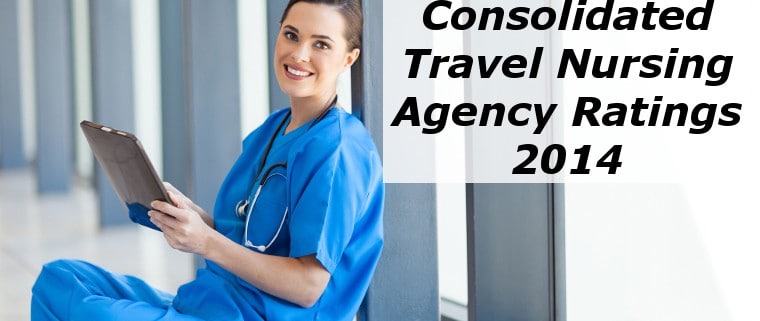 In their quest to find the best travel nursing companies, travel nurses regularly look to the main travel nursing company rating websites. And why wouldn't they? As a culture, we love ratings. And as a travel nurse, you're entrusting so much more to a travel nursing agency than you would to almost any other service.
But like all ratings, travel nurse company ratings should be taken with a grain of salt. We've discussed the issues to consider when utilizing travel nurse agency ratings in a previous blog post, so we won't rehash them here. With that in mind, we have compiled the ratings from three of the top agency rating websites into one cumulative average. We looked at the ratings from Travel Nursing Central, Highway Hypodermics, and Travel Nursing Blogs, created some super nerdy math formulas, and ran the calculations. The results are below.
Again, take these ratings with a grain of salt as you would with all other rating systems. On the down side, each rating system measures agencies differently, so combining them could make the results ambiguous. On the plus side, there's a higher number ratings for each company, because we've combined the ratings from 3 different sites. Additionally, there are more agencies rated on this list because some sites included agencies that other sites did not. Finally, the cumulative average helps nurses measure how an agency performs across the spectrum of categories rated by all three rating systems. The highest possible rating is 100. All ratings were conducted on or before March 21, 2014.
As an added benefit, we have highlighted the the agencies who are simplifying travel healthcare for travel healthcare professionals by accepting BluePipes job applications, resumes, and skills checklists. This greatly reduces the paperwork burden for travelers, helps them get submitted quicker to the jobs they want, and ensures that their personal contact information is not sold to third parties. Learn more about how BluePipes can help you manage your travel healthcare career more effectively and efficiently.
We have many travel nurses using BluePipes and the feedback has been overwhelmingly positive. We know there are many agencies accepting BluePipes documents and we just started the process of verifying directly with agencies on 3-24-2014. We already have a big list and it's growing quickly!!
Complete List of Travel Nursing Agency Ratings

http://blog.bluepipes.com/wp-content/uploads/2014/03/travel-nurse-company-ratings-2014.jpg
360
760
Kyle Schmidt
http://blog.bluepipes.com/wp-content/uploads/2013/12/bluepipes-logo-blog-7g7-300x137.png
Kyle Schmidt
Travel Nursing Company Ratings - 2014