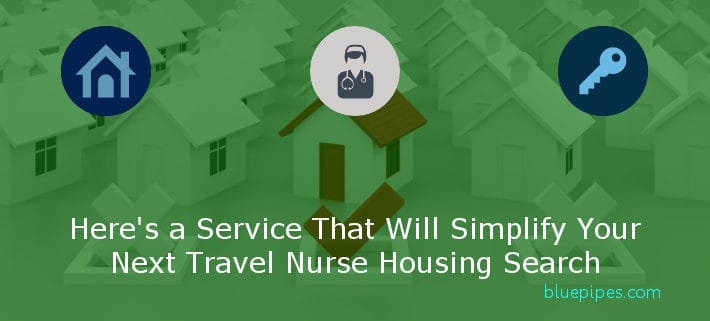 Securing adequate housing is one of the biggest challenges involved with travel nursing contracts. The typical contract duration and the financial constraints of the bill-rate make it difficult to secure housing that is desirable, safe and affordable in many markets. Of course, there are tons of services out there from Craigslist to corporate housing services, but none of them are necessarily designed to handle the unique challenges of travel nursing. So in this article, we'll take a close look at a company that is making great strides at resolving these unique challenges, FurnishedFinder.com.
The Challenges of Travel Nurse Housing
Time and Travel Nurse Housing
Several factors combine to make travel nurse housing uniquely challenging. The first factor is contract duration. The typical travel nursing contract is for 13 weeks. This time period is too short for a lease. Most landlords and apartment complexes require minimum lease periods of 6 months, with 1 year actually being the most common. As a result, it's often very time consuming to find housing options that are willing to accept the typical length of stay for travel nurses.
The time period is also too long for most hotels. Most people understandably don't want to live off room service and take-out food for more than a couple of weeks. Plus, hotels have all sorts of issues, from parking to privacy, that we're willing to put up with short-term, but can be totally off-putting long term.
Travel Nurse Housing Cost
Perhaps more importantly, hotels are typically much too expensive for travel nursing contracts. The typical bill rates for travel nursing contracts are such that the budget for housing is barely enough to cover the average cost of a rental in the area while still leaving enough for the traveler to realize an adequate wage. And most hotels are 2 to 3 times the cost of a rental. Meanwhile, most apartment complexes that accept short-term leases tack on an additional fee. And of course, you have to furnish the place which adds an additional set of expenses.
Ultimately, the cost of housing is a major challenge for travel nursing contracts. Unlike typical corporate housing customers, travel nurses need to find a good deal on housing in order to make decent money on their contracts. This means that additional costs for things like short-term stays are typically deal breakers.
Fraud Risk and Travel Nurse Housing
In addition to time and cost, the distance between the housing and the traveler also poses a challenge. This is because the distance is typically such that the traveler won't be able to physically visit the location in advance. This means the traveler can't get a feel for the area.
It also increases the potential for fraud. There are tons of scammers on websites like Craigslist. They are often successful at getting unsuspecting users to send them money and then go dark.
These challenges cause a lot of trouble for travel nurses and travel nursing agencies. The problem is that the issues are unique to such a small subset of the population, travel healthcare professionals, that most housing services don't go out of their way to address them. So, how is FurnishedFinder.com working to address these issues?
How FurnishedFinder Solves Travel Nurse Housing Problems
Simplified Travel Nurse Housing Search
FurnishedFinder solves the problems related to contract duration in several ways. First, the website only lists properties that are willing to accept minimum stays of 90 days or less. This means that every property you see on FurnishedFinder meets the duration requirements for the standard travel nursing contract. This saves a ton of time in the search process.
Second, FurnishedFinder has a "Housing Request" feature. The feature is free for travel nurses. It lets you enter details about the housing you're looking for. The information is presented to property owners who have properties listed in the identified area. The property owners can then contact you with their available options. Again, this could save tons of search time.
FurnishedFinder also employs "Housing Coordinators" to assist with the process. Housing Coordinators act as matchmakers between property owners and travelers. They call property owners to confirm availability and work to match travelers with the best housing options based on the travelers' search criteria. Essentially, they have a support team working behind the scenes, and in some cases directly with travelers, to help speed up the process, ensure a good match and provide an excellent experience.
No Middle-Man Fees
While saving time is great, cost is often the main sticking point when it comes to travel nurse housing. The founders of FurnishedFinder realize that. As Co-Founder Brian Payne put it:
Corporate housing companies think that travel nurses are cash cows, but nothing can be further from the truth! Stipend nurses, by definition, always work on a budget which is why Furnished Finder doesn't mark-up rent or charge booking fees. In fact, our services are always totally free for the travel nurse.
You see, the "Corporate housing companies" Brian is referring to typically make money by marking up the price of the property and passing that cost to the renter/customer. In most cases, the customer doesn't mind because the customer is some huge corporation renting a place for one of their permanent employees. The corporation is happy to pay the steep prices in order to outsource the entire process to the Corporate Housing Company.
But, as FurnishedFinder understands, that doesn't work so well in the travel nursing industry because the cost of housing ultimately comes out of the traveler's pay package. So, FurnishedFinder enables property owners and travelers to book directly with one another instead of through a middleman. They offer property owners what is commonly referred to as a "freemium" service. This means property owners can access some features for free and they can pay a premium price to access an additional set of features.
The free service allows property owners to list their property on FurnishedFinder. This is great for travel nurses because it increases the number of properties listed on the site. The free listing service also includes placement on the website's property-listings map, the ability to upload 2 images, and the ability to receive inquiries from interested travel nurses.
Essentially, the free service allows property owners to passively advertise their property and field incoming inquiries. This is wonderful for travel nurses because it creates a platform with searchable properties that meet their specific needs. In our view, this resource should be utilized for every travel nurse housing search.
The premium listing service provides property owners with additional features that allow them to actively market their properties to travel nurses. For example, premium subscribers receive the Housing Requests that travel nurses fill out. They can then proactively contact the travel nurse to pitch their property. Premium subscribers can also customize the headline on their listing, add more photos to show off their property and respond to reviews entered by renters on the website. FurnishedFinder also gives premium subscribers a preferred property certification on the listing and markets the property to staffing agencies they've partnered with.
The price of the premium subscription is only $99 per year for single units and $250 per year for apartment complexes and hotels. That's a great deal! And the most important thing is that there are no fees for travel nurses. There are no booking fees or markups. As a result, the cost of housing secured through FurnishedFinder ends up much lower than you'd find through the typical corporate housing services.
FurnishedFinder has several additional features and mechanisms that can help save travelers time and money. For example, they've partnered with Express Furniture Rental to provide discounts to travelers when the accommodations are unfurnished. They've also partnered with IHG to provide discounts on hotel stays at IHG properties. Those properties include Holiday Inn, Staybridge Suites, and Candlewood Suites. Finally, if travel nurses want to rent their own properties out to other travel nurses, then they can access FurnishedFinder's premium service for free.
Fraud Prevention for Travel Nurse Housing
In addition to the time and money saving features, FurnishedFinder also offers a layer of support for fraud protection. The company subscribes to the largest database of county records. These records include property owner names and other property specific information. FurnishedFinder provides these reports to travelers for free.
What's more, FurnishedFinder will provide these reports even if the property isn't listed on their site. To request a report, simply follow this link to FurnishedFinder.com. A sample report is below.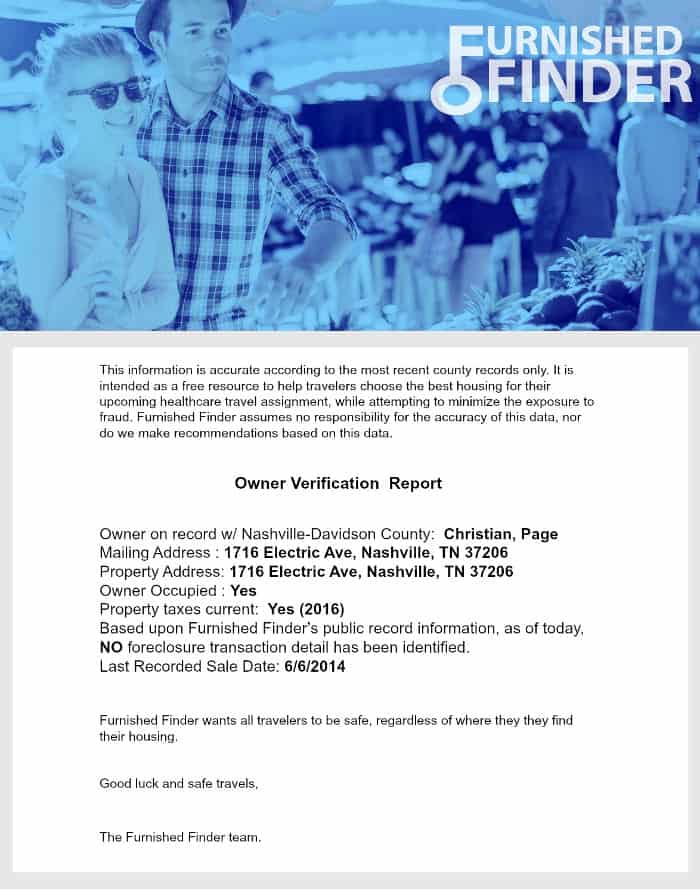 This is a nice feature given the level fraud and the vulnerable situation that travelers are in. In fact, FurnishedFinder conducted a survey which found that over 33% of travel nurses reported they had been scammed or almost scammed at one point in their career. And nearly 50% of travelers reported  knowing at least one person who had been scammed on Craigslist.
FurnishedFinder Reviews
FurnishedFinder was launched in 2014. Since then, they've added a huge inventory of housing to their service. They've partnered with many agencies who use the service to help them find housing for their travelers. And thousands of travelers have used FurnishedFinder to help them find housing. The feedback has been overwhelmingly positive. Here are some examples:
Just used Furnished Finder for the first time to find Seattle housing and had a great experience!! Didn't realize how they are specifically for traveling healthcare professionals and will do a FREE verification of ANY property (even if it's not on their website) to prevent travelers from getting scammed!! Love it. (FaceBook, 2017)
–
I have used FurnishedFinder for my last couple of assignments. It makes my life easier and the accommodations have always been in great areas with everything you need and more. I highly recommend them. (Facebook, 2016)
The unique aspects of travel nursing put it in a tough spot when it comes to finding adequate housing. FurnishedFinder is a service that takes those unique aspects into consideration to provide a unique solution. It's important to realize that the service is essentially a marketplace with property owners on one side and travel nurses on the other.
The cool thing about marketplaces is that they can generate feedback loops. For example, the more travelers that use the service, the more property owners that use the service…and the more property owners, the more travelers. In other words each side of the equation gets more value out of the service, the more that they use the service. So, if you think FurnishedFinder is on to something, like we do, then you should definitely make it one of your top services for securing travel nurse housing.
http://blog.bluepipes.com/wp-content/uploads/2017/05/furnished-finder-travel-nurse-housing.jpg
360
710
Kyle Schmidt
http://blog.bluepipes.com/wp-content/uploads/2013/12/bluepipes-logo-blog-7g7-300x137.png
Kyle Schmidt
Here's a Service that will Simplify Your Next Travel Nurse Housing Search