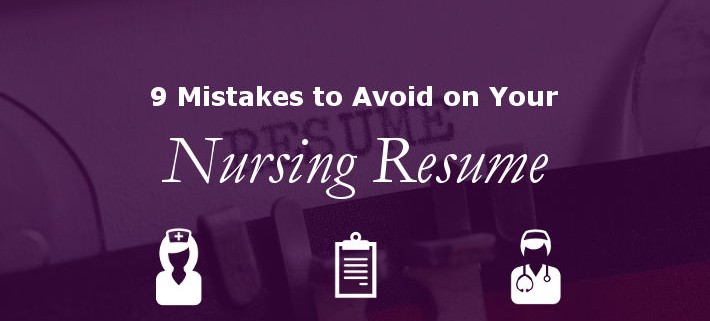 Writing a great nursing resume is no easy task. Nurses have more to consider than the average professional and general resume tips often don't apply to nursing. As former nursing recruiters, we reviewed thousands of resumes. In this blog post we'll share 9 common mistakes we came across and provide specific nursing related recommendations to fix them so you can write an excellent nursing resume.
Mistake #1: Not Optimizing Your Nursing Resume for the Job and Applicant Tracking System
We're beginning with resume optimization because it's something you should be thinking about before you write your resume. In fact, optimization should guide your entire resume writing process. But what does it mean to "optimize" a resume?
Optimizing a resume means matching its contents to the particular job posting it's being submitted for. Failing to do this is a big mistake because the applicant tracking systems that employers use to screen their candidates have features that rank applicants based on how well their resumes match the job description. And the vast majority of healthcare employers use applicant tracking systems.
That said, it's also important to note that many healthcare employers don't utilize the applicant ranking features available in applicant tracking systems. However, as a candidate, there is no way to know if your resume will be ranked or not. It's better to be safe than sorry and make sure your resume is formatted for the ATS.
We routinely saw qualified candidates get ranked much lower than they could have been if they would have optimized their resumes. As a result, other candidates were given priority for interviews. Please review this blog post for a detailed explanation on optimizing your resume for applicant tracking systems.
Mistake #2: Using One General Nursing Resume for All Jobs
Using one general resume is a very common mistake that professionals in all fields make. There is a tendency to believe that your profession is the same the world over. However, this isn't true. For example, even Registered Nursing jobs for the same hospital unit can vary greatly from one facility to another. For example, ICUs at two different hospitals might deal with different types of patients. They may use different types of equipment. Or, they may utilize different computer charting systems. Therefore, creating a unique resume for each specific job posting is advised.
Of course, you're probably wondering why we're including this given that we just told you to optimize your resume for each job and by doing so you won't have one general resume. But creating a unique resume goes deeper than optimizing your resume for a job posting. You see, many applicants know that they should optimize their resumes. So if there are many candidates for one job, which there often are, then the employer may receive several optimized resumes.
To make your resume unique, you should do additional research on the employer to find pertinent details and issues that you might be able to address on your resume given your specific skills and experience. Find out what computer charting system they use, what initiatives they have implemented recently, what their publicly stated goals and challenges are and address them on your resume if you have experience with them.
That said, you also need a general resume. You need it for networking events, job fairs, and to have a resume to pass along quickly should one of your professional contacts request it. Just don't use it when you're applying directly to an open job.
Mistake #3: Using an Objective Instead of a Summary
You are sure to find debate over whether it's better to use an Objective, a Summary, or neither on your resume. However, we think it's well established that the Objective statement is totally out while a Summary is perfect for nurses.
Objective statements are a way to describe what you're looking for and what your goals are. On the other hand, Summaries are for describing what you can do for the employer and we're firm believers that your initial communication with employers should be about what you can do for them not what they can do for you.
Summaries are perfect for nurses for several reasons. First, they give nurses an opportunity to actually list skills applicable to the job in question. And, as we'll discuss below, conventional wisdom favors listing accomplishments and frowns on listing skills. However, nursing is unique in that employers often need to know that candidates possess a list of specific skills. So a summary presents an opportunity to list pertinent skills along with major career achievements in one location at the top of the resume to start the resume review off on the right track.
Second, the summary allows you to consolidate years of experience. This way, you can clearly convey that you meet the minimum qualifications to both the applicant tracking system and the readers of your resume. For example, if a job requires 5+ years experience caring for patients in an ICU setting and you have a total of 7 years between two employers, then you can state that you have 7 years of ICU experience in your summary. This way, readers and applicant tracking systems don't have to piece it together for themselves which they often fail to do.
Finally, if you really want to include an objective statement, it can easily be added as part of your Summary. Please read this blog post for more information on writing a great Summary.
BluePipes: Professional Networking and Career Management Tools for Healthcare Professionals
Mistake #4: Not Including a Cover Letter When Possible
We routinely received resumes without an accompanying cover letter. You should always include a cover letter unless the job posting recommends otherwise or the applicant tracking system prevents you from doing so. It's not that you will never get an interview if you don't include a cover letter, but your chances will be reduced.
As you may have already noticed, we're recommending that you cover a lot of bases when you apply to a job. Nursing is unique in this way because the jobs can have a laundry list of skills and requirements. At the same time, you want to keep your resume at a reasonable length. So the cover letter presents an opportunity for you to cover bases that you're not able to cover on the resume. Additionally, it's your best opportunity to differentiate and really sell yourself. Check out this post on creating an amazing nursing cover letter for more information.
Mistake #5: Using a Resume Generator with Scripted Text
Scripted cookie-cutter text has become a big problem in recent years with the advent of online resume generators. Sites like LiveCareer, ResumeGenius and many others pitch a seemingly amazing offer. Join their service, select one of their pre-formatted resume templates, and use their massive library of professionally written resume phrases to quickly create an amazing resume. It sounds great on the surface, but there are two major problems with these services.
First and foremost, the value of the scripted resume phrases is questionable at best, especially for nurses. These services claim that the phrases are optimized for applicant tracking systems. That's nearly impossible considering how unique each job posting is. Moreover, the vast majority of the phrases are applicable to general jobs not nursing jobs. Unfortunately, many users buy in to the claim that these phrases will work for resume optimization and end up with a poorly optimized resume.
Additionally, the claims of resume builders tend to convince candidates that it's okay to use one general resume for each job posting. Moreover, these resume phrases are becoming commonplace and therefore make your resume appear the same as everyone else's. Perhaps most importantly, most of the phrases are "duties driven" as opposed to "results driven". Which is a problem that we will discuss further below. All of this means that resumes created using these services tend not to include the unique achievements and details that will set you apart from other candidates.
Second, resume builders compromise your personal contact information and therefore your privacy. You see, one of the main revenue streams for resume builders is the sale of personal contact information and other data. And because this is your resume, you tend to enter ALL of your contact information. Moreover, nursing contact information is very valuable. It has a high resale value. If you choose to use a resume builder, be sure to check their privacy policies prior to joining.
Mistake #6: Not Providing Details about Your Previous Healthcare Employers
I recruited for permanent, travel and PRN jobs when I worked for a national healthcare staffing agency. The hiring managers routinely required various details about a candidate's previous employers to be present on the resumes of the candidates we submitted. If the details weren't there, then the manager wouldn't even consider the candidate. This is an undeniable signal that such details are important.
These details included things like the trauma designation, teaching status, total number of beds, and the official facility-type. They also included the number of beds in the unit and other unit specific details. It's highly recommended to include such details and you will even notice them in the job advertisements that companies post. We discuss these details at length in our blog post on the Top 10 Details to Include on Your Resume.
Mistake #7: Writing Poor Nursing Job Descriptions
Some experts consider job descriptions to be the most important part of a resume. Writing great nursing job descriptions can be really difficult. On the one hand, current conventional wisdom says to list accomplishments and results as opposed to skills and duties. It also says to quantify everything as opposed to offering general qualitative information. On the other hand, nursing job descriptions often require specific skills. And much of a nurse's job is to complete various duties.
The bottom line is that nurses need to deliver on all points. This means tying your skills and duties in with quantifiable results and accomplishments. For example:
Achieved readmission rates of 25% less than hospital average through excellent patient and family education in an OR that handled 500 cases per month including trauma, general, orthopedic, gynecological, neurological, vascular and plastics cases.
OR
Received X Award for excellent patient and family education in an OR unit that handled 500 cases per month including trauma, general, orthopedic, gynecological, neurological, vascular and plastics cases.
We understand that many nurses are not fond of the trend toward a data-driven healthcare system. For example, a recent poll found that 75% of nurses felt pressured to positively influence patient surveys. They expressed concern that this was making their patient interactions sound artificial and scripted. Many nurses we spoke with were uncomfortable including such details on their resumes or didn't know where to find such information.
We believe that nurses' concerns are legitimate. Unfortunately, this trend is here to stay. It exists in all industries. It's also directly tied to every healthcare employer's bottom line. Patient satisfaction surveys are tied to reimbursements. Achieving Magnet Recognition is reliant on data. And there are many other examples of how and why these things are important to employers.
To find your own quantifiable data, start with job evaluations from your current and previous employers. Ask your current and previous employers for the data if it isn't included in your evaluations. As a last resort, you can try to track quantifiable details on your own if your employers aren't able to provide it.
Mistake #8: Being too Modest
Our experience working with nurses on their resumes indicates many are concerned that highlighting their key achievements and accomplishments will be perceived negatively as bragging. Some even harbored a belief that all nurses are equal by virtue of being licensed as such. As a result, they have a difficult time with self-promotion.
I certainly sympathize with that. It's difficult for me to even make my name public as the author of this blog. Unfortunately, self-promotion is exactly what job searches are all about. You must list key achievements and accomplishments, quantifying them when possible, under each resume heading. This is what separates you from the pack. So don't be afraid to include your 3.90 GPA, or the fact that your patient satisfaction scores were over 90%.
Mistake #9: Poor Review and Formatting of Your Nursing Resume
The recommendations for fixing this particular mistake are not specific to nursing. However, we had to include this because our review of nursing resumes revealed a pronounced problem with these issues. We're going to list these out in order to simplify them:
Check for spelling and grammar errors: Spell-check is not enough. It will miss things like an "an" that should be an "and" or a "form" that should be a "from". Have a friend or family member review. Or, post the resume in an online nursing forum and ask the community to review it for you. Nurses are a wonderfully helpful group!
 Use bullets instead of paragraphs: Reviewers get stuck on paragraphs. Bullet points help reviewers scan information quickly. This way, they will get through the entire resume.
Don't list dates first: For work history, list the employer first, followed by the job title, and then the dates. The idea is to list these items in order of importance. You'll find some sources that recommend the job title to be listed first, but there is some evidence that this can confuse some applicant tracking systems. So proceed with caution. But whatever you do, don't list the dates first. The same can be said for your education.
Minimize abbreviations:  It seems like everything has an abbreviation in healthcare. Use them if you must, but be mindful of the fact that applicant tracking systems may not recognize them.
Don't mention references: There is no need to mention references. There is no need to include "References available on request."
Finally, any time we discuss nursing resumes and job searches, we are compelled to remind our readers that networking is the single most successful way to land a new job. Your resume is certainly important. You want it to be great! However, 70%-80% of all jobs are obtained through networking. So don't spend all your time searching for and applying to jobs online.
Instead, focus on networking. That's why we built BluePipes as a professional network specifically for healthcare professionals. This way, we're able to provide valuable career resources to nurses like a profile that can be printed as a resume, comprehensive skills checklists, and a secure document storage and delivery system all for free.
We hope you found this information helpful. As always, we'd love to hear your experience, questions and comments on this topic by posting in the comments section below!
http://blog.bluepipes.com/wp-content/uploads/2015/01/9-mistakes-avoid-nursing-resume.jpg
360
710
Kyle Schmidt
http://blog.bluepipes.com/wp-content/uploads/2013/12/bluepipes-logo-blog-7g7-300x137.png
Kyle Schmidt
9 Mistakes to Avoid on Your Nursing Resume