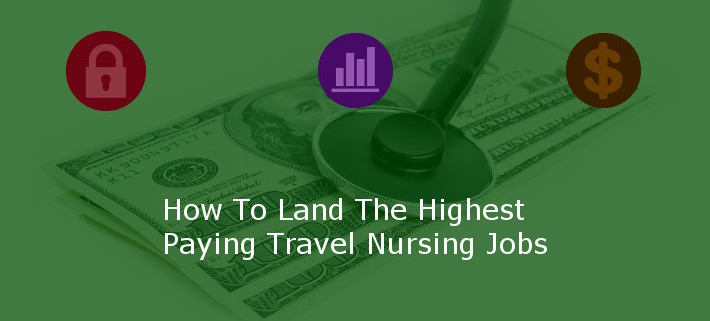 Many travel nurses and agencies tout the high pay of travel nursing jobs as one of the top advantages of travel nursing. However, the pay for many travel nursing jobs is actually in line with the regional average pay for nurses once all of the costs have been calculated and an apples-to-apples comparison has been conducted. But that doesn't mean there aren't any high paying jobs out there. Indeed, there are some very high paying jobs out there. In this post, we'll provide some general information on high paying jobs as well as some insight on landing these elusive assignments.
The highest paying travel nursing jobs generally fall into three categories. There are strikes, crisis rate assignments, and bonus assignments. Please keep in mind that these categories aren't set in stone. There maybe some overlap, and there may even be other variations. However, by categorizing high paying assignments this way, we can cover the major differences and nuances which will help you understand what you're in for when securing and working them.
Travel nursing bonus assignments
We've covered bonus assignments in a previous post and you can read about them in detail here. To recap, it's important to understand what strings are attached to the bonus payment. It's also important to look at the full value of the compensation package being offered to make sure that it's really a bonus and not some sales gimmick designed to reel you in. If it is indeed a real bonus assignment, then you can rest assured that it will be more competitive to land the assignment due to increased demand for the additional money.
Discover why travel nurses are calling us their "secret weapon".
It's important to note that vast majority bonus assignments these days offer completion bonuses as opposed to sign-on bonuses. It's common for completion bonuses to require that every single hour of the contract be worked in order to qualify. So, missing a shift is a disqualification.
Moreover, many agencies will include a clause in the travel nursing contract stipulating that the bonus will not be paid to the traveler until it's paid to the agency by the hospital. This could cause a serious problem for the traveler. Hospitals sometimes take forever to pay their bills. It's not uncommon for it to take up to 6 months for the agency to receive the bonus payment.
Travelers should always attempt to insert a payment deadline of their own in their travel nursing contract. For example, you could inquire about the contracted payment terms that the agency has with the hospital. For example, it might be "Net 60", which means the payment is due in 60 days. Ask for the same terms to be in your contract. That way, you can get paid and let the agency take the hit for their incredulous client hospital.
How Much Are Travel Nursing Bonuses
When offered, most travel nursing bonuses are between $2,500 and $5,000 for a 13 week assignment. During very tight labor markets, it's possible to see bonuses of $10,000 for a 13 week assignment. The Highest bonus I've ever seen was $15,000 for a First Assist CVOR RN. Clearly, the hospital needed this individual to generate revenue.
Free eBook: How To Negotiate Travel Nursing Pay
Finally, it's important to note that bonuses typically have an extra cost associated with them that diminishes the value for the travel nurse. You see, employers are required to pay their share of the payroll taxes on bonuses. Therefore, the agency will typically take this cost out of the bonus before paying it to the traveler. This typically amounts to roughly 10% depending on the state you're working in. So a $5,000 bonus may really be a $4,500 bonus when all is said and done.
Strike nursing contracts
Most people don't think of Strikes as travel nursing jobs, but that's indeed what they are in most circumstances. When a hospital's employees go on strike, the hospital must bring in temporary staff to cover the load. The temporary staff must be experienced, licensed and credentialed. Therefore, much, if not most, of the temporary staff that hospitals utilize to cover strikes come from great distances. There simply aren't enough licensed and experienced healthcare professionals in the general vicinity to handle the load.
Hospitals offer healthcare staffing agencies an exceptional bill rate to handle the coordination. Agencies must be able to cover recruitment expenses, travel expenses, housing expenses and credentialing expenses, and still have enough left over to offer a pay rate that's enticing enough to attract enough healthcare professionals to rearrange their schedules and travel long distances to get the hospital fully staffed.
Create your free Travel Nursing Resume on BluePipes!
Moreover, there is almost always a payment guarantee that ensures that agencies and the healthcare professionals they're working with don't get stiffed if the strike is canceled at the last-minute. For example, the contract between the agency and hospital may stipulate that a portion, or even all of the billable revenue is due to the agency if the strike is not officially cancelled by one week prior to the scheduled start date. As a result, the agency typically puts a similar guarantee in it's contracts with nurses.
Pay for Strike Nursing
So, what kind of pay rate are we talking about? I have seen hourly pay rates as high as $80 per hour for Registered Nurses, and that's after the agency has covered the housing and travel costs. So the travel nurse stands to receive $2880 in gross pay for working a 36 hour week. Again, that's the highest I've seen and there maybe higher. My experience indicates that travel nurses will almost always receive more than $2100 in net pay for working a 36 hour week when covering a strike. It's important to note that most of my strike experience is in California.
What to Expect When Working a Nursing Strike
The main thing to understand about strikes is that they're kind of a mess. This is understandable. The agency and hospital are essentially finding, credentialing, training, scheduling, and handling the travel arrangements for an entire regiment of nurses. And they're typically doing all of this in a very short amount of time. Strikes may get scheduled well in advance, but everyone knows that strikes are called off more often than not. So agencies and the healthcare professionals they work with must hold off on devoting resources until the strike appears eminent.
Join thousands of travel nurses on BluePipes.
And herein lies the rub for travel nurses interested in working strikes. They must have their documentation in order and ready to go at the drop of a hat. Hospitals are adamant that all paperwork be accounted for before the nurse steps on the floor. I routinely witnessed nurses miss out on these opportunities due to missing paperwork.
There are other considerations when it comes to working strikes. First, you'll be receiving a very limited orientation to the unit. On some occasions, you will get oriented in advance. In this case, you maybe flown out to the location well in advance for orientation and then flown back home to wait for the strike to start.  Of course, you'll be paid for your time at the orientation. Advanced orientations are always best for the nurse. However, in many cases, the orientation is done just before the strike is scheduled to start. In these cases, you'll start working the strike just after the orientation is completed.
Second, you can expect your travel arrangements to be very rushed. Your flight may arrive just in time for you to make it to the destination and your departing flight may be scheduled shortly after your last shift ends. You may have to share lodging accommodations which are typically provided in an Extended Stay or similar hotel.
Third, you'll have a limited amount of time to complete the hospital specific and agency documentation. This includes obtaining your state nursing license which should be secured in advance even when the state has a walk-through process. Fourth, you'll be expected to be very flexible with regard to shifts and float policies.
Tired of filling out skills checklists? They're free on BluePipes.
Finally, it's important to know that strikes are highly unpredictable. They're cancelled more often than not. Relying on them for steady employment is ill-advised. As a result, there are a limited number of agencies who work with them. Here is a partial list for you to consider:
Crisis rate travel nursing assignments
Crisis rate assignments are another type of high paying assignment. Don't let the name fool you though. Although "crises" can certainly happen, they typically don't. This is just a term used in the contract between hospitals and the agencies they work with to describe a rate that is higher than the normal rate and initiated at the hospital's discretion for a particular assignment or group of assignments. Hospitals can initiate the crisis rate for any number of reasons including a spike in census, opening a brand new unit, coverage during staff training, and difficulty finding a candidate with a unique skill set among other reasons.
BluePipes: Professional Networking and Career Management Tools for Healthcare Professionals
The bill rates for crisis rate assignments can be anywhere from $5 per hour to $20 per hour higher than the standard rate for a given hospital. That means the agency has a lot more to offer the travel nurse. It's common for agencies to pay nurses $60 per hour blended, or $40-$45 per hour plus free housing, for working crisis rate assignments.
Beyond the higher pay, crisis rate assignments are typically like any other assignment. However, they have a greater tendency to have firm requirements on start and end dates. Moreover, they tend to be highly competitive to land. Who doesn't want to work for higher pay, right? Also, recruiters tend to focus on filling crisis rate assignments because the higher bill rates tend make for an easier sale and a higher commission for the recruiter.
Once again, this all means that you'll need to be ready with your documentation to stand a greater chance at landing these high paying assignments. As you can see, this is becoming a recurring theme. The high pay increases interest which decreases the time to fill the position, so having paperwork on the ready is a must. This means having all your documentation ready to go when needed.
Tips For Getting The Highest Paying Travel Nursing Jobs
Controlling your documents
Typically, the first set of documents that an agency will need to get you submitted for a crisis rate assignment, or any assignment for that matter, is commonly referred to as a "Submission Profile." The standard "Submission Profile" at a minimum includes a job application, a resume, and a skills checklist for the specialty in question.
If you already have these documents completed with an agency that's offering a high paying assignment, then you're in luck. However, as a travel nurse, you'll never really know which agency is going to have access to the highest paying jobs at any given time. And there are over 300 agencies nationwide, so working with all of them is unrealistic.
The easiest way to manage your travel nursing career.
We conducted a poll and found that 90% of travel nurses do not like filling out applications and skills checklists. We presented this information at the 2014 Traveler's Conference and one traveler commented, "You mean 10% do like filling those things out?" That a got a good laugh from the audience.
Well, you can use BluePipes to solve this problem and gain control over your own submission profile. BluePipes offers everything a travel nurse needs to create and control their own submission profile. The BluePipes professional profile can be printed as a resume and job application complete with all of the standard employment signing statements. BluePipes also offers skills checklists and other documents that maybe potentially required.
BluePipes also has a document storage system that allows travelers to conveniently upload copies of their career related documents. Each member receives 100 megabytes of storage space. Travelers can email their documents from the system at their convenience. This way, all your career related documentation is centralized in one secure location.
And it's all free!
Now, when you come across a high paying assignment or you see one advertised, you can email your submission profile and documents quickly. Over time, you'll end up filling out less paperwork and landing more of these high paying assignments.
Additional Tips
In addition to controlling your own documentation, there are several other things you can do to land the highest paying assignments. First, be sure you're licensed in states that tend to have these assignments. California is one key location for crisis rates. My experience indicates that Texas is a key location for bonuses.
Second, become an expert negotiator! I hate to say it, but the highest paying assignments offer agencies a great opportunity to increase their profit margins. This is because there is a huge gap between normal pay rates and the pay rates possible with the higher bill rates.
Our experience indicates that many travelers tend to settle for a much lower rate than is possible because they're unfamiliar with how to negotiate compensation packages. You can discover how to negotiate travel nursing pay like an expert with our free eBook on the topic. Epstein LaRue, a highly experienced traveler and author of Highway Hypodermics said, "Don't negotiate your next contract without it!" about this eBook. You can get it for free by simply joining BluePipes for free. You won't be disappointed!
What experiences do you have to share regarding high paying travel nursing jobs? Please post them along with any questions or comments in the comments section below!
http://blog.bluepipes.com/wp-content/uploads/2013/05/highest_paying_travel_nursing_jobs_1234.jpg
360
710
Kyle Schmidt
http://blog.bluepipes.com/wp-content/uploads/2013/12/bluepipes-logo-blog-7g7-300x137.png
Kyle Schmidt
Landing the Highest Paying Travel Nursing Jobs