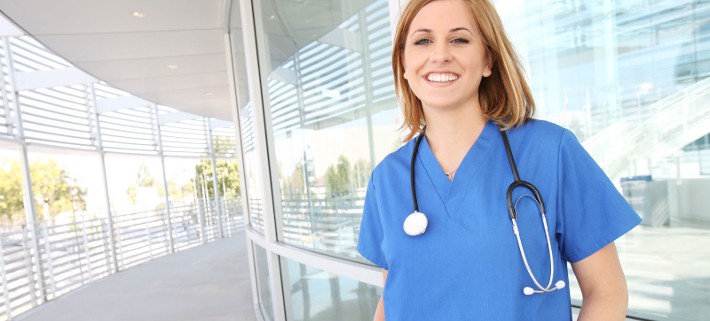 Travel nurses are nurses who work temporary jobs commonly referred to as travel nursing assignments. Assignments are typically 13 weeks in length but can be longer or shorter. Travel nursing is a great way travel around the country while gaining valuable work experience. However, you should familiarize yourself with the advantages and disadvantages before deciding to undertake travel nursing. If you decide that it's right for you, then you just need to know how to become a travel nurse. Here we'll provide our 10 steps to becoming a travel nurse.
Step 1 To Become a Travel Nurse: Complete the Required Education
To become a Registered Nurse, you must first obtain a high school diploma or GED. Then, you must complete an accredited college nursing program. You can qualify to sit for the NCLEX  examination with an Associate Degree in Nursing (ADN) or an Associate of Science in Nursing (ASN). These degrees are designed to be completed within 2 to 3 years.
However, many hospitals no longer accept ADN/ASN candidates for permanent registered nursing jobs. Instead, more and more hospitals are requiring a Bachelor of Science Degree in Nursing (BSN). Currently, it's very rare for hospitals to require a BSN for assignments. But they may change to follow suit with their permanent job requirements.
Create your free Travel Nursing Resume on BluePipes!
You should consider this trend when deciding between ADN/ASN and BSN programs. Of course, you should also consider many other variables when making a choice about nursing degree programs. This article from Marian University provides some helpful insight for this decision.
Step 2: Pass The NCLEX Examination
The National Council Licensure Examination (NCLEX) is developed and administered by the National Council of State Boards of Nursing, Inc (NCSBN). The exam must be passed in order to qualify to be licensed as a Registered Nurse (RN) or Licensed Practical Nurse (PN) in the United States.
Step 3: Obtain the Required Nursing Experience
Hospitals require a minimum of 1 year of recent nursing experience in the specialty applied for. Again, this is the minimum. However, when the labor market is slack, hospitals will require 2 or more years of recent nursing experience in the specialty applied for. When obtaining your nursing education and landing your first job, you should give careful consideration the specialty you choose. Below is a list of the most in demand specialties for travelers:
Discover why travel nurses are calling us their "secret weapon".
ICU, ER, MS, MS/TELE, TELE, OR, L&D, PACU, CVICU, Cath Lab, PEDS, PICU, NICU, Case Management, SDU, PCU, CVOR, PostPartum, Mother Baby, Home Health
Finally, if you're able to relocate for your first job (hey, you're interested in "travel", right?), then you may want to consider trying to land your first job in a Compact State if you don't already reside in a Compact State. States that participate in the Nurse Licensure Compact recognize the state nursing licenses of all other participating states. There are currently 24 participating states. A compact license provides an advantage in the travel job market because hospitals require verification of a valid state nursing license for the hospital's state before they'll accept candidates for consideration. So a Compact Nursing License creates immediate opportunity in 24 states!
Step 4: Determine How You're Going to Maintain a Tax Home
Travel nursing pay packages almost always include some form of tax-free compensation. In fact, you will be hard pressed to find a company that will agree to provide a pay package that is all-taxable. The catch to tax-free money is that you must qualify to receive it. If you don't qualify, then you will need to declare all tax-free compensation on your annual tax return and pay income taxes on it.
In order to qualify for the tax-free reimbursements that travel nursing agencies pay, you must maintain a legitimate tax-home. This is definitely doable, so don't let this discourage you. We have you covered! Here are some links where you will find everything you need to know:
Qualifying for Tax Free Stipends and Deductions As a Travel Nurse : This is part 1 of a 4 part series on why you need to maintain a tax home and how to do it.
Everything Travel Nurses Need to Know about Taxes, Stipends and Tax-Free Money : This is a category of articles devoted to the topic. It has tons of useful information.
Step 5: Determine What You Want Out of It
You should decide what you want out of travel nursing prior to beginning your search for agencies. This is because different agencies offer different options. We're referring specifically to where you want to travel and what types of hospitals you want to work in.
BluePipes: Professional Networking and Career Management Tools for Healthcare Professionals
Step 6: Determine What You Want Out of Your Travel Nursing Pay Package
Again, you should decide what you want out of your pay package prior to your search for agencies. Again, different agencies will offer different pay arrangements and benefits. These can include housing, travel stipends, medical benefits, 401Ks, rental cars, and more.
The easiest way to manage your travel nursing career.
It's important to note that travel nursing pay packages are very different than the pay packages for permanent jobs. In fact, the pay packages tend to confuse almost everyone. Therefore, it's important to have a solid understanding of pay packages before you get started. Don't worry, we have you covered with over 60 articles on the subject. Here are few links to get you started:
Compensation Video : This video is the perfect place to start. It provides a basic breakdown of how travel nursing pay packages work.
Pay Package Comparison Strategy : Comparing pay packages is one of the most confusing things travelers will have to do. This 3 part series of articles provides the context and detailed examples you'll need to be a pro.
Sample Breakdown of a Pay Package : This article provides some perspective from the agency's side of the equation. You may know more than your recruiter after reading this!
Step 7: Begin Vetting Travel Nursing Agencies
Once you determine what you want out of travel nursing, you're ready to find agencies that can deliver. There are several approaches to finding travel nursing agencies. Here are a few of the more popular approaches.
Refer to rating services : There are a number of rating services where travelers rate the agencies they have worked with. The two most popular are Highway Hypodermics and Travel Nursing Central.
Use a "Lead Generator" : Lead Generators are websites that offer to "connect you with the top agencies". Essentially, these websites collect your contact information and basic information about your career and then sell it to agencies. The agencies will then contact you. Here is link with more information about these services.
Colleague referral : If you know someone who has done some travel nursing, then it's a great idea to see if they can refer you to agencies and recruiters that they had good experiences with.
Join BluePipes : BluePipes is a professional networking website for healthcare professionals. It has tons of great tools that will simplify your travel healthcare career. You can connect with agencies and recruiters on the site.
Finally, when speaking with agencies you'll also need to vet them in an effort to make sure they can deliver on your expectations. Do they have assignments in the locations you want to go? Do they offer the compensation variables that are important to you? Getting these questions answered up front will save you a ton of time and trouble. In the end, you'll select several agencies to work with, and then build on that moving forward.
Step 8: Complete Your Travel Nursing Submission Profile
It's standard practice for hospitals to require an agency to submit an application, a skills checklist, and clinical references in order for the hospital to even consider the agency's candidate. These documents are commonly referred to as a candidate's submission profile. Every agency you work with will want you to fill out their submission profile documents. This can turn into a paperwork nightmare for you. Instead, you can become a member on BluePipes where you can control your own submission profile, reduce your paperwork burden, and land the travel jobs you most desire.
Step 9 To Become a Travel Nurse: Get Your Documentation Together
Ideally, you should start thinking about your paperwork well in advance of actually getting it all together. This is particularly true for licenses and certifications. Hospitals expect candidates to have all the required licenses and certifications at the outset. In other words, it's common for hospitals to consider only candidates who currently have the licenses and certifications required by the hospital.
Free eBook: How To Negotiate Travel Nursing Pay
Medical records are a different matter. Many medical records must have been recently obtained in order to qualify. While it's true that agencies will often coordinate and cover the cost of medical records, it's in the travelers best interest to maintain their own set of documents. Doing so helps them land travel jobs more quickly which is very important to landing the most desired jobs in the volatile travel nursing job market.
Step 10 To Become a Travel Nurse: Secure an Assignment
At this point, you're ready to start having your profile submitted for jobs. We've covered this process in great detail and offered some strategies in previous blog posts. This process should include a travel nursing job interview and signing a contract.
When it comes to the contract, it's important to note that the compensation and terms of the contract are negotiable. Negotiating the complex pay package and contract terms can be difficult. We have you covered with our free eBook on travel healthcare compensation negotiation. You can pick up a copy here to help you negotiate a great deal. At that point, you're on way to an exciting career as a travel nurse!
http://blog.bluepipes.com/wp-content/uploads/2013/12/Nurse-HighRes-Background-710-360.jpg
360
710
Kyle Schmidt
http://blog.bluepipes.com/wp-content/uploads/2013/12/bluepipes-logo-blog-7g7-300x137.png
Kyle Schmidt
10 Steps to Become a Travel Nurse