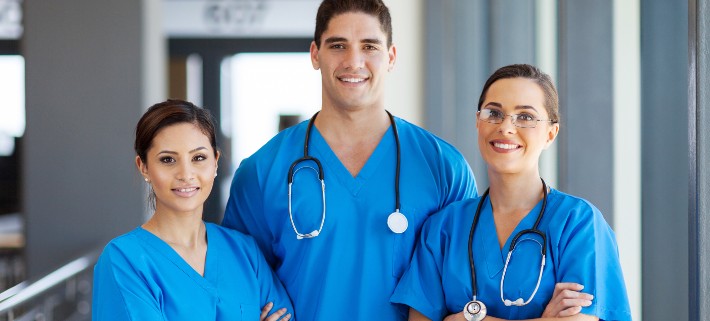 Supplemental staffing plays a large role in ensuring that hospitals and other healthcare providers remain adequately staffed at all times. There are essentially 4 main types of supplemental healthcare staffing: PRN, Seasonal, Locum/Travel Contracts, and Local Contracts. The type of supplemental staffing that hospitals and healthcare providers choose to utilize depends on the particular circumstances they're faced with.
PRN Healthcare Staffing
A large percentage of supplemental staffing is PRN. PRN is an acronym for the Latin phrase "Pro Re Nata", which means "for the existing occasion" or "as needed." PRN is also sometimes referred to as Registry or Per Diem. In this scenario, the healthcare provider is looking for people to fill in as daily stop gaps. The healthcare provider might have had an employee call in sick, or they may experience an unexpected spike in census.
To cover these labor needs the PRN employee can be on call, or may also be scheduled for shifts in advance. In any case, the PRN employee can always be called off. The key is that the shifts are not guaranteed, the employee is not a full time employee, and is not entitled to the benefits that full time employment may entail.
Healthcare professionals can obtain this type of health job directly with the healthcare provider, or indirectly through a healthcare staffing agency. Obtaining this type of health job directly with the hospital can be difficult as they only hire when needed. Obtaining it through an agency can be much easier, but often pays less, and is less reliable in terms of actually landing and working shifts.
Travel Contracts, Local Contracts, and Locum Tenens
Travel, Local and Locum contracts also constitute a large percentage of supplemental staffing. Locum Tenens is a latin phrase that means "place holder". This term is commonly used to refer to physicians in the healthcare staffing industry. "Travel contract" is commonly used to refer to short-term contracts for all other healthcare professionals including nurses and allied health professionals.
Travel contracts and Locum Tenens are much different than PRN. First, the healthcare provider will often enforce a rule requiring that candidates have home addresses that are at least 50 to 100 miles from the healthcare provider's location. Second, healthcare providers are typically looking for someone to fill in for many weeks, and are typically willing to guarantee the hours. The most common timeframe is 13 weeks, or 3 months. The most common weekly hour guarantees are 36 or 40 hours per week. Essentially, the healthcare professional becomes a part of the hospital's normal scheduling process. Local contracts are the same as travel contracts with the exception that they are also open to candidates local to the health care provider, or within a 50 to 100 mile radius of the healthcare provider.
Seasonal Travel Nursing Contracts
Seasonal contracts are perhaps the most unique form of supplemental staffing. These contracts are most popular in regions of the country that experience seasonal population spikes, like Florida or Arizona in the winter. The regularity of these seasonal spikes makes it worth while for hospitals to staff them on their own. Seasonal contracts are typically offered directly through the hiring health care provider, without the help of an agency. They often last for 3 to 6 months, sometimes longer. Seasonal contracts often offer higher hourly pay rates than the hospital would otherwise pay, as well as sign on and completion bonuses. However, they also often offer a trimmed down benefits package or no benefits at all.
This blog focuses largely on travel nursing crontracts. However, it's important to keep the other types of supplemental staffing in mind. For example, Locum Tenens, Travel Therapy, and other forms of travel health contracts are by and large the same as travel nursing contracts. Additionally, agency PRN and local contracts are very similar to travel nursing contracts from a business standpoint. There are obvious logistical differences, but the terms and paperwork requirements have many similarities. Meanwhile, seasonal contracts and hospital direct PRN are employment options that should always be under consideration by those undertaking a foray into supplemental staffing, or making a career of it. Consideration of these options results in increased opportunities, and I'm a big advocate of maximizing your opportunities.
http://blog.bluepipes.com/wp-content/uploads/2012/08/supplemental_healthcare_staffing_1.jpg
360
710
Kyle Schmidt
http://blog.bluepipes.com/wp-content/uploads/2013/12/bluepipes-logo-blog-7g7-300x137.png
Kyle Schmidt
Types of Supplemental Staffing