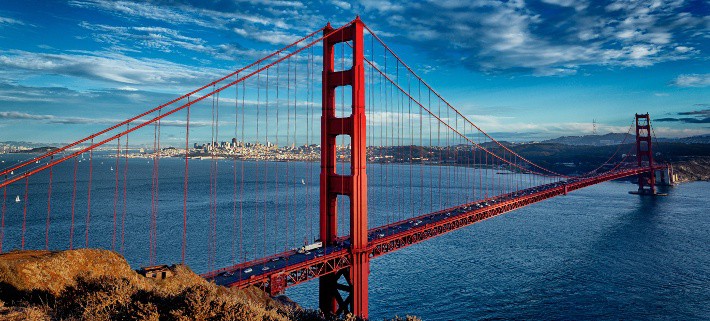 California is a great place for travel nurses to be licensed. The state's population is over 37 million and accounts for more than 10% of the nation's total population. A large population means more hospitals and more potential travel nursing jobs. In addition, California has something for everyone. It's got some of the greatest cities in the world, a swath of rural communities and quaint small towns, beaches, mountains, and even desserts. So, as a Registered Nurse, how do you obtain your California RN license by endorsement?
[Update 2/24/2014: The California Board of Registered Nursing is currently experiencing some major problems with its licensing process. This is affecting all new licenses including California RN licenses by endorsement. Please follow this link to read more about the problems. You can also view the comments below this blog post to see what others are going through.]
There are essentially 2 paths you can take to obtain your California RN license by endorsement, the long path and the short path. Under normal circumstances, the long path typically takes six to eight weeks and the short path can take as little as 24 hours. As mentioned above, there are currently delays that are obfuscating the entire process. The issues are being resolved but there is still a backlog.
Fingerprinting for your License by Endorsement
That said, the difference between the short path and the long path rests largely with the fingerprinting process. You see, California requires that they receive the results from a federal Department of Justice (DOJ) fingerprint check before they will issue any license, temporary or permanent. There are two ways to get your fingerprints checked.
The first, which is the long path, is to request a fingerprint card from the California Board of Nursing (CBON). They will send you a paper fingerprint card with all the applicable instructions. You will go somewhere that provides fingerprinting services, like a local police station, where you will be fingerprinted the old fashioned way. You will then mail the fingerprint cards back to CBON along with all the other required documentation (discussed below). The CBON will then mail your fingerprint card to the Department of Justice who will run the fingerprints and report back to CBON.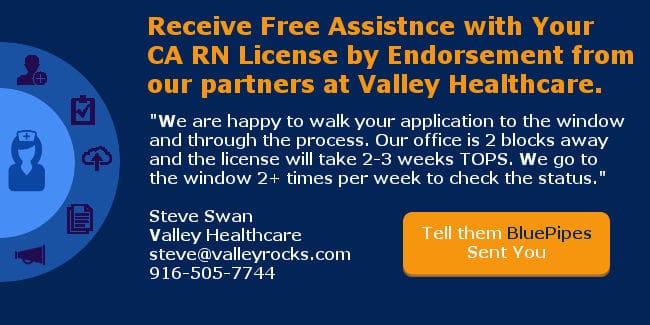 It's important to note that during the aforementioned crisis, many nurses have experienced major delays in receiving a fingerprint card from the CBON. Some have commented on this blog that they are using the standard fingerprinting card that can be obtained at any fingerprinting location. Basically, the cards sent from California are the standard cards, but they have all the required information pre-printed on them. If you use a blank standard card, then you should include the following information: (again, this comes from nurses who have commented on this blog):
 The following is the information I put on my cards (and by the way, my license was just issued to me on Friday using these cards):

Board of Registered Nursing, DCA
PO Box 944210
Sacramento, CA 94244-2100
ORI# A0391
Reason: Nursing license

That goes in the address portion on the left of the card directly above where the fingerprints would go. There is also an ORI# for the CA DOJ. This information is closer to the right side of the card directly below where you would have your name:

CA0349400
CA DOJ-BUR OF IDENT
SACRAMENTO, CA

I typed labels to make sure it was clear enough to read because the areas are small to write in.
You can probably already see why this is the long path. Snail mail and bureaucracy are involved on multiple levels. This process is the reason that CBON quotes 6-8 weeks from the time they receive your completed packet to issue your license. To make matters worse, the old-fashioned ink-on-paper fingerprint method is imperfect. I've experienced several cases in which the nurse's fingerprint was smudged and therefore unreadable by the DOJ's fingerprinting system. Of course, you don't find this out until the fingerprints have been run and the results have been sent back to CBON. This can be a huge delay. So, if you choose this route, be very careful with your fingerprints. Allow them to dry before stacking them or inserting them in to any sort of packaging.
The second way to get your fingerprints done, which is the shorter path, is via Livescan. This is the modern version of fingerprinting. Your fingerprints are read electronically and the results are received immediately. As a result, you could have your license in less than a day as long as the rest of your paperwork is in order [1/13/2015, update: As of this date, the California Board of Nursing is not issuing Temporary Licenses by endorsement at the board's front counter]. The catch is that you must be in California in order to get the Livescan completed. To be clear, you cannot perform the Live Scan outside California. You can obtain the LiveScan form for an RN license by endorsement here.
12-7-2014, Update: As of this date we are still receiving reports of delays in processing temporary California RN licenses by endorsement even when LiveScan fingerprinting is submitted with all other required documentation. This is due to the problem CBON has experienced with the implementation of its new Breeze computer system.  In the mean time, please factor this information into consideration when reading the information herein.
You'll notice that there are 3 copies of the LiveScan from. You need all three of them. The first copy stays with your LiveScan provider. The second copy must be submitted to the board with your application as proof. The third copy is for your records.
Next, it's a good idea to find a Livescan location as part of your planning process. They aren't everywhere, so knowing where you're getting it done prior to setting your plan in motion will be helpful. Please note, there is a Livescan location a few blocks from the CBON. If you choose this location, then you could conveniently return all of your documentation together to the CBON office. If you elect to do this, then you should get started early in the day to ensure there's time to complete the process before CBON closes for the day.
Finally, it's important to point out that if you go the LiveScan route, then you will be paying the LiveScan provider for the service. The charges vary from provider to provider. There is no additional charge for LiveScan by the CBON. If you go the manual fingerprint route, then you will have to pay a processing fee to the CBON, currently $49. There may also be a fee charged by the service that completes your manual fingerprint.
Regardless of which fingerprinting method you choose, it's imperative that the name on your fingerprint cards or LiveScan form match the name on your application for endorsement!
Other Required Documentation
No matter which fingerprinting path you select you'll need the following:
1) Application for Licensure by Endorsement
Complete the Application for Licensure by Endorsement. The application can be printed from CBON's website.
2) Passport Photos
You'll also need a recent 2×2 passport style photograph. These can be quickly obtained at many places including most FedEx Office stores.
3) License Verification
You'll also need a Verification of License for your home state license. In the vast majority of cases, this will be accomplished on Nursys, which is the online license verification system used by most states. It's important to note that Nursys license verification is available immediately, but they are only good for 90 days. So it's smart to request the verification close to the time you're ready to submit all the other paperwork.
If you're in West Virginia, Georgia, Alabama, Oklahoma, Kansas, Illinois, or Pennsylvania, then you'll need to check with your respective state's BON regarding license verification because these states do not participate in Nursys as of the writing of this article.
4) Nursing School Transcripts
Finally, you'll also need to request that all your nursing school transcripts be sent the California Board of Registered Nursing.
Again, all of the listed items must be completed regardless of the fingerprinting path you select. You'll need to contact each school you attended that related to your nursing degree and request that they transmit official copies of your transcripts to CBON. This happens promptly in most cases, typically within two weeks. However, snail mail and bureaucracy are involved so there can be hiccups.
Should you get a temporary license?
As you know, it is possible to obtain a temporary California RN license. The temporary license is good for 6 months from the date it is originally issued. The temporary license is offered to allow applicants to work pending the issuance of the permanent license. The current fee for a temporary license is $50, which is in addition to the application fee of $100.
In order to obtain a temporary license, the CBON must receive and process all of the documentation described above except your college transcripts. So essentially, applying for a temporary license allows you to bypass the processing time for college transcripts. There are two related factors to consider when deciding whether or not this is advantageous.
First, consider the length of time that it will take to get the transcripts processed. Second, decide whether or not you're going to go with the LiveScan or manual fingerprint method. Transcripts are typically processed fairly quickly. That said, you still need to send the request to your school. And you may have to send multiple requests if you attended multiple schools which can increase the chances of delays. Also, if the CBON needs additional information after they've received your transcripts, then they will need to contact your college and wait for their response. This is rare, but it happens nonetheless.
Next, you should consider the transcript processing time in light of the fingerprinting method you're going to go with. Typically, transcripts will be processed by the time the manual fingerprinting process is complete. But, as mentioned above, there are significant delays with transcripts on rare occasions. However, your transcripts will most certainly take longer to process than LiveScan fingerprints. So you will definitely get your temporary license faster if you're doing the LiveScan.
Again, this is all assuming normal circumstances at the CBON. And, as mentioned previously, they are currently not operating under normal circumstances. A review of the comments below will indicate some of the scenarios that nurses have recently faced. Please consider this when determining your approach.
In any case, if you are going to go with the Livescan in an effort to get your endorsement license quickly, then it's probably worth it to file for the temporary license to avoid any mishaps with the transcripts. You'll still need to send the transcripts in order to get your permanent license; you just won't have to wait for them to be verified.
If you are going to go with the standard fingerprinting and the long path to licensure, then there's probably no point in obtaining a temporary license first. This is because your college transcripts, and the rest of your documentation, should be logged well in advance of your fingerprints. It simply takes less time for the transcripts to be verified than the standard fingerprints to be returned from DOJ. However, I advise that you stay on top of both the schools and CBON with respect to the transcripts. Call them weekly until they verify the transcripts have been sent or received.
Prior convictions and disciplinary actions
The final consideration in obtaining your California RN license by endorsement pertains to prior convictions and disciplinary actions. There is no steadfast rule on these issues. They are reviewed on a case by case basis. My recommendation is to go with the long path to licensure unless you reside in California already. There's no telling how long such issues can delay the process. If you are out of state, then paying extra for a temporary license and going through the hassle of being present for the Livescan will most likely not be worth it if you have prior convictions or disciplinary actions.
Here is the link to the California Board of Nursing's Licensure by Endorsement page. Here is the link to Nursys.
Let me know if there's anything I left out and let me know if you have any questions or concerns!