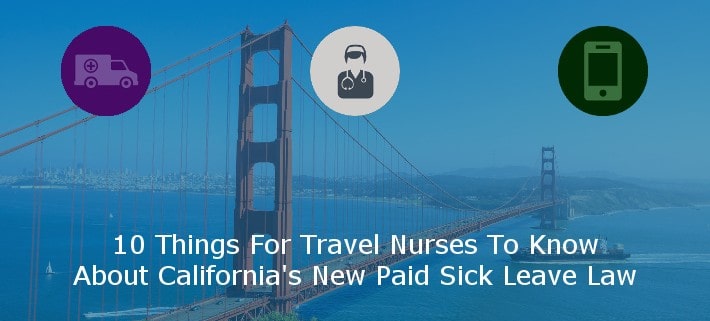 As a travel nurse, there is a very good chance that you will work in the state of California at one point or another. The state has many appealing travel destinations and the large population ensures that demand for travelers is typically quite high. As a result, it's important to know about issues occurring in the state that could have an impact on travel nurses. So, in this blog post, we'll take a look at 10 things to know about California's new Paid Sick Leave law.
1) Do Travel Nurses Qualify For Paid Sick Leave In California?
California passed the Healthy Workplaces, Healthy Families Act in 2014 (AB 1522). The law went into effect on January 1, 2015 and the paid sick leave provisions of the law became effective on July 1, 2015. The law applies to all public and private employers regardless of their size. The law applies to all exempt and non-exempt employees including full-time, part-time, seasonal and temporary employees.
So, YES, travel nurses qualify for paid-sick-leave (PSL) in California! So, let's take a closer look.
2) How is Paid Sick Leave Accrued for Travel Nurses in California?
The law requires employers to utilize one of 3 methods for allocating PSL to employees:
Method 1:
Employers can use a "lump sum". This method requires employers to allocate 24 hours or 3 days of PSL in one lump sum at the start of each  benefit year. A "benefit year" can be defined as a rolling calendar year or an anniversary year.
The advantage for the employee is that they are able to start using their PSL immediately. The advantage for the employer is that PSL can be capped at 24 hours or 3 days and there is no carryover of PSL from year to year. So employees must "use it or lose it." Moreover, employers don't need to track accrual with this method.
Method 2:
Employers can use an "accrual method." This method requires that employees accrue 1 hour of PSL for every 30 hours worked. With this method, the accrued PSL can be capped at 48 hours or 6 days. Additionally, unused hours carry over from year to year, but the cap can always be set at 48 hours or 6 days. Also, employers can institute a 90 day probation period whereby accrual begins on day one but the right to use PSL begins on day 91 of employment.
Method 3:
Employers can exhibit flexibility in determining how the PSL hours are accrued. For example, they could allocate a certain amount of PSL per month or per week. However, the method must ensure that the employee will have 24 hours or 3 days of PSL accrued by the 120th day of employment. Like Method 2, PSL can be capped at 48 hours or 6 days and unused hours can be carried over from year to year.
Finally, if an employee separates the employment relationship and is rehired within 1 year, then previously accrued and unused PSL must be restored. This rule applies regardless of the accrual method used by the employer.
3) Important PSL Accrual Detail for Travel Nurses
Notice that the accrual details provided above stipulate minimums and maximums in terms of hours OR days. For example, "…this method allows employers to allocate 24 hours or 3 days of PSL." This language caused confusion when the law was originally enacted because some employees, like Registered Nurses, typically work 12 hour shifts, so 3 days would actually be 36 hours.
As a result, the state Labor Commissioner attempted to provided some clarification in an FAQ about the law. In it, they said that they will interpret the rule to apply to the greater of two amounts for an employee. For example, an employee who works 12 hour shifts would receive 3 days at 36 hours and 6 days at 72 hours. All of the requirements would be interpreted this way.
This is great for people like travel nurses who typically work 12 hour shifts. They actually get a little more out of the law than they would have otherwise. In a sense, this makes up for the fact that employer doesn't have to pay the overtime rate for PSL.
That said, there is still some confusion. You see, sometimes travelers might work a contract with 8 hour shifts and other times they might work one with 12 hour shifts. What is the agency required to do? We're not sure!…but we'll keep our eyes open for an answer.
4) What Can Paid Sick Leave Be Used For In California?
AB 1522 allows PSL to be used for the employee's own care needs as well as the needs of family members. Family members include children, grandchildren, parents (including in-laws), grandparents, siblings, spouses, and registered domestic partners. "Care" includes diagnosis, care and treatment of an existing condition as well as preventive care.
PSL can also be used by the employee for their own personal cases of domestic violence, sexual assault or stalking.
5) What Are The Employee Notification Requirements?
The PSL notification requirements for employees are fairly straightforward. Employees must give advance notice of the PSL if it is foreseeable. Otherwise, notice must be given as soon as practicable. Employee PSL notifications can be verbal or written.
It's important to note that many employers have traditionally required some sort of written verification, a doctor's note for example, in order to make use of PSL. However, the new law seems to prohibit the employers' ability to do this. This is because the law requires employers to provide PSL upon the employee's verbal or written request while prohibiting employers from denying employee PSL requests. As a result, it would be fairly difficult for employers to require written verification.
6) What Are The Compliance Requirements For Employers?
Employers are required to provide a notice of the employee's rights under the new law. A new poster advising employees of their PSL rights is required to be displayed. Perhaps most importantly for travel nurses, the employee's PSL balance must be included on every pay-stub. If it isn't, then employers must include a separate form displaying the balance with every pay-stub.
It's important to note that if an agency has existing Paid Time Off or Sick Leave policies that meet the minimum requirements of the law, then they do not need to change their plan. However, there are probably very few agencies that maintain such policies.
Finally, the law prohibits employers from requiring employees to find replacement workers in order to make use of PSL.
7) What Are The Payout Requirements?
The law requires employers to pay the "regular rate of pay" for PSL. Unfortunately, we are currently uncertain what that means for travel nurses. The source of confusion pertains to the treatment of the Lodging and Meals & Incidental Expenditure stipends included in travel nursing pay packages. As you know, travel nurses typically receive a significant portion of their pay package as tax-free reimbursements.
How Travel Nursing Agencies are Treating It
We have seen employers and various law firms contend that the "regular rate of pay" is the employee's taxable hourly wage.  In other words, the regular rate of pay for travel nurses does not include the value of lodging and M&IE stipends. According to most accounts we've seen, this is how it's being paid out to travelers when they use PSL.
A Contrary Report from DLSE Representative
However, a contrary narrative has been brought to our attention. A travel nurse inquired with the California Division of Labor Standards and Enforcement (DLSE). She provided the response in a social media group. The exchange is quoted below:
You wrote: "I am a nurse working in California. I accrued sick time while working for a travel agency over 6 months. I took 2 sick days in the last week of my contract to total 24 hours. After reporting the hours, I noticed I was not paid my regular hourly rate of pay to include my meals & incidentals and housing.

If I have been paid hourly at a rate to include tax-free stipends, are those hourly stipends to be withheld for every hour repaid in sick time?"

ANSWER: No, these amounts are not withheld from the rate you are paid sick leave.

The rate of pay for paid sick leave is the regular rate of pay which includes housing pay and meal pay. This is stated in Section 49.1.2.2 of the Division of Labor Standards Enforcement (DLSE) Enforcement Policies and Interpretations Manual: "Following the long-established enforcement policy of the DLSE (which closely tracks the federal regulations in this regard) housing benefits, meals, etc., are added to the cash wage paid for purposes of determining the "regular rate" of pay.
What A Labor Lawyer Had to Say
Given the opposing viewpoints, we inquired with a labor lawyer. We specifically asked about the DLSE quote above. Here is what the lawyer had to say:
With respect to the statement you quote from the DLSE manual, it accurately states the general rule that all remuneration must be included in the regular rate.  However, there are several exceptions to the general rule, one of which is for legitimate travel expense reimbursements such as housing and meals and incidentals.  The dispositive issue is whether this exception applies when the reimbursements are tied to hours and/or shifts worked.  Our position is that the exception has no application where a company adjusts the value of the reimbursements if the travel nurse fails to work his or her minimum required shifts.
As you can see, the various narratives are quite different. Given that DLSE emails are answered by service representatives, we're not certain that the travel nurse received the correct response. There also seems to be some room for debate in the labor lawyer's response. We'd need to see a ruling on this matter handed down by the DLSE for an actual case. Please let us know if you know of one!!
How Overtime Is Treated
It's also important to know how the PSL law treats overtime. Travel nurses typically work 12 hour shifts. In California, hours 9 though 12 are required to be paid as overtime at 1.5 times the base rate. The law does not require employers to include the overtime rate of pay.
Payout For Unused Sick Leave
Finally, it's important to note that unused PSL time is not required to be paid out upon an employee's termination.
8) Do ALL Travel Nursing Agencies Have To Comply With the Law?
One of the main questions we have received from travel nurses is whether or not agencies in other states must comply with the law. The answer is yes, all travel nursing agencies regardless of their location must comply with the law. Of course, the law only pertains to their employees who are working in California.
9) How Does PSL Affect Travel Nursing Pay Packages?
On the surface, the new California PSL law might seem like a great win for travel healthcare professionals. After all, the vast majority of travel healthcare companies didn't offer PSL before the law. However, it's safe to expect that the vast majority of travel nursing agencies will build the cost of PSL into their pay rate calculations.
The easiest and most common way for agencies to account for such a cost is to add it as a "burden" in their rate calculations. Essentially, the agency will estimate the average cost per travel contract. From there, they can include the cost as a fixed amount per contract. Or, they can calculate the cost as a percentage of their average bill rate and factor in the percentage as a cost on every contract.
The point is that the additional cost will most likely reduce the pay package by an equitable amount so the traveler won't necessarily realize a financial benefit. However, travelers will gain peace-of-mind and flexibility when it comes to serving their healthcare needs.
It's also important to point out that California's new law may cause many agencies to adopt a California-compliant PSL policy for all their travelers nationwide. For many agencies, California constitutes a significant percentage of business. It may ultimately be easier for them to apply the policy to all their travelers as opposed to tracking it for California only. A few agencies have recently announced new PSL policies and it's possible this is more than a coincidence.
If you're interested in discovering more about how travel nursing pay packages are calculated, you can check out this article!
10) How Will Hospitals Comply With The Law For Travel Nurses?
Of course, hospitals are major part of the employment puzzle for travel nurses. The question is, how will hospitals treat the new PSL law as it pertains to their temporary staff?
Unfortunately, there doesn't seem to be a clear cut answer for this. For example, let's say a traveler is scheduled to work a shift at the hospital on the same day they have a routine doctor's appointment. Under normal circumstances, the law requires the employer to let the employee use PSL for the time it takes for the appointment, perhaps an hour or two. However, there is no indication as to how this must be handled in the case of temporary staff who are actually employed by a third party staffing agency. Again, we'll keep our eyes open for further clarification.
California's Healthy Workplaces, Healthy Families Act will clearly have an impact on travel nurses and agencies alike. However, there are a few unanswered questions. Time will certainly bring more clarity and we'll provide updates to this post as it does.
As always, we hope you found this information useful. We'd love to hear about your experiences with this issue and look forward to answering any questions you may have. Please post your questions and comments in the comments sections below.
Sources For This Article:
Questions and Answers about California's New Paid Sick Leave Law
UPDATE – NEW PAID SICK LEAVE IN CALIFORNIA

http://blog.bluepipes.com/wp-content/uploads/2015/09/california-paid-sick-leave-travel-nurse.jpg
360
710
Kyle Schmidt
http://blog.bluepipes.com/wp-content/uploads/2013/12/bluepipes-logo-blog-7g7-300x137.png
Kyle Schmidt
10 Things For Travel Nurses and Agencies To Know About California's New Paid Sick Leave Law