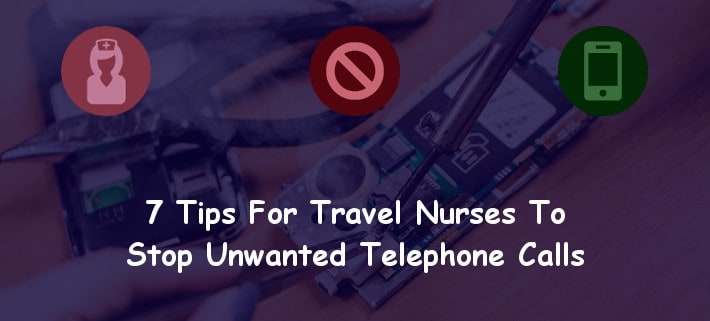 Many travel nurses understandably complain that they receive too many telephone calls from travel nursing companies. There are two distinct problems, receiving unwanted calls and receiving calls at the wrong time. In this blog post, we'll take a close look at these issues from the agency perspective and provide 7 tips to help travel nurses avoid the unwanted telephone calls and manage the rest.
First, it's important to understand the agency perspective. Simply put, the telephone is the primary driver of business. Despite the fact that travel nurses prefer emails and text messages, agencies continue to rely on the telephone. As we mentioned in a previous blog post, this is because the telephone is the most productive recruitment resource by far and away.
Now, we definitely want travel nursing companies to be successful in their endeavors. And it's most likely that if a company has your contact information, then they obtained it through a perfectly legal and reasonable method. So there is nothing wrong with making these telephone calls in general. However, the following quotes illustrate two distinct problems that travel nurses encounter with agency telephone calls:
How do you get companies to stop calling ALL THE TIME??? It's worse than telemarketers!! I AM NOT INTERESTED, if I need something, I will call you!! ARGH!!!

I am on assignment and working full-time night shifts and the recruiter who sent me there calls and wakes me up during my sleep time in the middle of the day to check in on me…. wakes me up so I have to work a 12 hour night shift totally exhausted, jeopardizing how safely I can practice in a hectic chaotic environment.
Good recruiters do their absolute best to avoid making calls at inopportune times. Unfortunately, even the best recruiters are bound to slip up sometimes. The call volume requirements recruiters are faced with can be difficult to mange and the systems in place to help recruiters in this regard are limited. Meanwhile, some recruiters pay no regard to this issue and fire away.
When it comes to receiving calls that are totally unwanted, it's important to know that there are laws that all companies must abide by when utilizing the telephone for marketing purposes. At the federal level, agencies must abide by the Telephone Consumer Protection Act and its various rules and regulations. For example, an agency is prohibited from calling a traveler who has previously requested not to be called.
Our experience indicates that agencies are intent on abiding by these laws. However, there are some bad actors in the market. More importantly, there are several different possibilities that could be resulting in travelers getting unwanted calls which are nonetheless legal.
The great news is that there are ways to help solve both of these problems. So here are 7 tips for stopping unwanted calls and managing the rest.
1: Opt Out From Travel Nursing Lead Generators
Capturing and selling travel nurse contact information is big business. We've discussed how "lead generators" make money in a previous blog post. We've also discussed how travel nurses can protect their privacy in a previous blog post.
But if you've made the unfortunate mistake of releasing your contact information to one of these lead generators, then it will be sold over and over. In fact, by agreeing to their privacy policy, you've given them consent to do so. That's how they make their money.
You may not think you have released your contact information to a lead generator. However, if you're getting calls from random unknown travel nursing agencies, then there is very good chance that you have. Below is a list of some of the more common lead generators:
TravelNurseSource.com
RNVIP.com
TravelNursing.org
Indeed
SimplyHired
Career Builder
Monster
If you have ever registered for one of these sites, or any similar site, then you can typically visit the website and request to opt out. The opt-out instructions are most often located in the Privacy Agreement. For example, on RNVIP.com the privacy agreement instructs users to send an email requesting to opt-out.
How can this be helpful? Well, these companies sell contact information over and over. They are constantly bringing on new clients. So in order to prevent your contact information from getting into more hands down the line, you need to opt-out.
Unfortunately, the opt-out only works for the lead generator. If the lead generator has already sold your contact information, then they cannot be responsible for how the buyers use it. Luckily, travel nursing agencies aren't in the business of selling contact information and they like to keep their leads private.
But the lead generator may have sold your contact information to another affiliate who is in the business of selling contact information. As a result, your contact information could potentially get sold down the line.

2: Register For The National Do Not Call Registry
Therefore, the next thing to do is to register your telephone number with the National Do Not Call Registry. They've made it very quick and easy for you to register both land and mobile numbers. They assert that most unsolicited marketing calls should stop within 31 days.
Technically, companies that engage in telephone marketing are supposed check the DNC Registry periodically and remove numbers from their database that are found on the list. However, many companies do not do this.
Also, there is some gray area on this issue. If a company has received prior written consent to be able to call you, then they are not required to remove your number. Of course, signing most job applications or registering with lead generators provides them with written consent.
3: Politely Request The Travel Nursing Recruiter To Remove Your Number
Therefore, you should anticipate receiving calls even after you add your number to the DNC registry. To make these stop, the first thing you can try is to politely request to be removed from the list. It's best to be polite because chances are they're calling you legally, but more importantly, people are more receptive to polite requests.
Again, the Telephone Consumer Protection Act requires them to oblige your request to stop calling. Hopefully, the recruiter takes the necessary steps to remove your contact information from the database.
It's important to keep a written record of your removal requests. If possible record the following details
Date of the call
Time of the call
Phone number the call came from
Name of the company
Name of the representative
4: File A Complaint With the DNC Registry
Why would you need to collect this information? Well, if the company continues to call, then you may want to file a complaint with the DNC Registry. It's quick and easy and the more information you can provide, the better. Unfortunately, it's pretty rare for anything to come of these registered complaints. However, if a trend is observed, then it's possible for fines to be levied against the company.
Apparently, it's also possible to take the company to small claims court over this issue. We are not experts on this matter, but you can review this article for more details if you're interested.
5: Block The Number on Your Cell Phone
Whether you decide to file a complaint or not, you can always block a number using your cell phone's native features. For Android users, the steps vary depending on the manufacturer of your phone. As a result, we won't be able to provide a detailed description here for Androids, our apologies. However, you can Google the make and model of your phone along with relevant search terms like "block numbers" and you'll surely find instructions.
For iPhone users, you can start the process by navigating to your call history. From the there select the "i" icon next to the offending telephone number as illustrated in the image below.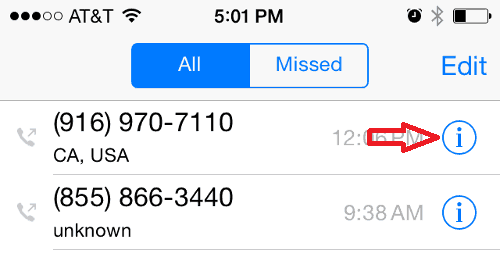 Scroll down to the bottom and select "Block this caller" illustrated in the image below.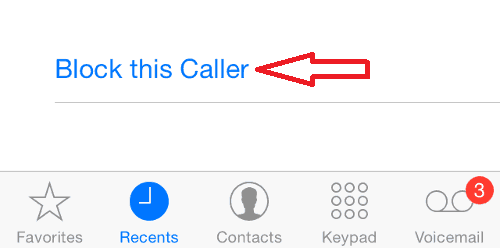 All of your blocked telephone numbers and email addresses will be stored in your iPhone's Phone Settings. To edit them, select "Settings", then select "Phone", then select "Blocked", then select "Edit" on the top right menu bar. At that point, you'll be able remove numbers from your blocked list in case you want to resume business with a particular agency.
6: Getting Calls While You're Asleep? There's an App for That!
If you want or need to continue receiving calls, but need to gain control over when they come through, then there are apps for that! We recently wrote a blog post titled 59 Apps For Travel Nurses and we didn't even think to add call-manager apps to the list! Anyway, the most popular app for Android appears to be Mr. Number Block.
The app allows you to block calls from individual numbers, an entire area code, or even an entire country. And if you have a recruiter that you currently work with who keeps calling while you're asleep, you can even use the app to send them straight to voice mail so you're not disturbed.
There is a similar app for iPhone called Call Bliss. This app is similar to Mr. Number Block, but it will allow you to group numbers together so that you can control their settings with one touch. So, if you group all your recruiters together, then you can set it to send them all directly to voice mail with one touch. The app is $10 though!
7: Always Review Privacy Agreements Moving Forward
As you can see, there can be a lot of work involved in order to ensure that you don't receive unwanted calls. Once you get to that point, you want to make sure that you don't have to repeat it. The single best thing you can do is to closely review privacy agreements any time you're required to give out your telephone number.
You'd be surprised by the types of websites that might potentially sell your information into the system. Even some CEU websites do it! Therefore, look for crystal clear privacy policies. For example, here's the privacy policy on BluePipes:
We do not sell, trade, or otherwise transfer to outside parties your personally identifiable information.
It's plain and simple. We never sell your contact information to third parties.
We hope these tips help travel nurses regain control of their phones. What has your experience been with this issue? What steps have you taken to resolve it? Please let us know by posting in the comments section below.
http://blog.bluepipes.com/wp-content/uploads/2015/04/travel-nurse-stop-phone-calls1.jpg
360
710
Kyle Schmidt
http://blog.bluepipes.com/wp-content/uploads/2013/12/bluepipes-logo-blog-7g7-300x137.png
Kyle Schmidt
7 Tips For Travel Nurses To Stop Unwanted Telephone Calls