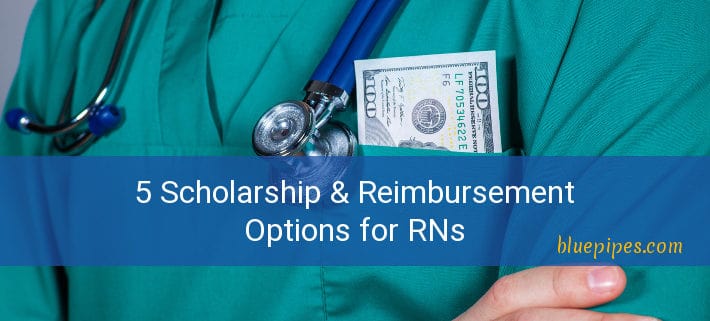 There are a plethora of decisions when it comes to nursing school—some of them manifest before you even show up to class and many of them come after graduation.
Before you start nursing school, you need to decide which undergraduate pathway will lead you to the take the standardized National Council Licensure Examination (NCLEX)-RN, and how you will pay for that degree. After graduation though, there's still time to obtain reimbursement if the decisions you made prior to starting nursing school weren't the most favorable to your bank account. We've outlined how you can obtain scholarships for nursing school before you start, and reimbursement for school related debt while you're working as a registered nurse. The good thing is that you have plenty of financial support as an RN from private organizations to the government, and beyond.
Government Grants and Scholarships for Nurses
The U.S. Department of Health and Human Services, division of Health Resources and Services Administration (HRSA) sponsors quite a few grants specifically for nursing students. After you've completed your Free Application for Federal Student Aid, as long as you are enrolled in an associate, baccalaureate, or graduate degree nursing program, the NURSE Corps Scholarship Program will provide funds for your tuition, fees, and other education related costs. In order to qualify you must work at a facility with a critical shortage of nurses (a Critical Shortage Facility (CSF)) after graduating.
If you're continuing your education, keep your eye on the Advanced Nursing Education Workforce (ANEW) Program. This program prepares primary care advanced practice registered nursing students to work in rural and under-served settings through academic and clinical training.
Other Government Funding Nurses Should Consider
While there are a lot of specialized grants and scholarships just for nurses, don't overlook FAFSA as a starting point for funding your education. The Free Application for Federal Student Aid is the biggest provider of student funding in the US and will always be free. Avoid scams by never paying for an application and using FAFSA's official website. FAFSA calculates your eligibility for federal student aid based on your finances. Your school will use this information to package your financial aid or find you other loan options.Your eligibility is based on the amount you are likely able to contribute to your education financially, and is often used for scholarships and awards outside of the government sector.
Private Scholarships and Grants for Nurses
Different organizations have incentives to keep the nursing industry strong, thus many private companies and organizations will offer nursing scholarships. For example, Cherokee Uniforms, a producer for nursing scrubs, medical uniforms, and nursing footwear, sponsors the "I Am a Nurse" national scholarship. Many scholarships such as this one require applicants be enrolled in an accredited LVN/LPN or RN degree (ADN or BSN) program and write an essay explaining why they want to pursue a career in nursing. Here are just a few of the many nursing scholarships and grants from non-government organizations (details from DiscoverNursing.com):
Grants and Scholarships from Colleges or Universities for Nurses
In addition to funding from the government through FAFSA and other nursing related grants and scholarships from the government, your school or university may have scholarships available through the school's nursing program or college. Check with your specific college or university program for aid.
For example, University of North Carolina-Greensboro offers scholarships for undergraduate nursing students. Milwaukee Area Technical College (MATC) offers scholarships to students seeking Nursing Assistant Certificates. There are so many more out there and financial advisers at colleges will be able to help you locate the details needed to apply. Some nurses find that deciding to attend a school that provides substantial funding for nurses is beneficial.
Scholarships and Grants from Nursing Foundations
Nursing foundations offer scholarships for nurses to ensure the nursing industry continues to thrive. A majority of scholarships and grants from foundations are specific to nurses pursuing an associate, baccalaureate, or higher degree. Often times a foundation will be based on location. In the example of The Appalachian District Nurses Student Scholarship, students must attend school in one of the four Appalachia District counties (Greenville, Anderson, Pickens, or Oconee) or be a permanent resident of those counties. Check with foundations in your area to see what they're offering. Many foundations have been formed by endowments from nurses long gone from the industry with an overall goal of continued growth in the field.
Staffing Company Reimbursements for Nurses
Many nurses across the nation rely on staffing companies (aka travel nursing agencies) to obtain nursing positions for 13-week stints. Some nurses even use staffing companies for long-term permanent placement.
Beyond the adventure that travel nursing provides, there is a financial benefit to work with a travel staffing company. While not all staffing companies will offer reimbursement for your student loans, many will cover additional costs post-graduation such as license and certification reimbursement. These certification and license reimbursements combined with bonus and signing packages that many staffing companies offer can help you make a huge dent in repaying your student loans. Many staffing companies also offer a travel nursing benefits package that will save you money on your own healthcare costs.
Government Loan Repayment Program for Nurses
While you can obtain funding for your education from the government prior and while attending school, the government also offers aid for loan repayment post graduation. The most common program is the NURSE Corps Loan Repayment Program (not to be confused with the scholarship program of the same name). To qualify for support, nurses must work in areas with a shortage of health care workers. As a trade-off for a two-year service commitment to these areas in need, the government will pay 60% of any outstanding student loans related to your nursing education.
Who can answer a nurse's questions about scholarships and grants?
Still attending nursing school? Contact your adviser or financial aid office. These departments can help you discover more programs and can help you apply, if needed. Postgraduate help with reimbursement can be trickier. If the program is associated with the government, they likely have created a department to help applicants. Another alternative would be to work with a staffing company for reimbursement. While many staffing companies require at least two years of experience (mandated by facilities), there are still many travel companies who would love to add you to their pipeline even as a new grad. Remember, it's to their advantage to help you not only obtain work but build a relationship through benefits like reimbursement for certification and licensing (along with health, 401k, travel/housing reimbursement, and more).  
About The Author:
Advanced, Inc. is a full-service recruiting and staffing agency specializing in travel nurse and therapist placements all over the United States. Advanced is both a travel nurse agency and a provider of travel therapy jobs, placing healthcare providers in 13-week assignments in a variety of settings.
http://blog.bluepipes.com/wp-content/uploads/2017/02/scholarships-and-reimbursement-for-nurses.jpeg
360
710
Guest Author
http://blog.bluepipes.com/wp-content/uploads/2013/12/bluepipes-logo-blog-7g7-300x137.png
Guest Author
Scholarships and Reimbursement for RNs: 5 Avenues for Obtaining the Funds to Accelerate Your Nursing Career