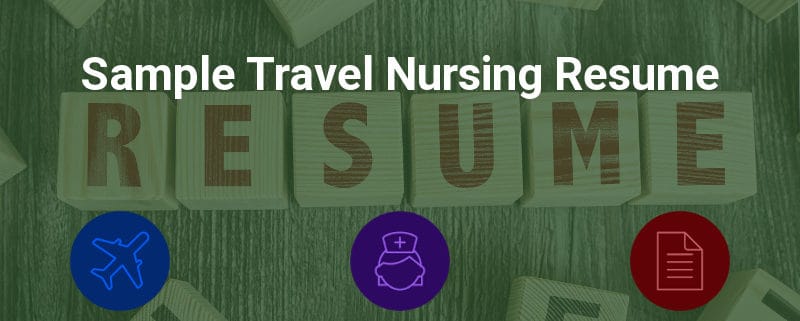 Below is a sample Travel Nursing Resume created on BluePipes.com. This is a free service for BluePipes members who are able to download their profiles as a PDF resume and send it to travel nursing agencies at their convenience. And, unlike other resume builders and career related websites, you'll be pleased to know that BluePipes will never sell your personal contact information to third parties.
What's more, the BluePipes profile can also be rendered as a Travel Nursing Job Application. Members also have access to over 100 comprehensive Travel Nursing Skills Checklists that can be downloaded with their Resume and/or Job Application. Together, these documents give travel nursing agencies everything they need to initiate the submission process for travel nursing jobs. It's all free for members and will save you countless hours of paperwork!
Before reviewing the sample below, it's important to understand some of the unique aspects of travel nursing resumes. First, there is no need  to be concerned about the length of your travel nursing resume. The number of pages does not matter. Instead, it's important to include all of the details required by hiring managers and agencies.
Second, there is no need to be concerned about how "busy" your resume looks. Hiring managers and agencies require a lot of details about every job you've held. There is no way to present all of the information they require without the resume looking "busy".
In fact, hiring managers and agencies actually expect to see long, busy resumes. This is because the Applicant Tracking Systems used by agencies actually generate long, busy resumes. You see, when you complete an agency's online application, the information you enter is used by the Applicant Tracking System to create a resume that gets sent to the hiring manager for any job you're submitted for.
The BluePipes resume is actually modeled after the resumes created by the industry's most popular Applicant Tracking Systems. The goal is to ensure you fill out less paperwork by helping you recognize and record all the little required details.
Please note, if you intend to use this sample BluePipes resume as a guide to creating your own resume, then we highly recommend reading our blog post 33 Items to Include on Your Travel Nursing Resume. You will find many more items on the list that are not included on this sample resume. This is because BluePipes includes these additional required details in the BluePipes Job Application.
Remember, many of the top agencies in the country have verified they will accept your BluePipes documents for submission purposes which will save you countless hours filling out redundant paperwork and help you get submitted to jobs quicker.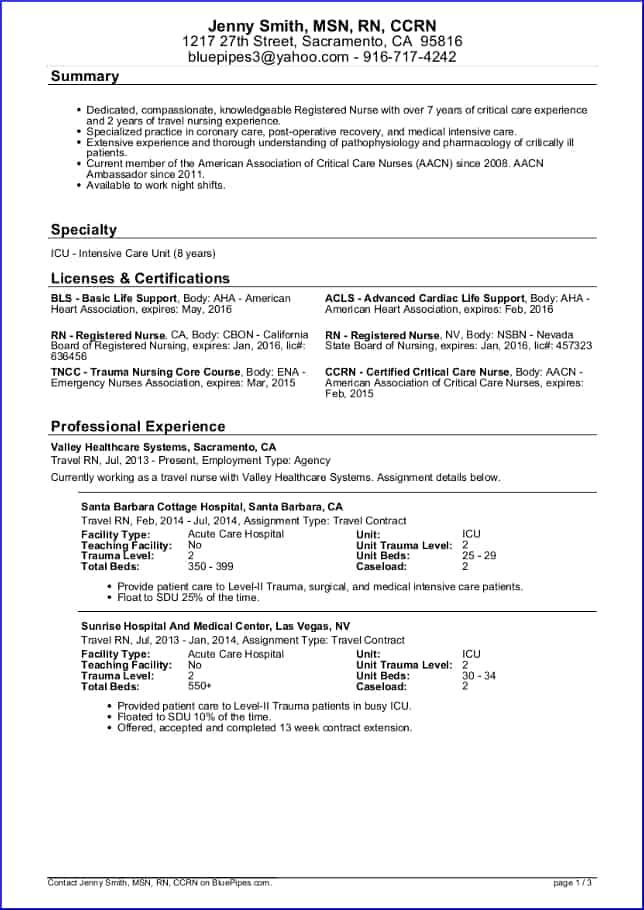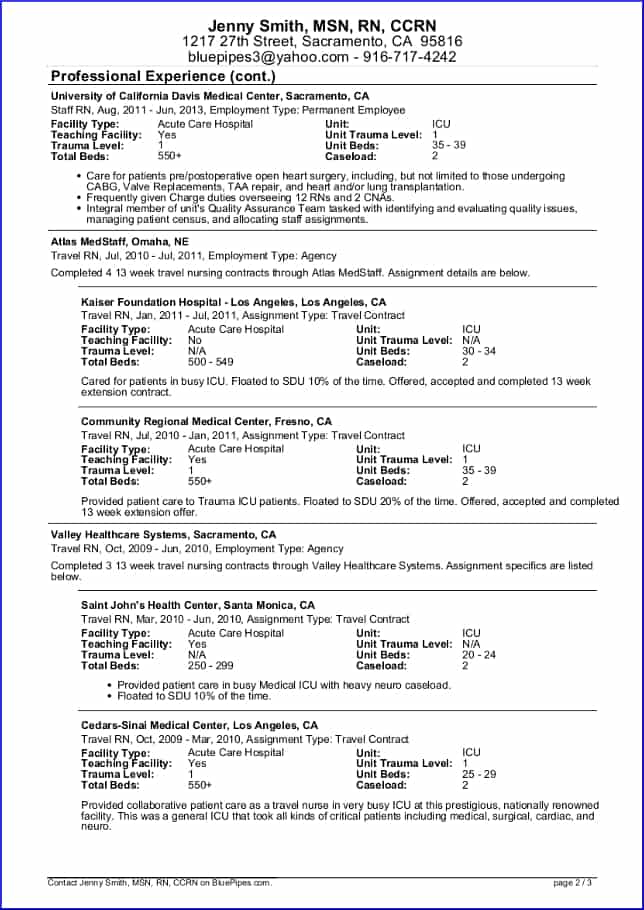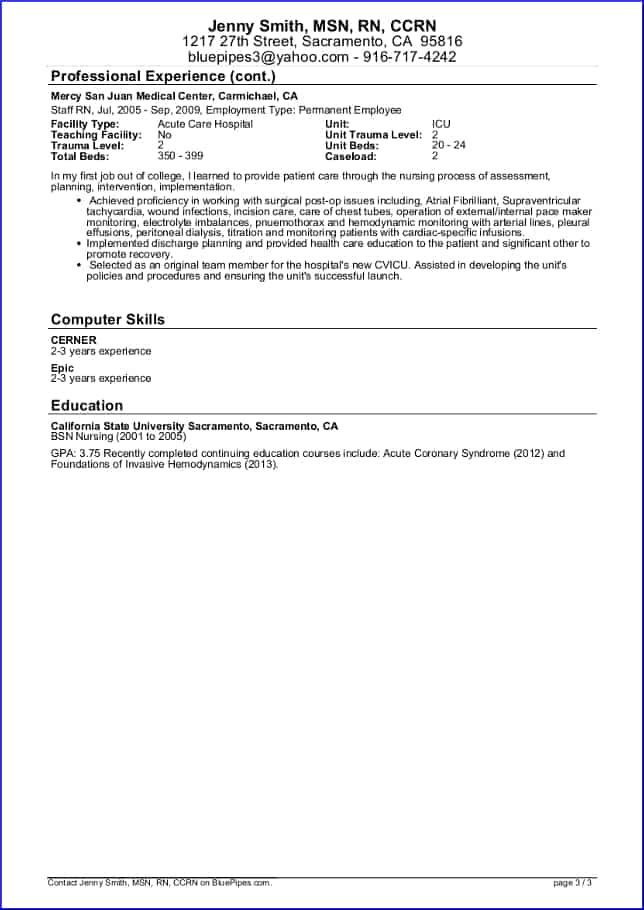 http://blog.bluepipes.com/wp-content/uploads/2014/03/sample-travel-nursing-resume-v2.jpg
405
800
Kyle Schmidt
http://blog.bluepipes.com/wp-content/uploads/2013/12/bluepipes-logo-blog-7g7-300x137.png
Kyle Schmidt
Sample Travel Nursing Resume - Free Template