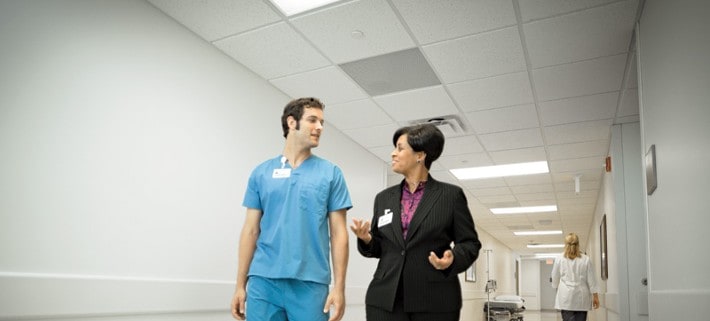 National Nurses Week is an annual observance that runs from May 6 through May 12. The history of how this came to be is interesting. In 1974, the International Council of Nurses proclaimed May 12, Florence Nightingale's birthday, as International Nurse Day. Beginning in 1953, many attempts were made to enact an official national observance of nurses. Then, in 1982, President Ronald Reagan signed a proclamation declaring May 6th as National Nurses Day. And in 1993, the American Nurses Association declared May 6 through May 12 as permanent dates to celebrate National Nurses Week. Since then, May 8 has been designated as National Student Nurses Day and the Wednesday of Nurses Week has been designated as National School Nurse Day.
Nurses Week is a time to celebrate and honor the crucial contributions that nurses make to the health and well-being of individuals and the healthcare system at large. Hospitals around the country are recognizing their Registered Nurses with awards, spacial offers and even pampering. In Paducah, Kentucky, Baptist Health Paducah honored mother/son Registered Nurses Kim and Jason Mick among others with Excellence Awards at a banquet on May 5.
Baptist Health Systems in Jacksonville, Florida is holding their fourth annual Celebration of Nurses on May, 7. The event includes several keynote speakers including comedian Deborah Delk.  On the digital front, Allnurses.com is launched its "Thank A Nurse" initiative calling on individuals t thank the nurses in their lives or recognize them via social media with the hashtag #ThankANurse. If you're hungry for something sweet, Cinnabon is advertising a free Classic Roll or Minibon if you present your healthcare ID badge.
Some of the nation's top hospitals are going all out. Cleveland Clinic is offering discounted tickets to the Indians/Twins game, $5 gift cards from Panera Bread, reflexology, Aromatherapy, and reiki sessions to it's 12,000 nurses. Johns Hopkins in Baltimore is hosting 1500 for a Bullpen Party at the Orioles game among other things. And the Mayo Clinic is giving all nurses free copies of the new book "The Nurses of Mayo Clinic: Caring Healers."
Nurses certainly deserve the recognition. You'd be hard-pressed to find a single person in America who hasn't been assisted in some way by the caring of a nurse. We've put together a SlideShare with some of our favorite nursing reelated quotes. We hope you enjoy it!
http://blog.bluepipes.com/wp-content/uploads/2014/05/Nurses-Week-2104.jpg
360
710
Kyle Schmidt
http://blog.bluepipes.com/wp-content/uploads/2013/12/bluepipes-logo-blog-7g7-300x137.png
Kyle Schmidt
Nursing Quotes for National Nurses Week 2014