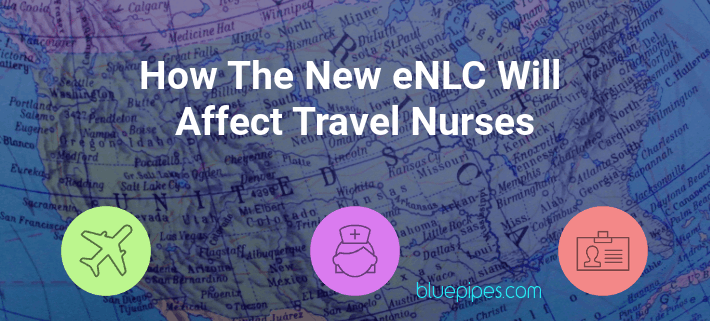 If you haven't heard yet, the National Council of State Boards of Nursing (NCSBN) is saying "out with the old and in with the new" to compact state licensure as we know it by introducing the enhanced Nurse Licensure Compact (eNLC).
A compact state license allows nurses to work in other compact states fluidly with one multi-state license. To qualify, nurses must have a permanent address in a NLC state (with a driver's license to prove it). This is especially important for travel nurses, who regularly hop from state to state for new assignments.
Under the original NLC, 25 states were recognized as compact. However, things are shifting under the new eNLC. So far, 29 states have enacted the eNLC legislation, including five states that were not in the original NLC. Here's the how eNLC is different from the original NLC, and what travel nurses need to know to hit the ground running.
When is the eNLC being implemented
On January 19, 2018, the new eNLC will be implemented for states that have elected to join the eNLC. Some states have eNLC legislation pending, and are awaiting approval to join. This eNLC map provides all the information needed to stay updated on the status of all 50 states.
What is different about the eNLC
One of the main goals of the eNLC is to make it easier for states to join, with the ultimate goal of 100% participation nationwide. A key factor in accomplishing this is the standardization of criteria eNLC states will require for licensure. When states joined the original compact agreement, they each came with their own unique set of requirements, varying in scope.
To hold a multistate license in an eNLC state, nurses will have to meet the same 11 uniform of requirements, including a background check. Those who do not meet the criteria may still be eligible for a single-state license.
Who will the eNLC affect
At some point, the eNLC will affect all travel nurses – almost exclusively for the better since it will significantly shorten the licensing process for eligible states. Here's what you need to know:
If you live in Rhode Island where the new eNLC has not been enacted…
Rhode Island is the only NLC state that has not yet enacted the eNLC. If this is your home state and you currently have an NLC license, then you will need to apply for a single-state license to work outside of Rhode Island.
If you already hold a multistate license through another NLC state:
The other 24 states in the NLC have enacted the eNLC. For these states, you do not have to apply for a new license to work in eNLC states. You'll be grandfathered in as long as you held an active multi-state license prior to July 20, 2017.
If you do not live in a current NLC state now, your state might have already decided to join the eNLC…
These states are Georgia, Oklahoma, Wyoming, Florida and West Virginia. They will be active eNLC compact states as of January 19, 2018. If one of these 5 states is your home state, then you'll need to apply for an eNLC license with the state's BON. Once granted an eNLC license, travel nursing in other eNLC states will be seamless.
If you do not live in a state that has already joined the eNLC, then there is still hope. Your state might have eNLC legislation pending…
Nurses with permanent addresses in Massachusetts, Michigan, Indiana, Vermont, Illinois and New Jersey can apply for an eNLC multi-state license if/when the legislation is approved (date to be determined).
If you do not live in a NLC or eNLC state…
Stay tuned! The goal of the new compact agreement is to get more state participation in the long run. Your state could be next to join!
The NCSBN has already provided a handy list of FAQs on their website for any additional questions and details about the eNLC. Regardless of your compact state license status, healthcare staffing agencies like Cirrus Medical Staffing help you keep track of all the requirements for every state you work in.
ABOUT THE AUTHOR:
MEGEN ROBBINS

Megen Robbins is the Marketing Team Lead at Cirrus Medical Staffing, a full-service healthcare staffing agency dedicated to finding the best jobs for travelers together with the best recruiters in the biz. In her spare time, she's usually hanging out with her two children under age 3, while simultaneously daydreaming about alone time. Find more travel nursing career advice, tips and news on the Cirrus blog!
http://blog.bluepipes.com/wp-content/uploads/2017/12/enlc-for-travel-nurses.png
360
710
Guest Author
http://blog.bluepipes.com/wp-content/uploads/2013/12/bluepipes-logo-blog-7g7-300x137.png
Guest Author
How The New eNLC Will Affect Travel Nurses