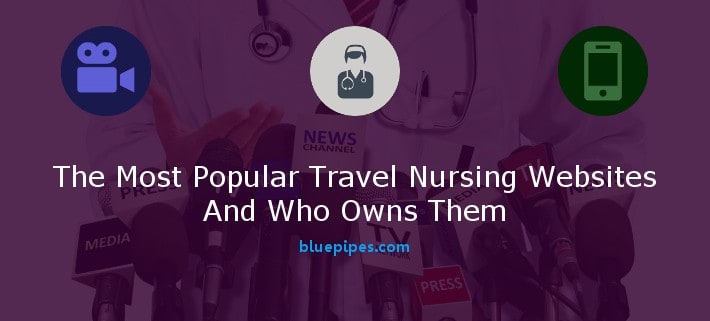 We recently posted an article titled "20 Of The Most Popular Nursing Websites And Who Owns Them." We received a lot of positive feedback on the article as well as several requests for a similar article on Travel Nursing Websites. So in this blog post, we'll discuss the most popular travel nursing websites and who owns them.

Compiling The List Of Top Travel Nursing Websites
To compile the list, we relied on the same methodology that we used in compiling the list of the most popular nursing websites. Specifically, we conducted a search to find travel nursing websites and entered the domain names into Alexa, a web analytics service owned by Amazon.
Alexa uses a browser toolbar that is installed on a large number of browsers to track the websites that users visit. Alexa uses the data to provide website rankings and other analytics. The rankings are constantly changing as you might imagine. We took our readings on June 30, 2015.
Also, as mentioned in the previous blog post, this isn't a perfect system. Please review that discussion if you're interested in finding out why.
It's important to note that compiling the list of travel nursing websites was more difficult for several reasons. First, there are far fewer websites devoted to travel nursing than there are to general nursing. Therefore, we included many websites with very low Alexa rankings. This is understandable given the fact that there are far fewer travel nurses than nurses in general.
Second, travel nursing company websites constitute a large number of the websites dedicated to travel nursing. These sites are unique when it comes to measuring popularity. For example, a company website might get a lot of traffic because it's employees are logging into it's web portal for work related issues.
Moreover, company sites are quite different from one another. Some of them have vibrant blogs attached to their domain names while others are simple company websites. Those with blogs can have hundreds of pages while those without have far fewer pages. And websites with more pages are bound to get more traffic.
Third, every travel nursing website we reviewed also included content that was devoted to nurses in general or some other topic. In other words, none of them were devoted to travel nursing 100%. It's fair to assume that sites with more content devoted to nurses in general would receive more traffic because they're playing to a bigger audience.
As a result of these issues we created separate lists, one for "travel nursing company websites" and one for "travel nursing websites." In order to be considered a travel nursing website, it had to be easily discernible that the site was largely devoted to travel nursing either by name or by the amount of content devoted to the subject. Additionally, the site couldn't be on the domain name of a travel healthcare company.
Finally and unfortunately, Alexa isn't able to measure the popularity of websites that don't have a unique domain name. For example, if the url for the site is "travelnursing.linkedin.com," then Alexa will only be able to measure the traffic for linkedin.com as opposed to the specific page. This means that Delphi Forums, Facebook Groups, Stumbleupon pages, LinkedIn Groups, Sub-Reddits, Google Plus Communities and many other popular travel nursing destinations are not measurable. It's very possible that some of these sites would make it on the list.
With all that in mind, let's first take a look at the most popular travel nursing websites.
 The 10 Most Popular Travel Nursing Websites
Alexa Ranking: 120,269
Ownership: BluePipes.com is privately owned and operated. The website was launched in May of 2013 by co-founders Kyle Schmidt and William Clark. Kyle Schmidt is a former travel healthcare recruiter and manager. William Clark is a web developer with over 20 years experience developing web applications.
BluePipes is a professional networking website dedicated to healthcare professionals. It was launched with documentation management features that are particularly useful for travel healthcare professionals. As a professional networking website, BluePipes can also help travelers manage their communication with recruiters. Travelers and recruiters can join for free. The company does not sell member contact information to third parties.
Of course, BluePipes also has a blog called BluePipes Blog. The blog has tons of useful information for travel healthcare professionals. It includes in depth articles and videos on travel nursing pay, negotiation, companies, taxes, documentation, housing and much more. BluePipes also has a job board and a Question & Answer feature that allows members to engage in conversations on the site.
Alexa Ranking: 138,309
Ownership: TravelNursing.com is owned by AMN Healthcare Services which is the largest healthcare staffing company in the country. The company is better known as American Mobile.
TravelNursing.com bills itself as, "Your destination for nursing jobs from the best nurse staffing companies." Their goal is provide quality information on travel nursing jobs, salaries, and benefits. The website includes a job board and a blog with plenty of useful information.
It's important to note that the "best companies" on TraveNursing.com are all owned by AMN Healthcare Services. All job postings on the site are from AMN companies as well. If you apply using the site's application, you will essentially be applying for jobs with AMN Healthcare. There is nothing wrong with this, but it's always good to know!
Alexa Ranking: 219,436
Ownership: TravelNursingCentral.com was started by a travel nurse and is now owned by Medical Solutions, Inc, a travel healthcare staffing company.
TravelNursingCentral.com has tons of great services for travel nurses. For starters, they have a Ratings Feature that allows travelers to rate and review the hospitals and agencies they have worked with. They also have a classified service for travel nurse housing that currently has nearly 2,000 listings. The site has a blog with useful information on all things related to travel nursing and you can even look through tons of recruiter profiles.
Alexa Ranking: 264,474
Ownership: TravelNurseSource.com is owned by Track5Media, LLC which is a holding company that operates several industry specific websites designed to generate leads for employment opportunities.
TravelNurseSource.com has a job board that many travel nursing companies post jobs on. The site also has a blog with plenty of useful information for travel nurses. The website recently added a section that allows travelers to review recruiters and browse recruiter profiles and reviews.
When you apply through TravelNurseSource.com, your information will be sent to all of the agencies that purchase their lead generation services. Some travelers consider this to be a big help because it gets tons of agencies to contact you. Other travelers are not fond of this approach because they end up getting calls and emails from tons of recruiters for years to come. Either way, the company is in the business of selling contact information to third parties, so be sure to review the privacy policy before entering your contact information anywhere on the site.
Alexa Ranking: 344,938
Ownership: Unknown
Like TravelNurseSource.com, TravelNursing.org is a lead generator for the travel nursing industry. The website provides some basic information about travel nursing and has a fairly limited blog with some useful information. They promise to connect travel nursing candidates with travel nursing companies. The site has a basic application form for candidates to enter information which the site then sells to interested travel nursing companies.
Alexa Ranking: 361,628
Ownership: TheGypsyNurse.com is owned and operated by Candy Treft, RN who is an experienced travel nurse.
TheGypsyNurse.com is a great resource for information on travel nursing from a travel nurse's perspective. The site has a 28 step plan to get up and running as a healthcare traveler. The blog includes articles on products for nurses, issues in nursing, traveling to foreign countries, and much more.
Candy Treft also moderates the largest Facebook group dedicated to travel nursing that we're aware of. That group can be found here.
Alexa Ranking: 395,358
Ownership: TravelNursingBlogs.com is owned by Medical Solutions which is a healthcare staffing company.
TravelNursingBlogs.com might be the single biggest website devoted to travel nursing as far as sheer size is concerned. The site has at least 1,000 pages of content. The blog includes information on travel nursing pay, housing, finances, life on the road, general nursing issues and much more. David Morrison, RN, who wrote a book called The Travel Nurse's Bible, answers questions for the site's "Ask a Travel Nurse" feature.
The site also has travel nursing company ratings and reviews. There are also links to many resources that are very useful for travel nurses like cost of living calculators and salary calculators. TravelNursingBlogs.com also advertises jobs from Medical Solutions.
Alexa Ranking: 392,765
Ownership: HealthcareTravelers.com is owned by Healthcare Employment Network, LLC which is primarily engaged in lead generation for the healthcare staffing industry.
HelathcareTravelers.com is a lead generator like TravelNurseSource.com and TravelNursing.org. However, the site does not appear to have a blog or much in the way of resources for the traveler. Instead, it's focused strictly on providing lead generation services.
Alexa Ranking: 455,309
Ownership: HighwayHypodermics.com is owned by Highway Hypodermics, LLC which is owned by Kay Slane, RN. Kay has over 10 years of travel nursing experiencing and she wrote the book "Highway Hypodermics" under the pen-name Epstein LaRue. This book is a must read for anyone interested in travel nursing.
HighwayHypodermics.com is true gem among travel nursing websites. The site is most know for the information it provides about travel nursing companies. First, the site provides information about the benefits that individual companies provide. Companies complete a benefits questionnaire and the results are published on the site.
Second, the site lets visitors submit company evaluations. The scores are tallied and averaged and the results are displayed on the website for each company. In addition, the site includes company profiles for more than 50 companies. There are even recruiter profiles available.
Each year, the site releases its list of the Top 10 Travel Nursing Agencies. The rankings are based on company evaluations submitted by travelers as well as company benefit questionnaires.
Highway Hypodermics includes tons of other useful information as well. The site has a series of Travel Nursing Stories that are submitted by travel nurses. These stories are an excellent way to learn about travel nursing. The site also has useful links, hospital evaluations, and much more.
Alexa Ranking: 866,379
Ownership: TravelNursingElite.com is owned by Elite Traveler International, LLC which is owned by Jennifer Green, RN.
TravelNursingElite.com advertises a host of eBooks and informational resources written by Jennifer Green that promise to help buyers get the most out of travel nursing.
Observations On The Most Popular Travel Nursing Websites
As you can see, we nearly got down to the 1 millionth most popular website in America with this top 10 list. And no website on the list cracked the top 100,000. Again, this is largely due to the fact that travel nursing is such a small niche. There are relatively few people looking for information on the subject. As a result, there aren't that many websites devoted to the subject.
Of the 10 sites listed, 3 are owned by travel nursing companies and 3 are owned by lead generators. There are many other travel nursing sites that are owned by companies and lead generators, but their Alexa rankings were too low to make the list.
The 10 Most Popular Travel Nursing Company Websites
As mentioned above, travel nursing company websites have unique aspects that warrant separate consideration. First, some company websites are going to receive a lot of traffic because they provide services for their employees that require logging in. Other companies outsource such features to third party applicant tracking systems. Second, some company websites include blogs which will ultimately drive more traffic to the site.
As a result, we thought it would be more useful to list them separate from non-company sites. This way, readers can get an idea of the impact that various company approaches have on site traffic.

Alexa Ranking: 43,945
This may come as a surprise to some, but Soliant Health is one of the largest healthcare staffing companies in the country. Their website has an informative blog and visitors stay on site to apply for jobs.
Alexa Ranking: 67,962
This appears to be American Mobile's main travel nursing website. It includes a small number of travel nursing related articles, information on licensing in all 50 states, job postings, and a job alert signup form. More importantly, AMN travelers can log in to their employee portal through this site which is probably a big reason that it ranks so high.
Alexa Ranking: 90,594
Supplemental Healthcare's website has a small blog. They also have an employee web portal that is run through the site.
Alexa Ranking: 99,099
Aureus Medical's website has a lot of marketing content including info-graphics and videos.
Alexa Ranking: 118,275
Fastaff's website has tons of useful resources including a blog with more than 150 articles. They also have a job board that lists pay rates for each assignment.
Alexa Ranking: 136,227
TruStaff is a staffing firm that works with professionals of all types, so it may not be fair to add them here as we can't be sure how much of their traffic is related specifically to travel nursing. As a result, we'll include an extra number 6 result.
Alexa Ranking: 169,348
Medical Solutions is one of the 5 largest travel nursing companies in the nation. Their website has a blog as well as tons of resources for travel nurses. The website also includes a a web portal for the company's travelers which results in more traffic.
Alexa Ranking: 171,310
OnwardHealthcare.com is a pretty basic website. There isn't a lot of information or pages, so it's difficult to understand how they generate so much traffic. The website does have a portal for travelers to log in and manage their profile and job search with the company, so perhaps that's where all the site's traffic comes from. It's also important to point out that Onward Healthcare is now owned by AMN Healthcare Services.
Alexa Ranking: 202,593
RN Network is owned by CHG Healthcare Services which is one of the largest healthcare staffing companies in the nation. The site has a blog with more than 150 blog posts, so there is some useful information for travelers on the site. Additionally, the site has a web portal for employees to login which also generates traffic. They also have a job board other useful pages.
Alexa Ranking: 204,986
NursesRX.com is the third website on this list that is owned by AMN Healthcare Services. The website is very similar to others owned by AMN. It's pretty basic and doesn't have much in the way of resources or information.
Alexa Ranking: 224,548
AmericanTraveler.com has a blog with over 250 articles. The website also has an employee portal, access to employment documentation, a job board and more.
Observations On The Most Popular Travel Nursing Company Websites
It's interesting to note that all of the company websites on the list have a blog and/or an employee portal on their website. These two features are certain to drive traffic to the site. It's also interesting to note that 3 of the sites listed are owned by AMN Healthcare Services.
Meanwhile, Cross Country TravCorps' website just missed the cut with the an Alexa ranking of 225,407. This is surprising given that Cross Country is the nation's second largest travel nurse staffing company. However, as mentioned previously, Alexa rankings fluctuate daily, so Cross Country could be among the top 10 tomorrow.
Finally, if you haven't read our previous article on the 20 most popular nursing websites, then you'll probably be interested to know that healthcare staffing companies own many of those sites as well. For example, AMN Healthcare Services owns MightyNurse.com, RN.com, and NurseZone.com while Cirrus Medical Staffing owns NurseTogether.com.
As always, we'd love to hear your thoughts on this subject. Please share them along with any questions in the comments section below!
http://blog.bluepipes.com/wp-content/uploads/2015/07/most-popular-travel-nursing-websites.jpg
360
710
Kyle Schmidt
http://blog.bluepipes.com/wp-content/uploads/2013/12/bluepipes-logo-blog-7g7-300x137.png
Kyle Schmidt
The Most Popular Travel Nursing Websites and Who Owns Them