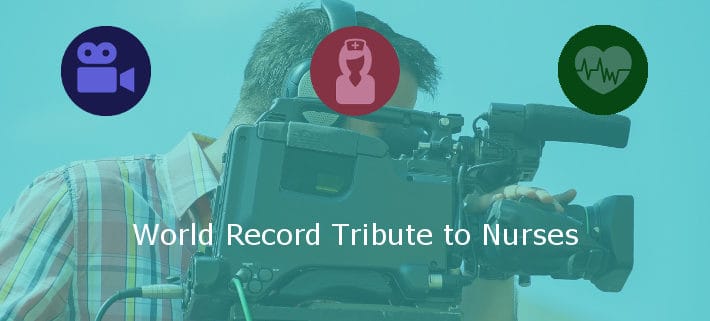 To honor nurses everywhere, the good folks at Medical Solutions set a world record for the largest human formation of the letters "RN" surrounded by heart on April 21, 2016. They released a short video documenting the event which can be viewed below.
In addition to this fun and unique display of recognition, Medical Solutions also donated $5,000 to the Children's Miracle Network. Miss America's Miss Colorado, Kelley Johnson, attended the event. If you remember, Kelley is a Registered Nurse who cited nursing as her special talent during the Talent portion of 2015's Miss America pageant. Hosts of the popular daytime TV show, The View, made snide and demeaning remarks about it the following day.
Nurses every where were rightly appalled and took to social media to express themselves. Kelley defended the nursing field and community with dignity and grace. She earned everyone's respect in doing so and became a popular spokesperson for the nursing field. She now works closely with the  Children's Miracle Network fundraising for local children's hospitals.
Medical Solutions released the video on May 6th which marks the beginning of National Nurses Week.
Medical Solutions is celebrating National Nurses Week with all kinds of fun give-aways and contests. Visit http://weloveournurses.com/ to participate!
http://blog.bluepipes.com/wp-content/uploads/2016/05/nurses-week-tribute.jpeg
360
710
Kyle Schmidt
http://blog.bluepipes.com/wp-content/uploads/2013/12/bluepipes-logo-blog-7g7-300x137.png
Kyle Schmidt
We Heart RNs World Record Video From Medical Solutions