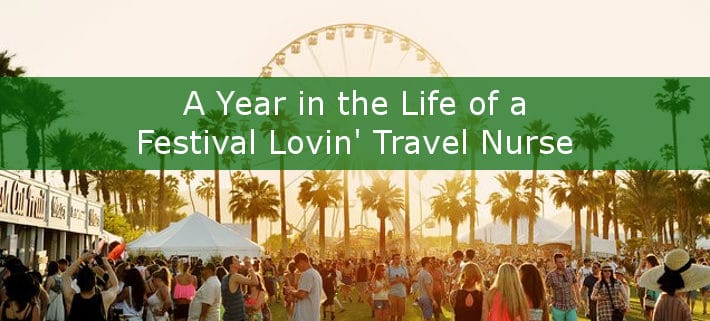 "A Year in the Life …" is inspired by travel nurses who plan their assignments around their passions.
I confess… I am a festival junkie. (My parents were hippies and went to the original Woodstock, so I blame them) There is no better way to experience the greatness of a new city than to immerse yourself into the culture. I find the most perfect way to do this is by hitting up as many local festivals on my travels as I can. As Siddharth Katragadda said, "The greatness of a culture can be found in its festivals." 
Follow My Itinerary if You too are a Festival Lovin' Travel Nurse
Travel Nursing in Chicago, Illinois – Summer Music Loving
Spend the summer months working in Chicago, Illinois and enjoy some of the biggest and most popular festivals in the country. Start in June at the Spring Awakening Festival, which is known as the Midwest's premier all-electronic music festival. The lineup at Spring Awakening is sure to impress.
Later in June, be sure to check out Mamby on the Beach! This festival offers the comforts of urban city life with the casual vibe of a beach party. Known for headlining new up and coming bands, Mamby is growing in popularity and becoming a must attend by true festival goers.
At Pitchfork Music Festival in mid-July, you can jam out to big-name bands, while enjoying the relatively inexpensive price of a three-day pass at $200. Pitchfork goers are known for discovering a band before they become "big" and there is always a continuation of the festival in downtown Chicago after the music has stopped.
Finish off your time in Chicago at the legendary Lollapalooza Festival starting in early August. Lollapalooza is globally recognized as a "bucket list" festival. The impressive lineup is never disappointing and the treats offered at 'Chow Town' are considered among the most delicious festival food. Chicago is a must for the music festival loving travel nurse!
Travel Nursing in New Orleans, Louisiana –  Fall is about food!
The Big Easy is one of the most legendary festival locations in the world. Start off the fall festival season in New Orleans with options in late September/ early October such as the Fried Chicken Festival, Beignet Festival, Oktoberfest, New Orleans Film Festival, Crescent City Blues & BBQ Festival and more!
In late October, you can have your seafood and eat it too, with options like the Mac n Cheese Fest, Louisiana Seafood Fest, and the Voodoo Experience, a legendary mega-fest that includes some of the most popular bands and Louisiana food. New Orleans has festivals to celebrate any and everything, and it goes without saying that good music is everywhere!
Travel Nursing in Miami, Florida – Enjoy Festivals Instead of Shoveling Snow
Spend your winter in beautiful Miami, Florida, enjoying some astounding festivals and exciting lifestyle. In mid-December check out the Miami Outboard Club Holiday Boat Parade, kicking off the holiday season in style! Start off the new year by attending Holy Ship! Festival in January, recognized for its around the clock performances on a week-long ship ride. Mid-January check out Art Deco Weekend Festival, showcasing the beautiful Art Deco buildings of South Beach.
Coconut Grove Arts Festival takes place in mid-February and is South Florida's most successful arts festival. In early March, be sure to make the two hour drive up to Okeechobee, Florida to attend the Okeechobee Music Festival! The Okeechobee Music Festival marks the start of the U.S. Music Festival Season! Later in the month you can check out Calle Ocho, the largest Hispanic street festival in the Southeastern United States! Enjoy the lovely Florida weather, while experiencing the rich culture of Miami.
Travel Nursing in Palm Springs, California – Spring Festivals are Full of Sunsets and Palm Trees.
California has world renowned music festivals that spread across the large state. In the spring, Palm Springs offers a variety of festivals and is the best time to go! Check out COD Street Fair every Saturday and Sunday, where locals and visitors can spend their day with an open-air shaded shopping experience. During the spring, every Thursday night, experience Palm Springs Villagefest, which is a street fair featuring arts, crafts, food and entertainment!
You cannot claim to be a festival lover without experiencing Coachella at least once in your life. Take a weekend to immerse yourself in true festival life and embrace the music, food, celebrity sightings, and incredible over the top outfits. In April, check out Stagecoach in Indio, California to and channel your inner cowgirl. Indio is only a 30-minute drive away from Palm Springs. This country music festival occurs only weeks after Coachella and is equally as exciting.
So, pack your bags and get ready to explore, one festival at a time! Click here to check out 'The Best Travel Nursing Companies of 2017' to find the best fit for you to take your next adventure and travel nurse assignment.
About the Author:
This article was contributed by a festival lovin' travel nurse at GIFTED Healthcare. Gifted Healthcare was ranked as one of the nation's top 20 Healthcare Staffing Agencies in 2017 by BluePipes. Be sure to check them out for your next travel nursing adventure.
http://blog.bluepipes.com/wp-content/uploads/2017/09/festival-travel-nurse-bp-cover.jpg
360
710
Guest Author
http://blog.bluepipes.com/wp-content/uploads/2013/12/bluepipes-logo-blog-7g7-300x137.png
Guest Author
A Year in the Life of the Festival Loving Travel Nurse