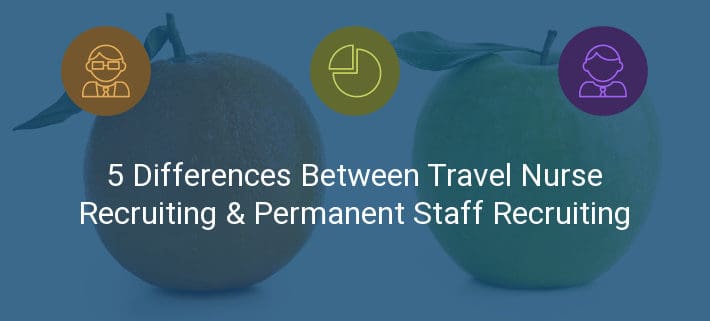 Recruiting is a cornerstone of the travel nursing industry. It's also a big part of staffing permanent nursing jobs. However, while both are engaged in recruiting healthcare professionals, they couldn't be more different. Some of the differences are obvious and some are subtle or even hidden. Either way, all the differences have an impact on travel nurses. So in this article, we'll take a look at 5 differences between recruiting for permanent staff jobs and recruiting for travel nursing jobs.
The Role of the Recruiter In Travel Nursing
The role of the recruiter is one of the most obvious differences between travel nurse recruiting and permanent staff recruiting. Every major healthcare employer and/or hospital has a team of recruiters to help them fill their permanent staff positions. However, you may not even encounter a recruiter when you're looking for a staff position. If you do encounter a recruiter, then your contact with them will most likely be limited.
Much of a perm-staff recruiter's time is spent communicating with teams within the organization to determine staffing needs and managing the sourcing process. In other words, they are engaged in finding potential candidates and forwarding them to hiring managers.
In some cases, a nurse may not have any contact at all with a perm-staff recruiter. When you do encounter a perm-staff recruiter it's often nothing more than a quick phone call to answer a few standard questions and schedule an appointment for an interview. And once you land a permanent job, there's very little chance that you'll communicate with the recruiter ever again.
By contrast, travel nursing recruiters play a key role from beginning to end. In the early stages, travel nursing recruiters typically offer detailed explanations about the general aspects of travel nursing. They answer questions about pay packages, housing, taxes, jobs, contracts and more. And if they're doing their job right, they also get to know the traveler on a personal level and find out precisely what the traveler is looking for in an assignment.  These initial conversations can sometimes last hours.
Once a job is secured, the travel nurse recruiter will likely be involved in the credentialing and onboarding process. They might even be involved in establishing payroll and benefits behind the scenes. Once the traveler starts the assignment, the recruiter will most likely continue to be the traveler's point of contact for all service related issues. And the recruiter will certainly be involved in future contract searches.
The scope of a travel nurse recruiter's role often depends on the size of the company. Recruiters at small and mid-sized companies are often responsible for everything. Recruiters at larger companies often have support teams responsible for handling much of the process. But either way, the travel nurse recruiter maintains a much more prominent role than the perm-staff recruiter. In fact, many travel nurses say recruiters will make or break your travel nursing experience.
Related
How to Find and Evaluate Travel Nursing Recruiters
Travel Nurse Recruitment Approaches
One of the more subtle differences between travel nurse recruiting and perm-staff recruiting has to do with the range of recruitment approaches available to the recruiter. The perm-staff recruiter is most often engaged in a job-centered approach to recruitment. This means they are engaged in selling candidates on the merits of a particular job. Therefore, they are only interested in candidates who possess the qualifications for that particular job.
That said, it's true that perm-staff recruiters often have multiple jobs to fill. However, the number of jobs that a perm-staff recruiter has available is relatively small and it doesn't fluctuate that much. As a result, the perm-staff recruiter is focused on filling jobs that are open now.
By contrast, travel nursing companies typically have a much larger pool of jobs open at any given time because they work with hundreds or even thousands of healthcare employers. Moreover, the agency's job orders are in constant flux with jobs opening and closing frequently. Travel nursing recruiters can certainly take a job-centered approach to recruiting and search only for candidates that meet the qualifications of a specific job. However, travel nurse recruiters are able to use other approaches as well.
For example, a travel nurse recruiter can take an advocate-approach on behalf of the traveler. In this scenario, the recruiter will find out what the traveler is looking for and then go about finding it. The difference is that the recruiter is not calling to pitch the traveler on a specific job. Instead, the recruiter is offering their services to help find the ideal position.
Travel nursing recruiters can also take a service-based recruitment approach. In this scenario, the recruiter attempts to sell candidates on the merits of working with their agency. The difference seems subtle on the surface, but this is a very popular approach among small and boutique agencies. Essentially, these agencies have access to far fewer jobs than their larger competitors, but they are able to offer more personalized service and potentially much higher pay.
The recruiter's goal with this approach is twofold. First, become the traveler's top choice should the stars align on the right assignment. Second, potentially convince the traveler to take an assignment that the traveler otherwise wouldn't in order to receive a premium level of service.
Why does this matter for travel nurses? Well, it answers a few common questions regarding recruitment tactics in the travel nursing industry. Many travelers wonder why recruiters contact them without a specific job opportunity, or why they get so many calls from travel recruiters in general. After all, you're phone isn't ringing off the hook with perm-staff recruiters. The reason is that travel nursing recruiters must utilize all the recruitment approaches in order to build the large pool of candidates required for success.
How to evaluate pay packages
Competition Between Travel Nursing Agencies for the Same Job
One of the main reasons travel nursing recruiters need a large pool of candidates to succeed is that they are competing with recruiters from other agencies to fill the same jobs. Hospitals have always worked with multiple agencies to get their jobs filled. However, in recent years, the proliferation of Vendor Management Services has enabled hospitals to conveniently work with more agencies than ever before.
Meanwhile, perm-staff recruiters have exclusive access to the jobs they are recruiting for. Even if the hospital hires outside help to fill the permanent positions, it typically doesn't make a difference to the perm-staff recruiter. As long as the jobs get filled, the perm-staff recruiter wins.
Of course, the increased competition in travel nurse recruiting has an impact on the recruiting process. Perhaps most notably, travel nursing jobs get filled much quicker on average than permanent jobs. There are often hundreds of companies with thousands of recruiters attempting to fill travel nursing jobs.
Moreover, the temporary nature of travel contracts simplifies the decision-making process for both candidates and hiring managers. Neither party needs to worry about long-term ramifications if something doesn't work out. As a result, the vetting process tends to take far less time.
This high level of competition among agencies can sometimes result in travelers being submitted without their permission. The competition creates a race to submit candidates. It's not always the best candidate that lands the job, often it's the first qualified candidate to be submitted. So while recruiters know it's wrong to submit a traveler's profile without permission, they are sometimes unable to resist the urge.
Recruiters and agencies might also recruit for "ghost-jobs". A ghost-job is a job that isn't actually open. Agencies might post them to job boards or via social media. Similarly, recruiters might tell candidates they have a job opening that matches the candidate's needs even though no such job is open.
Agencies and recruiters use these tactics for two reasons. First, they may have a high level of confidence the job will exist in the near future. By recruiting for it in advance, they'll have everything ready to go so they can beat their competition to the punch. Second, recruiters may think they can convince a candidate to take a different assignment once the candidate has completed all of the agency's paperwork.
Travelers rightly despise these tactics and there is no acceptable justification. And of course, these things rarely if ever happen when looking for a permanent staff job.
Related
14 Ways Recruiters Betray The Trust of Travel Nurses
Access to Information About the Hiring Process
Travel nursing recruiters and agencies might be less likely to rely on these tactics if they had access to all the information about the hiring process. This is another difference between perm-staff and travel recruiting. Perm-staff recruiters have easy access to the number of candidates who have been submitted for a job opening, the viability of those candidates, where they are in the process, and all the other pertinent information.
However, travel recruiters don't have access to all this information. Of course, they have access to the number of candidates that their own agency has submitted for a particular job, but they most likely don't have access to the candidates submitted by their competitors. Moreover, agencies typically don't have access to hiring managers. As a result, they have no way of knowing where the hiring managers are with the interview/offer process. And sometimes, travel recruiters don't even know if a particular job is still open or not. This is why travelers sometimes find that a job is filled immediately after applying for it.
Travel Nursing Companies and the Hiring Decision
Of course, travel nursing recruiters don't always know when a job is filled because travel nursing companies don't actually make the hiring decisions. This is another key difference between perm-staff and travel recruiting. If it were up to the travel agency, every one of their qualified candidates would get hired for a job. The more people the agency has working, the more money the agency makes.
Instead, the agency's role is to submit all their qualified candidates and let the hospital decide on the best fit. As a result, travelers should not be surprised to find that their agency has submitted multiple candidates for the same assignment. You may even find that your own recruiter has submitted multiple candidates to the same assignment.
Given the central role that recruiting plays in travel nursing, it's important for travel nurses to have a solid understanding of the terrain in which recruiters operate. We hope this information helps in that regard. As always, we'd love to hear about your experiences with this issue. Please post them on BluePipes Forums to discuss with the community!
http://blog.bluepipes.com/wp-content/uploads/2016/11/travel-nurse-recruiter-perm-staff-recruiter.jpg
360
710
Kyle Schmidt
http://blog.bluepipes.com/wp-content/uploads/2013/12/bluepipes-logo-blog-7g7-300x137.png
Kyle Schmidt
5 Differences Between Travel Nurse Recruiting and Permanent Staff Recruiting