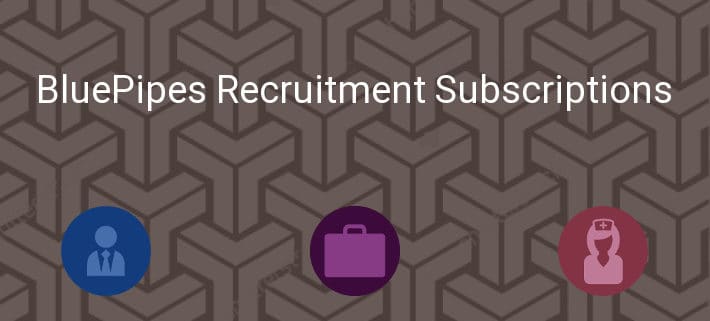 BluePipes is a healthcare professional network. We provide healthcare professionals with powerful career management tools including a resume builder, skills checklists, document management tools and much more. We provide healthcare employers with both free and premium services. In this article, we'll take a quick look at our premium Recruitment Subscriptions for employers.
BluePipes Recruitment Subscription Features
A BluePipes Recruitment Subscription provides the subscriber with three features to help them recruit candidates.
Send Messages to BluePipes Members
A Recruitment Subscription allows the subscriber to send messages to BluePipes members through BlueMail, the website's messaging system. When a message is sent, an email notification is delivered to the email address the member used to create their BluePipes account if the member has their notification setting activated. Notification settings are activated by default. The website will also generate an onsite notification badge so the member knows they have messages when they log in.
Send Connection Requests to BluePipes Members
A Recruitment Subscription also allows the subscriber to send connection requests to BluePipes members. Recruiters are able to include a personalized message to the member in order to introduce themselves. Building a network on BluePipes has several advantages for employers and recruiters.
First, the connection stays active as long as either party doesn't terminate it. This means the connection stays active regardless of whether or not you keep your recruitment subscription. Second, once you're connected, you can send messages with or without a recruitment subscription. Finally, having a network on BluePipes will allow you to take advantage of future social features.
Three Tools To Help You Recruit More Effectively
We currently provide 3 tools to help you get the most out of your recruitment subscription with BluePipes. Let's take a look at each of them.
Availability Notifications
We provide our members with a feature that allows them to update their job availability. They simply complete and save a form with pertinent job search information including the type of employment desired, specialty, location, shift, start date and more.
If the member makes their availability public, then we send out an email notification to all the recruiters on BluePipes. The email includes a link to the member's BluePipes profile. If you have a recruitment subscription then you'll be able to message and connect with them right on their profile.
Recent Members Page
Our Recent Members page displays a mini-profile for the 100 most recent members to join BluePipes. Each mini-profile provides the option to send a message and/or connection request right from the Recent Members page. This list updates in real time so we recommend checking the page periodically throughout the day to ensure you're one of the first to inquire.
To get to the Recent Members page, simply select "Network" and then "Recent Members" from the main navigation bar.
Access The BluePipes Advanced Search Feature
A Recruitment Subscription allows the subscriber to access the BluePipes Advanced Search feature. The advanced search feature lets you search all the categories of our member public profiles to find the right candidates. The categories include Name, Availability, Specialties, Licenses and Certifications, Work History, Education and Checklists.
Looking for an ICU RN to take a job in Texas? Use the Advanced Search feature to search ICU in Specialties, plus RN and TX in Licenses and Certifications. We'll surface the most relevant results first so you can find the right candidate faster.
Why Purchase BluePipes Recruitment Subscriptions?
The simple reason to purchase BluePipes Recruitment Subscriptions is that they work! There's a reason that recruitment spending on networking websites is up over 500% since 2011. Such platforms offer many benefits that ultimately result in more placements.
First, candidates prefer being contacted through a platform to being contacted using their personal contact information. Second, your professional network can be leveraged for referrals in a way that traditional "leads" simply can't. You'll be able to see who your connections are connected to and proactively ask for warm introductions. Traditional leads simply don't offer this opportunity. Third, you can engage your network with information and services for free. Fourth, you can engage with passive candidates to lure them away from your competitors.
Perhaps most importantly, BluePipes is like a turbo-charged professional network for healthcare. BluePipes members use the service to manage all of their career related information. So, when you engage with a candidate on BluePipes, you could receive a full set of employment related documents. This can greatly reduce your onboarding costs and reduce the time it takes to get candidates submitted for jobs.
http://blog.bluepipes.com/wp-content/uploads/2017/05/travel-nurse-recruitment-subscription.jpg
360
710
Kyle Schmidt
http://blog.bluepipes.com/wp-content/uploads/2013/12/bluepipes-logo-blog-7g7-300x137.png
Kyle Schmidt
BluePipes Recruitment Subscriptions