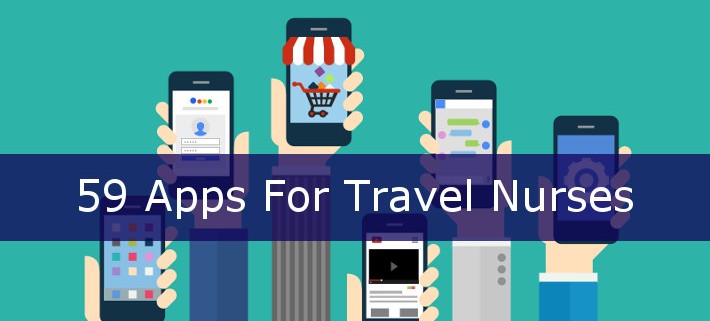 Travel nurses are both avid travelers and nursing professionals. The career has some very unique challenges as well. The great thing is that there are tons of apps to help travel nurses save money, simplify their careers, and have fun. Here are 59 apps for travel nurses to consider.
Apps That Help Travel Nurses With The Drive
GasBuddy
GasBuddy helps you find cheap gas based on your location. You can also search for cheap gas by city, zip, or postal code. If you see cheap gas, you can report it to GasBuddy and earn points. The app gives you a chance at winning $100 of gas every day. The more points you have, the greater your chances of winning!
Waze
Waze is robust. It bills itself as "the world's largest community-based traffic and navigation app." When the app is turned on, it tracks drivers so that it can provide real time traffic information. Users can also report wrecks and fender benders as well as police radar traps!
It provides directions with voice based navigation. The navigation system will even reroute you based on traffic issues. You can connect with Facebook, add friends and exchange ETA details. If you use the app to get to your destination, then it will remember where you parked so you won't lose your car! Oh, and you can also use it to find the cheapest gas on your route.
Rest Stops Plus
Rest Stops Plus has over 4,000 welcome centers, turn outs, service plazas, scenic vistas, and rest areas in the USA and Canada. The app provides details about services and amenities at each location when available. This helps you find locations that are pet friendly or have vending machines, RV dumps, picnic tables, and even wi-fi.
You can also set various filters so that you can find specific locations. The app costs $1.99. If you're looking for a lighter and free version, you can try USA Rest Stops.
Best Parking
Simply put, Best Parking helps you find the cheapest and most convenient parking facilities in 105 cities and 115 airports in North America. They even offer a $5 Starbucks prize if you receive bad data from the app!
Apps To Help Travel Nurses Find Cool Stuff To Do
Road Trippers
Road Trippers bills itself as "the ultimate US travel companion" and "Maps Built For Travelers." They have a website and an app. It helps you find the best diners, attractions, hotels, scenic locations and more along your route and create an itinerary. You can sync the website to the app and save items for offline tracking which is great for dead zones on the road!
Google Maps
Many travel nurses may already have the Google Maps App on their phone. In case you don't want to fuss with more apps, you can use the "Explore this area" feature to find things in your area. The app categorizes its selections for browsing or allows you to search. It provides ratings and the "street-view" feature so you can scope out places and their neighborhoods before deciding. It's best to be logged into your Goolgle account when using this app.
Roadside America
If you like to find quirky, offbeat sights to visit along your journey, then Roadside America might be perfect for you. The app lists over 10,000 oddball attractions around the country. It does come at a price though. The app costs $2.99 and it allows you to unlock a "zone". Unlocking different zones requires more purchases. They have a website that's free though!
Bandsintown Concerts
If you like live music, then you'll love Bandsintown! The app lets you track your favorite artists and receive alerts when they are playing near you. You can RSVP a performance and it will sync to your calendar. It can scan iTunes, Pandora and other services to find out what you like and then keep you updated with information about those artists. It can also recommend similar artists based on your interests. Bottom line, it helps you discover live music that you like in your area.
Applauze
Applauze helps you find concerts, theater productions, sporting events and even fun free things to do in your area. You can purchase tickets to events through the app. If you invite a friend to connect with you and they join the service, then you and your friend will both receive a $5 credit. However, be careful with the ticket prices that you're paying through the app! Many of the negative reviews claim that the prices are quite high. So it might be best to compare prices with other services like StubHub.
Fandango
Movie fans love Fandango's app. It helps you find movies and showtimes in your area and provides reviews from critics and fans. If you sign up for an account, you can purchase tickets through the app. And perhaps best of all, they allow tickets to be returned or credited to your account for future use if you can't make your show!
MeetUp
MeetUp is a service that lets members organize around similar interests. Members are able to create and join groups. They can then organize events and group members can RSVP and view a list of those who have RSVP'd. The website offers a more robust user interface, but the app has most of the same features.
This app can be useful for travel nurse to find groups who share similar interests in their new locations. Like any peer to peer social app, there are going to be some weirdos. However, one of the cool things about MeetUp is that you get to meet with groups.
Yelp
Yelp provides a platform where users can rate restaurants and businesses and write reviews. It may be the most popular service of its kind so there are tons of reviews to go off of. The app will find places based on search terms you enter and your location.
Yelp has a lot of controversy surrounding it. There are claims that they bully business owners into advertising, that their app surfaces advertisers higher in the results, and that they write fake reviews. Yelp points out that government investigations have absolved them and court cases have been thrown out.
TripAdvisor App
The TripAdvisor App also provides reviews of restaurants and other travel related businesses like hotels. Members are able to upload images and videos as well. It also has a "Discover near me" feature.
TripAdvisor also allows you to compare airfares, shop for hotels, and make restaurant reservations. It also has a forum feature where you can pose questions for the community. You can also download maps, reviews and other items you have saved so that you can access the data offline. This feature is available for over 300 cities worldwide.
Happy Hour Finder
It does exactly what the name implies. The helps you find happy hours in your area. Remember, happy hours aren't just for drinking; there are typically deals for food too!
HappyCow
If you're a vegetarian or vegan, then you can use the HappyCow app to help you find restaurant options that will meet your needs!
Localeur
Localeur is a unique way to find interesting things to do by location. Members create profiles that tell you about them and their interests. Then, they write reviews of things they like to do in their localities.
In theory, you could find someone with whom you share similar interests and then read their recommendations. This solves one of the main problems with review sites like Yelp. On Yelp, the Taco Bell might get 5 stars, but if you're not down with fast food, then you're in for a disaster!
Members that use Localeur absolutely love it. However, many people hate the app because it requires that you log in with Facebook. It uses your Facebook information to help you find Localeur members that you have things in common with.
Trover
Forbes and BuzzFeed have likened Trover to a cross between Instagram and Trip Advisor. Users take photos of the places they've been and provide descriptions. The photos can be geo-tagged so you can search for locations and discover things to do. You can meet up with fellow travelers. You can create "visual bucket lists" that can serve as itineraries for your future adventures. You can also browse a news feed of stuff near you.
Apps For Travel Nurses To Find Flights, Hotels and Accommodations
Hotel Tonight
Hotel Tonight lets you book hotels up to 7 days out, but it's famous as a last minute booking service when, theoretically, hotels should be most anxious to offer deep discounts to get their rooms occupied. The company hand-selects the hotels, so not all hotels participate. It categorizes hotels to help you find places by genres like Basic, Hip, and Luxe.
They offer 24/7 customer support and claim to have a low-price guarantee. The app has weather forecasts built in as well. Hotels are rated so you get some additional details before going through the very simple booking process…3 taps and a swipe and your hotel is booked!
Hotels.com
Hotels.com offers a much larger selection of hotels than Hotel Tonight. It also has a "Tonight's Local Deal" feature that works similarly to Hotel Tonight. You can use their map to discover hotels near you as well. You can pay through the app or at the hotel. If you book 10 nights through hotels.com, they give you one night free.
Airbnb
Airbnb is a service capitalizing on the "share-economy" phenomenon. The service lets property owners list guest houses, rooms for rent in their homes, or their entire homes. Of course, these options are typically much cheaper than hotels. At the same time, you have to watch out for shaky situations.
The app allows users to review one another so that helps. You can also communicate with property owners prior to any agreement. You can easily search for options in your area and pay through the app.
HomeAway & VRBO
HomeAway owns VRBO, both of which are popular vacation rental sites. Because they got their start as vacation rental sites, they are typically better for vacation type destinations. They also don't have as many share-rental options. Nonetheless, this is a great app to use when searching for accommodations for the duration of your travel nursing contract.
You can find out more about using Airbnb, HomeAway and VRBO here.
Kayak
Kayak is essentially a travel search engine for flights, hotels, and cars. You can comparison shop various different platforms and book your choices straight from the app. It also has a nice flight-tracker and itinerary-management tool.
The app syncs with TripAdvisor so you can see reviews and other details about potential selections. The app also has an Explore feature to help you find fun things to do in the area.
Hipmunk
Hipmunk might be the best reviewed app of its kind. Like Kayak, it lets you comparison shop for flights and hotels. However, it has some really cool additional features. It includes listings from Airbnb, HomeAway and VRBO. It's got a "Last Minute" booking feature for hotels that promises deep discounts. It's got a "Hotel Heat Map" that shows you how close the hotel is to shopping, dining and more. It's got a "Verified by Hipmunk" feature that conveniently lets you know if the hotel has free wi-fi and parking. You can even sort flights by "Agony" which lets you know which flights have the easiest path to your destination.
There's a reason that this app makes Time Magazine's Top 50 Apps list, CNN says it's a standout, Forbes says it's the new gold-standard, and MacWorld says don't leave home without it. It's well worth checking out!
Apps To Help Travel Nurses Store Documentation
Store and Share Documents With DropBox, GoogleDrive, OneDrive or Box
Travel nurses are routinely asked to provide copies of their licenses, certifications, and clinical documents. Cloud based document storage services offer a convenient way to manage your documentation.
All of the services above will let you store documents and access them from all your devices by installing the service's app on each device. You can also share your documents through the apps which makes it convenient to send your documentation to recruiters. They each have their own unique bells and whistles, but the main functionality is the same for all of them.
Of course, you can also use BluePipes to help you manage your documentation. BluePipes lets you create your own travel nursing resume, skills checklists and full job application. It also has a document storage system that lets you upload copies of your documents and email them to anyone at your convenience. Or, you can download your resume, application and skills checklists and store them with a cloud storage system.
Apps To Help Travel Nurses Make Electronic Documents
CamScanner
Of course, most of your documents will need to be transferred from paper to electronic if you want to store them in the cloud. CamScanner is the most popular app for accomplishing this. The app turns your phone's camera into a scanner.
You can conveniently select the file format you want to scan to, including PDF which is highly recommended for travel nursing documents. Additionally, the app can be set to sync with all the major cloud storage services cited above. This way, when you scan a document, it can automatically be saved to the cloud service of your choice.
The app also has optimization features so you can improve the quality and clarity of your scans. The app has many other features as well and there are both free and premium versions.
GeniusScan
Another document scanning app, GeniusScan comes with some settings that allow you to conveniently select the ideal page dimension to get the best scans. You can scan to PDF, email documents, and arrange documents with a tagging feature. The premium version is only $2.99 and will let you sync to your cloud storage system.
TinyScan
This document scanner is not as popular as CamScanner or GeniusScan, but it's got some nice features. For example, you can easily tweak the the look of the scans on the fly. The app has a feature that will let you alter the gray scale, contrast and brightness in order to get the best clarity. However, when I last used the app, I couldn't find a feature to scan to PDF. Again, PDF is the best format for travel nursing documents.
TurboScan
We're mentioning TurboScan last among the scanning apps only because it doesn't have a free version. However, for $2.99, it's not like it's going to break the bank. It's powerful and has everything you'll need and then some. One of the nice features it has for travel nurses is the ability to arrange multiple documents on one page.
Apps To Help Travel Nurses Sign Documents
Travel nurses routinely need to sign documents, whether they be travel nursing contracts or employment documentation. Here are some apps that will let you conveniently sign documents from your phone! Travel nursing agencies would be wise to use such services and pay for the premium accounts to make life easier for their travelers.
CudaSign
CudaSign, formerly SignNow, is free for signing up to five documents per month. It's also got a really nice user interface that makes working in the app a breeze. For travel nursing companies, the app has a feature to signify with a button where signatures need to be placed. Watch out though, if you need to sign more than the 5 documents per month, then the premium plan is pretty expensive. It's $29 for one month or $180 for the year.
SignEasy
SignEasy let's you sign up to 3 documents for free. Then, you can choose the pay-as-you go plan which is $5 for 10 documents or the annual plan which is $40 for unlimited documents. The app will let you save your work so you can return later if you're completing a long document. It syncs with all the main cloud storage services and can be accessed on any device.
DocuSign
DocuSign is considered by many to be the best app of its kind. It allows users to sign unlimited documents for free. It syncs with all the major document storage platforms. It's also available on all devices including the web. The premium plan is for sending documents to be signed, so it would be useful for agencies.
Apps To Help Travel Nurses Get Around Locally
Travel nurses may not always have their cars with them, or they may not want to use their cars in some major cities. Here are some apps to help.
Uber
Uber is the biggest alternative service to traditional taxi services. Users and drivers both have the app. When a user requests a ride, the Uber drivers in the area are notified and the first to respond gets the fare. The drivers use their own cars so they're always different but the service maintains requirements on the types of cars that can be used and their condition. The cars are newer and typically in great condition. There are several levels of service depending on the type of car.
Payments are made through the app which is great because you can simply leave the car at the end of the ride. Pricing fluctuates depending on demand but Uber is typically cheaper and quicker than traditional cabs.
Lyft
Lyft is similar to Uber in most respects. However, it is a smaller company that operates in fewer locations. There are minor differences between the 2 services, but they are negligible.
Moovit
Moovit was called the "Waze of public transit" by the Wall Street Journal. The app lets you review public transportation options and monitor real time arrivals in 60 major US cities. So if you're looking to simplify the cheapest possible transportation option, then this is a great choice.
xtBus
Very similar to Moovit, this app helps you monitor public transportation options to simplify use of the services.
Apps To Help Travel Nurses Stay Organized
Evernote
Evernote might be the most amazing app on this list. It's amazing how much the application does. A book could be written about it, so we won't be able to do it much justice here. But the bottom line is that the app can help travel nurses stay organized.
It works on all devices, from desktop to mobile, simply download it to the device. You can create notes inside the app, like to-do lists. You can upload documents in almost any format to the app and store them in the app where they can be modified within the application if need be. You can take photos of physical items and documents. The app will make those photos searchable even if you have bad hand writing.
There are browser plugins that will let you save entire web pages in Evernote so you don't have to clutter up your bookmarks bar. You can set up your emails to be forwarded to Evernote. And all of this data can be accessed from any device that you have the application stored on.
Essentially, the application allows you to organize items on the same subject, but in different mediums, into one central location. And it does much more as well.
Tripit
Tripit is pretty amazing. The app will create travel itineraries for you based on hotel, airline, car rental and restaurant emails that you receive from booking these services. If you use Gmail or Google Apps for booking these services, the app will update your itinerary automatically. If you don't, then you simply forward the confirmation emails from whatever email service you use to plans@tripit.com and the app takes are of the rest.
ShiftLife Organizer
ShiftLife is a calendar application designed for shift workers, like nurses. You can organize your shifts, record your hours and even calculate your pay. It will sync with many other calendars if you prefer to have everything in one location.
This app is available only for iPhone, but there are similar apps for Android users with Shift Calendar and myShiftWork being the most popular.
PayCheckFree and Payrollguru
Travel nurses like to estimate their net pay when comparing travel nursing pay packages. You can use PaycheckFree to help you with that task. Payrollguru is the premium app by the same company. It includes the ability to factor in federal and state deductions and year-to-date wages which will affect the accuracy of the results.
Miscellaneous Money Saving Apps For Travel Nurses
Skype
Skype offers free messaging, voice and video calls. This means travelers can save a ton of money on roaming charges if they like to call home to friends and family while on the road. If your fiends and family have the app, then communication will be totally free. If they don't, you get charged rates that are nominal compared to standard roaming charges.
Hopper
Hopper tells you when the optimal time to buy flight tickets is. It analyzes flight prices daily to predict how they change. It will give you predictions for the best time to buy and the app has a high accuracy rate. You can also set up alerts so the app will send you a push notification when prices drop.
Work Related Apps For Travel Nurses
Figure 1
Figure 1 bills itself as a community for medical professionals to securely share clinical cases and discuss treatment options. Anyone can contribute a case. The app has a library of rare and textbook cases which can be browsed or searched by annotation, category, anatomy and specialty. The app claims to be HIPPA compliant.
Medscape
Medscape might be the most robust app of its kind. The Drug Reference Tool lets you quickly look up medications and dosages . The Drug Interaction Tool lets you search for adverse drug combinations. The Disease and Condition Reference lets you find vital patient-care information. It's got Medication Calculators, Image Collections and more.
Moreover, it's got a robust medical news service so you can stay up to date with the latest on your field. It also lets you earn CME! It's all free.
Epocrates
Epocrates is another great app for drug reference, identification and interaction. It also provides medical news and research information. It is often cited as the best app of it's kind. However, when this claim is made, it's almost always in reference to the premium service, Epocrates Essentials. This service costs $160 per year.
Nursing Central
Nursing Central helps you find information on diseases, tests, drugs and procedures. It's "Grasp" features lets you search the Medline/PubMed database. The app is loved by many nurses because it looks at things with a nurse's perspective. The app is quite expensive though, $170 for the first year and $100 a year thereafter.
MedCalc
MedCalc lets you use medical formulas, scores and calculations. The free version provides access to a small number of resource, but for $5 you can unlock all 300+. Results/data can be shared via email, print, saved to a database, or copied to clipboard.
Convert Units
This app lets you easily convert units of all types. Plain, simple and free.
Eponyms
Eponyms lets you look up more than 1,700 common and obscure medical eponyms. It costs $2.
Pocket Lab Values
This app provides access to over 320 common and uncommon lab values. You can edit certain data that varies from hospital to hospital like tube colors. Reference values can be edited to align with your facility. The app includes links to external resources on the topic at hand. It costs $3.
SkyScape Medical Library
SkyScape has a robust set of free features and offers in-app purchases to add more. For free, it provides drug information including interactions. It also has over 400 integrated dosing calculators. It has a medical calculator with over 200 tools organized by specialty. It provides information on diseases, symptom related topics as well as news and information catered to your specialty.
Apps For Camping and RV-ing Travel Nurses
If you're travel nursing in an RV, then you can make use of some unique services. In fact, you may find some of these services useful even if you're traveling by car for a really long distance.
Walmart Overnight Parking Locator
Many Walmarts allow overnight parking in their parking lots. This can be particularly useful for RV'ers who find themselves in a bind. This app will help you find Walmarts and filter the results in many ways including overnight parking and services provided.
Truck Stops and Travel Plazas
This app is $10 on iPhone, but it gets amazing reviews. It includes all the big truck stop companies like Flying J and Pilot. It also has over 4,000 motels that advertise parking for truckers.
Passport America
Passport America is discount camping club. An annual membership costs $44. The app will help you locate participating campgrounds near you.
TV Towers USA
This app will help you find TV broadcasting towers throughout the country. This way, you know where to point your antenna if you use one. $2
Dish Align
Dish Align helps you align your satellite dish. It's free and easy to use.
Camp & RV
This might be the most comprehensive app of its kind. The app costs $10 and is developed and maintained by AllStays. The service lets you find and filter places and services with or without an internet connection. Tent camping, RV resorts, gas stations, rest areas, repair services, even road inclines can all be found and filtered.
It's got over 29,000 campgrounds throughout the US an Canada. They include private, national and state parks, KOA, Elk and Moose lodges, Good Sam, Passport America and many more.
We'd love to hear your thoughts on these apps and please let us know if we missed any of your favorites and why you like them in the comments section below!
http://blog.bluepipes.com/wp-content/uploads/2015/04/59-apps-for-travel-nurses.jpg
360
710
Kyle Schmidt
http://blog.bluepipes.com/wp-content/uploads/2013/12/bluepipes-logo-blog-7g7-300x137.png
Kyle Schmidt
59 Apps That Help Travel Nurses Simplify, Save Money and Have Fun