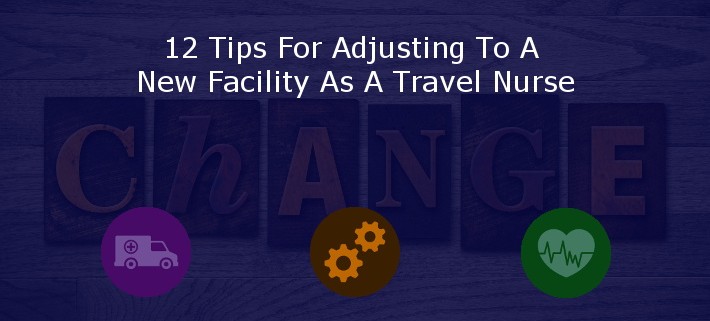 Travel nursing is a challenging career with a lot of unusual demands. Many of these stem from the fact that a travel nurse's surroundings are always changing. Already a high-pressure job, nursing is made that much more difficult when you must constantly adjust to new environments, coworkers and rules. Read below to discover 12 important tips for success when beginning a new travel nursing job.
Getting Your Bearings As A Travel Nurse
Before you can begin working, you'll need to know the basics of your new facility, like where things are and how they operate. A lot of the information you'll need should be explained in orientation, so pay close attention. If you still have questions, be on the lookout for those who can help.
1: Request a tour
Chances are, you'll be offered a tour during orientation, but make sure to ask for one if you aren't. This gives you an opportunity to locate and familiarize yourself with important details of your workspace, like supply areas and crash carts.
2: Find a mentor or preceptor
During your first few days on the job, find another nurse who has a high level of familiarity with the facility and can help you learn the ropes. It will be a great resource throughout your assignment to have a friendly face who can answer quick questions.
3: Discover the preferred method of communication
Determine what method of communication your supervisor prefers. Some would rather get a call or text, while others would like to meet face-to-face. It's important to ask – not only to keep your supervisor happy, but also so you know you'll be able to reach them when needed.
Make Sure You Understand The Rules
Though many things will seem similar as you move between assignments, each facility has its own policies for operation and instructions for travelers. Get acquainted with these changes from the start and they'll help you throughout your time there.
4: Locate the policy and procedures manual
Because policies and procedures can vary greatly from facility to facility, it's important to find and familiarize yourself with them immediately. Ask whether any "cheat sheets" are available for quick reference or create your own to carry around with you.
5: Study the computerized charting system
You may find yourself having to learn how to use a new system with each assignment, sometimes in a matter of hours. Ask coworkers for tips and tricks on the system in use so you can figure it out quickly, and keep the IT department's number on hand in case you need help.
6: Pay attention to scheduling
Does the nurse manager handle it? Who approves overtime? You'll need to know the facility's policies regarding normal scheduling, as well as call-ins and emergencies.
Always Bring Everything You Can To The Table
Even though you'll only be working in one place a short time, there are a lot of important contributions a traveler can make to the success of a unit. By giving your best in even the smallest ways, you'll help make the patient's overall experience a better one.
7: Have a positive attitude
A great attitude and a smile will go a long way. Though it seems simple, wearing a smile will help you appear friendlier and more approachable to patients and hospital staff. Also, stay involved with the other nurses on your floor. Find out how they like to communicate and be proactive in communicating with them. This will help you work more effectively as a team and ultimately benefit your patients.
8: Be a great patient advocate
Though this should be a priority for all nurses, it is something travel nurses should pay close attention to amid the chaos of new environments. No matter where you are, you're still the best voice your patients have, and you can use that to have a tremendous effect on the quality of their care.
9: Find out the facility's HCAHPS scores
What are your unit's scores and where do they need improvement? Is it patient communication? Pain management? Many travel nurses don't realize what an important role they play in improving and maintaining these scores.
Above All, Remember To Ask A Lot Of Questions
Don't be shy! Facilities understand that these quick transitions are difficult and expect you to need some answers along the way. Rely on your supervisor and the mentor you find, and definitely don't try to figure things out by yourself. And in case you need help, keep important phone numbers in your pocket like the charge nurse on shift and the hospital nursing supervisor.
10: Locate the crash cart and learn the codes
No matter where you're working or what your specialty is, you'll need to know this immediately. Once you locate the cart itself, find out what the facility's codes and policies are, too.
11: Ask about timecards
Make sure you get credit for the hours you've worked! Know the procedures for clocking in and out, and check with your agency about how to submit your timecards.
12: Know the floating requirements for your unit
While you probably discussed these in your interview, the facility's needs may have changed, along with their expectations. Find out what's in store for your schedule to avoid surprises.
A career in travel nursing requires a great deal of quick thinking and flexibility, especially when it comes to the frequently changing work environments. But for the well-prepared traveler who brings their best effort and a positive attitude to each new assignment, this unique challenge is easily overcome.
As always, we'd love to hear about your experiences with this issue. Please post them in the comments section below along with any questions, comments or items we may have missed!
About the author:
Lauren Carrigan is a Content Specialist for Travel Nurse across America, a healthcare staffing agency placing travel nurses on assignments at facilities in all 50 states. Off the clock, she enjoys volunteering with shelter animals and collecting vintage furniture. Find more of Lauren's informative travel nurse blogs on the TNAA Blog!
http://blog.bluepipes.com/wp-content/uploads/2015/03/new-travel-nursing-job.jpg
360
710
Guest Author
http://blog.bluepipes.com/wp-content/uploads/2013/12/bluepipes-logo-blog-7g7-300x137.png
Guest Author
12 Tips For Adjusting To A New Facility As A Travel Nurse