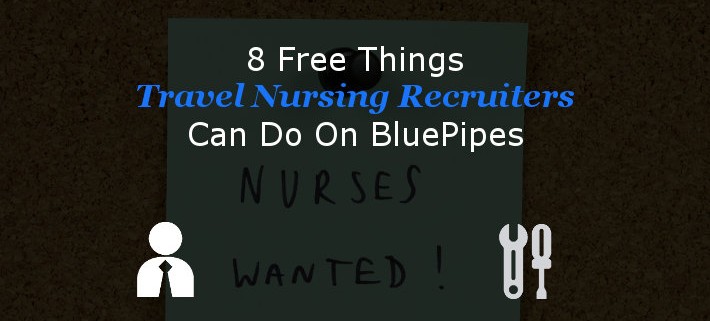 BluePipes is a professional networking platform dedicated to the healthcare industry. We provide tons of useful tools to help nurses, physicians and allied professionals manage their careers more effectively and efficiently. Of course, connecting with potential career opportunities is a big part of career management. As such, BluePipes has many features that travel nursing recruiters and healthcare staffing agencies can use for free. We'll cover them in this blog post.
What Is BluePipes?
Before we start, it's prudent to offer some basic information about BluePipes. BluePipes is a professional networking website dedicated to healthcare professionals. As such, we're able to provide features designed to solve the unique career and recruitment challenges facing healthcare professionals and employers.
The oversimplified explanation is that BluePipes is like LinkedIn except it's specifically for healthcare professionals and employers. And BluePipes has many features that are highly beneficial for those involved with the travel healthcare industry. For example, travel healthcare professionals can do all of the following and more:
Render their profiles as PDF resumes designed specifically for travel healthcare.
Render their profiles as full job applications including all the standard signing statements and background questions that agencies typically require.
Complete, save, and render to PDF over 100 comprehensive skills checklists.
Store copies of their licenses, certifications, and clinical documents on the site.
Email all of their documents to anyone they choose at their convenience.
Display their job availability on their profiles with various privacy settings.
There are also things that travel nursing recruiters and agencies can do for free on BluePipes. Here's a list:
1: Create a Free Profile
Recruiters and other travel healthcare agency employees can create free profiles on BluePipes. Considering that it's free, the real question is, "Why should you create a profile?" Here is a list of great reasons:
BluePipes currently has over 2,600 members.
The vast majority of BluePipes members are Registered Nurses.
Over 170 new members join every month and that number is on the rise.
BluePipes markets heavily toward travel healthcare professionals so a significant percentage of members are travelers and prospective travel candidates.
BluePipes is a professional network designed specifically for your industry.
You need a profile in order to take advantage of all the free services on BluePipes!
Perhaps most importantly: Studies are definitively conclusive that the biggest gains in social media are realized by early adopters. Simply put, it doesn't matter how good or bad your marketing efforts are, if you're first, you're almost guaranteed to achieve success.
To create your free profile, simply visit the BluePipes HomePage and click "Sign Up Now For Free." Be sure to select "Employer/Other" as your field. The image below illustrates: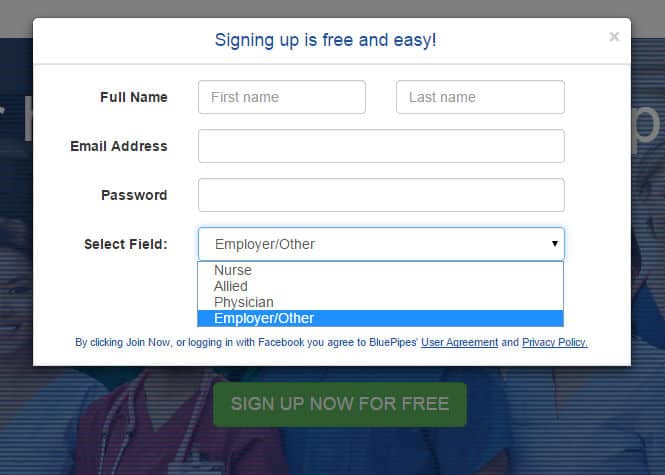 2: Claim and Manage Your Company Page
Company Pages are a great way to showcase your company and everything it has to offer. Claiming your company page on BluePipes is quick and easy. Here is a step-by-step guide:
Enter your current employer on your own BluePipes Profile.
View your profile and click on the link to your company page.
Below is a sample recruiter profile with the link to the company page circled in red.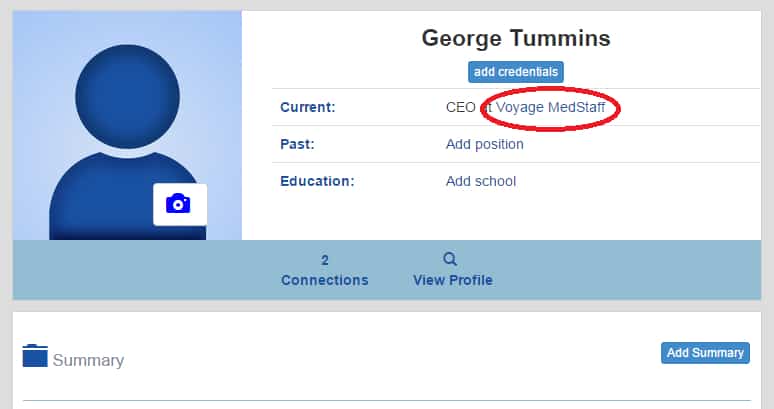 When you click the company link, you will be taken to the company page. Click the "Claim" button on your company page. The image below illustrates.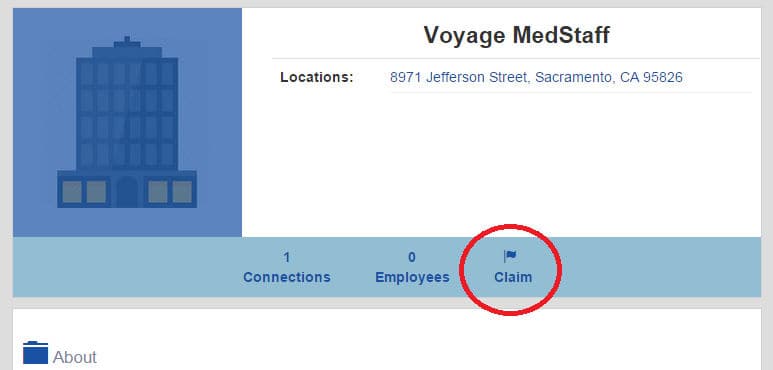 Enter your company email address as instructed. The image below illustrates.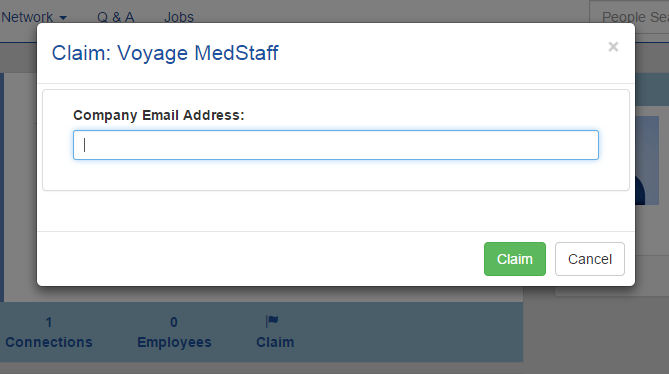 BluePipes will receive your Claim Request and approve it as long as you entered a valid company email address. Next, you will receive a "verification email notification". The verification email notification will indicate that your claim has been approved and provide a link to verify the email address used to claim the page. Click the link to verify the email address and the process will be complete.
Once your Company Page has been claimed on BluePipes, you will be able to edit the company's profile as the Page Administrator. Additionally, your fellow employees will be able to "Join" your BluePipes company page. The Join process works exactly the same as the Claim process except the Page Administrator receives and approves the Join requests.
3: Be Discovered By Your Target Customers
Healthcare Professionals on BluePipes have access to the Advanced Search Feature. This allows them to perform search queries on every field in recruiter profiles. Be sure to provide a detailed description of your services on your BluePipes profile so your target customers can find you!
4: Receive Messages and Connection Requests from Healthcare Professionals
Healthcare professionals have the ability to send Connection Requests and Messages to recruiters for free. And recruiters can receive messages and accept connection requests from healthcare professionals for free! This opens up the ability for two way communication so you can pitch candidates on your services.
5: Receive Company Messages for Free
Once your Company Page has been claimed on BluePipes, your company can receive messages through the BluePipes platform, so candidates interested in your company's services have the ability to message your company directly!! All messages sent to your company through BluePipes will be received by the company's Page Administrators.
6: Participate in the BluePipes Forum
Recruiters have full access to the BluePipes forum which is currently called "Questions and Answers". We're in the process of making changes to this feature so that it will be a full-fledged community forum. This is a great opportunity for recruiters to engage with their target customers and showcase their services.
7: Be Added to the BluePipes Verified Agency List
As mentioned above, BluePipes members are able to create their own resumes, full job applications and skills checklists. These documents can be emailed to anyone the healthcare professional chooses at their convenience. This helps travel healthcare professionals avoid repetitive documentation. More importantly, it helps recruiters and agencies onboard candidates quicker.
BluePipes maintains a list of agencies and recruiters who have verified they will accept these documents in lieu of the healthcare professional having to complete company documents. Our members contact these agencies on a regular basis to inquire about working with them. It's free to be added to this list, simply contact us and let us know.
Of course, this may contradict your agency's current policy requiring candidates to complete the agency's documentation. However, there are no legal or JCAHO requirements that company documents be completed. So it's really just a matter of company policy. And there are a number of reasons for agencies to exhibit flexibility with this process.
It's no secret that travel healthcare professionals hate applications and skills checklists. In fact, in our survey of travel healthcare professionals, 90% of them indicated that they did not like completing applications and skills checklist. More importantly, 72% of them said they would be more likely to work with a new agency if they didn't have to complete an application and skills checklist at the outset.
When 72% of your customers would be more likely to work with you if you took some action, then you must consider ways to accommodate them. Perhaps more importantly, over 25 agencies have already verified they will accept BluePipes documents. These agencies include Parallon, Valley Healthcare Systems, FlexCare, Trinity, Soliant and many others. The point is, it's always a good idea to keep up with your competition.
8: Accept Documentation from Travelers When They Send It
Many agencies have inquired how they can access member information on BluePipes. The only way to get member information is for the member to send it to you via email. BluePipes is not a lead generation service in that we do not sell contact information or access to member information.
Instead, members are in complete control of their information. When they desire to send their information to someone, they either email the documents straight from their BluePipes File Cabinet, or they download their documents and email them. Anyone is free to accept these documents when a member sends them.
Premium Services on BluePipes
Of course, BluePipes also has premium services available for travel nursing agencies and recruiters. Our Subscription Service provides the purchaser with access to the Advanced Search Feature and the ability to send connection requests and messages to all BluePipes members. And we are currently selling job postings for $5 per posting. Please contact us to discover more about these opportunities:
BluePipes will continue to add features designed to simplify travel healthcare for both agencies and travelers. Being an early adopter can help you get a leg-up on your competition. So join today, it's free and easy!!
http://blog.bluepipes.com/wp-content/uploads/2015/02/free-travel-nursing-recruiter.jpg
360
710
Kyle Schmidt
http://blog.bluepipes.com/wp-content/uploads/2013/12/bluepipes-logo-blog-7g7-300x137.png
Kyle Schmidt
8 Free Things Travel Nursing Recruiters and Agencies Can Do on BluePipes