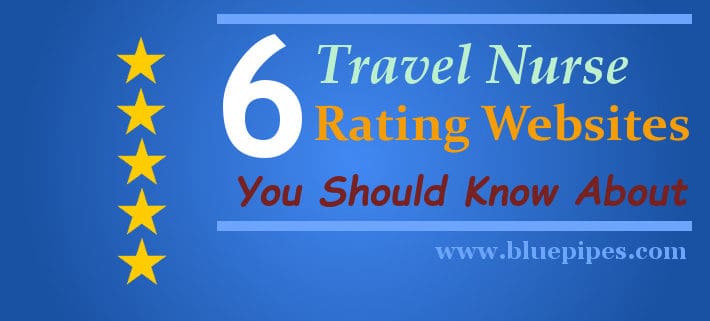 Travel nurses face a unique set of circumstances when it comes to things like employment conditions and working with travel nursing companies. Therefore, when they want to get the lowdown on such things, they're best served by relying on feedback from other travel nurses. As a result, a host of websites provide rating and review features dedicated to travel nurses. In this article, we'll take a look at 6 travel nurse rating websites you should know about.
General Rating And Review Services For Travel Nurses
Of course, there are tons of popular rating and review websites that cover every category under the sun. Travel nurses can certainly rely on these websites for information on general matters. For example, if you're looking for information on restaurants, night life, local attractions, or other general categories, then you'll probably be better served by well established rating services like Yelp, Google, TripAdvisor and amazing apps like Localeur and Trover.
These services are highly trafficked. As a result, you'll benefit from a much larger volume of reviews. You'll also benefit from expert reviews. After all, locals tend to be the most reliable experts on their own local markets. These well established rating services also offer reviews from travelers of all types, including travel nurses.
The bottom line here is that travelers aren't really facing a unique set of circumstances when it comes to general categories. It's not as though your taste buds change when you become a travel nurse ( or do they 🙂 ) such that only another travel nurse can provide useful restaurant recommendations.
However, when it comes to things like hospitals and travel nursing companies, travel nurses most definitely face a unique set of circumstances. For example, just because a hospital takes great care of its permanent staff, doesn't necessarily mean that they take great care of their travel staff. The hospital might provide inadequate orientations for their travel nurses or fail to treat travelers as valued team members. And the opposite is true as well. Travelers may be welcomed and revered by stressed out permanent staff members inclined to treat travelers like family.
When it comes to travel nursing companies, travel nurses want to make sure they are not considering reviews from a company's internal staff. Just because an agency treats their recruiters amazingly well, doesn't necessarily mean that they treat their travelers well.
As a result, well established employer rating websites like GlassDoor and Indeed are not as useful for travel nurses as they are for the general population. These websites don't filter by the type of employee who is placing the review, so the overall rating doesn't coincide with a traveler's unique circumstances.
Specific Rating And Review Services For Travel Nurses
Luckily for travel nurses, there are a host of websites that help fill this void. However, it's important to discuss several key differences between the general rating and review services and services specifically for travel nurses. First, the specific services have a much smaller number of reviews. This is due to the fact that travel nursing is such a small industry. At any given time, there are as few as 10,000 travel nurses and as many as 50,000 travel nurses. So, even at it's peak, travel nursing doesn't have enough participants to support a huge number of reviews.
Second, many of the services on this list are operated by travel nursing companies or other entities engaged directly in the recruitment process. There is absolutely nothing wrong with this. However, it's important to note because such companies will sometimes utilize a user's contact information for recruitment purposes.
Finally, there is no foolproof method for ensuring that reviews are submitted by only travel nurses. You might be wondering who else would post reviews on a travel nursing website. Well, travel nursing companies and recruiters have been caught submitting fake reviews to some of these sites in the past in an effort to bolster their ratings. Some of these sites go to more trouble than others to prevent this from happening and we'll point that out where we can. Let's take a look at the websites!
Highway Hypodermics
Highway Hypodermics is owned and operated by Kay Slane, an active travel nurse who started the website in 2003. Kay is also the author of a book called Highway Hypodermics under the pen-name Epstein Larue. We consider this book a must read for all those interested or engaged in travel nursing. You can get your copy here.
Highway Hypodermics provides visitors with forms to rate travel nursing companies and hospitals. Each form includes 20 questions on topics of specific interest to travel nurses. When a form is submitted, it is reviewed and the data is entered into tables. The tables include each organization that has been reviewed and a running tally of their average scores. The reviewers remain anonymous and their personal information is kept private.
Visitors can review the tables and select the specific agency or hospital to view the organization's average overall score. The tables also display the average scores for each question. This is great because users can pick and choose based on the factors that are most important to them.
Finally, Highway Hypodermics has a rule that a user's negative reviews will only be counted if the user has submitted at least one positive review. This ensures that the service doesn't become an exercise in bashing.
Travel Nursing Central
Travel Nursing Central (TNC) was started by a travel nurse "in the early 2000s". It was purchased by Medical Solutions, one of the nation's largest travel nursing agencies, in 2014.
TNC also provides visitors with forms for ranking travel nursing companies and hospitals. The system works quite similar to Highway Hypodermics. However, the questions for each type of organization are quite different than those asked by Highway Hypodermics. Additionally, TNC displays the written reviews that are submitted with the forms. So, visitors are able to view the average scores for each organization as well as the written reviews listed out below the scores on the organization's individual page.
While TNC is owned by Medical Solutions, they have a pretty strict privacy policy that prevents them from sharing personal contact information with third parties. They also post the reviews anonymously.
TNC might be the website with the most travel nursing reviews. As of December, 2016, they have 5,371 reviews posted for 220 travel nursing companies. And they have 2,679 reviews posted for 1,132 hospitals.
Travel Nursing Blogs
TravelNursingBlogs.com might be the single largest blog specifically devoted to travel nursing. Like Travel Nursing Central, the website is owned and operated by Medical Solutions.
Travel Nursing Blogs has a "Ratings" option and a "Review" option for travel nursing companies only. The Rating option is very basic. The page displays a table with all the companies listed in alphabetical order. Under each company, there are Thumbs Up and Thumbs Down icons. Visitors simply click on one of the icons and the click is recorded on a running counter next to the icon.
The simplicity of this system is certainly nice, but there are issues that visitors should be aware of. First, it would be quite simple for an agency's representatives to submit ratings. Second, visitors can submit multiple ratings for the same company by clearing their browser's cache after submitting each rating. That said, Travel Nursing Blogs does review the site for suspicious behavior and will reset an agency's ratings to zero if they suspect foul play. Interestingly, 76 of the 90 companies listed on the site have more down votes than up votes.
The Review option is a little more detailed. Reviewers are asked to enter some basic personal information including their name and email address. Reviewers then rate the company from one to five stars and enter a written review.
Again, the simplicity of the system is a positive. However, the system is a bit cumbersome when doing company research. First, visitors must locate the company on the main review page and then select the company to go to its individual page. The company may or may not have reviews. In other words, there isn't a quick and easy way to get an overall synopsis.
How To Evaluate Travel Nursing Pay
---
Travel Nurse Source
TravelNurseSource.com is a lead generation service at its core. As such, the website makes it easy for those interested in travel nursing to transmit their contact information and basic details about their work experience to travel nursing agencies. The website also includes tons of other useful tools including ratings and reviews for agencies, recruiters and hospitals.
To find or submit reviews for agencies, simply visit the website's Agencies Page. Once there, you can scroll through the entire list of agencies, or you can filter the results according to the benefits the website tracks. For example, you can choose to view only agencies that are JCAHO certified and provide health insurance if those attributes are important to you.
The Agencies Page displays a brief overview of each agency including the agency's average rating which is displayed as a number of circles from one to five. You can select a specific agency to view the agency's full profile. There you will find previously submitted reviews, the option to submit your own review and tons of other useful information.
Finding and submitting reviews for recruiters is quite similar. Simply visit the website's Recruiters Page. By default, the page displays a random list of 6 recruiters. From there, you can either scroll through the website's 500 plus recruiter profiles, or filter your search by agency, number of reviews and other useful search filters. Select a specific recruiter to visit their profile, view previously submitted reviews or submit a new review. You can also find recruiters that work for a specific agency by visiting the agency's profile.
It's important to note that the agencies and recruiters listed on Travel Nurse Source are an extension of the website's client profile pages. They are meant to help promote transparency and allow visitors to learn about the agency and their recruiters prior to applying for a job through Travel Nurse Source's job board. This means companies must be clients of Travel Nurse Source to be listed on the site. If a client leaves the service, then their company and recruiter profiles are taken down.
TravelNurseSource's Hospital Directory is quite useful. From the main page, you can filter search results by state or by zip code and the system will return a list of all the hospitals in the area. Each hospital profile includes basic information about the hospital as well as information about the city and county. The profile also includes previously submitted reviews and the option to submit your own review.
The process of submitting reviews is the same for each topic. Simply select "Write a Review" at the bottom of the page and enter your review. Submissions require a name, email address, title, and written review. Travel Nurse Source ensures 100% privacy on the information collected by their review forms. So, you can rest assured that this information will not be released to agencies or anyone else. They will only use the contact information should they feel the need to get more information about the review.
Travel Nursing Exchange
TravelNursingExchange.com was launched in 2014 by a travel nurse named Stasha Crawford. Stasha also has a website called TravelNurseHelp.com that was started in 2012. Travel Nursing Exchange has job postings, a blog, a pay calculator and hospital reviews. Travel Nurse Help has a blog and travel nursing company reviews.
These websites might be the least trafficked websites on this list. They're good websites, but they're a testament to how to difficult it is to thrive in such a small market. There are very few reviews on either site and the review features seem to be a bit buggy. That said, if you're looking for information on a specific company or hospital, then it might be worth your time to give these sites a quick review to see if they can help.
 The Gypsy Nurse
TheGypsyNurse.com was started by Candy Treft in 2012 and sold to private investors with ties to a travel nursing company in 2016. Originally, the website was a blog packed with useful information on all aspects of travel nursing. The new owners brought with them a new website packed with features including ratings and reviews for just about everything. As of December, 2016, they are in the process of combining the new website and the old website into one robust platform.
The new website provides users with 6 different categories to enter ratings and reviews. The Agency category let's you review Agencies and Recruiters. The City category let's you review by Activity, Attraction, Hotel, and Restaurant. The Facility, Housing, RV Parks and Can't Find categories let you place reviews for those specific items.
The review form for every item appears to be the same. It asks for the name, address, start date, end date, comment, and star rating from 1 to 5 stars. There's also a field for uploading images. The form's name and address fields offer drop-down menus for convenience.
All-in-all, the rating and review features on The Gypsy Nurse look to be pretty promising. However, at the outset, it's wise for visitors to temper their expectations. The site is brand new, so you won't benefit from previously submitted reviews; there aren't any. So, if you like the concept, then be sure to leave a review to help things along.
Additionally, you should expect the site to be buggy at the outset. For example, we had a difficult time selecting the Address field in the review forms and some pages failed to load. We're sure they'll get these issues fixed; these things take a while to perfect.
Finally, it's important to point out that it's currently unclear how the website will use its members' personal information. When new members join, they must check a box indicating they agree to the "Authorization / Release of Applicant Information". The form links to a "Statement of Terms for Release". The Privacy Policy contained therein states, "Periodically, we may make our member information available to carefully screened companies we believe offer products or services, which may be of interest to our members."
Travel Nurse Rating and Review Websites
Given the relatively small size of the travel nursing market, there are quite a few websites offering ratings and reviews. The first websites to provide these features were Highway Hypodermics and Travel Nursing Central. They offer visitors a much larger volume of reviews upon which to form an opinion. Additionally, their reviews are much more detailed given that they each require a response to 20 questions of specific importance to travel nurses.
The newer websites offer modern interfaces and a more digitized process. However, they have far fewer reviews and their reviews don't require as much detail. It will be interesting to see how these services fare in the coming years.
As always, we hope you found this article useful. We'd love to hear about your experiences with travel nurse rating and review websites or answer any question you might have on the topic. Please post them in BluePipes Forums.
http://blog.bluepipes.com/wp-content/uploads/2016/12/travel-nurse-rating-websites.jpg
360
710
Kyle Schmidt
http://blog.bluepipes.com/wp-content/uploads/2013/12/bluepipes-logo-blog-7g7-300x137.png
Kyle Schmidt
6 Travel Nurse Rating Websites You Should Know About