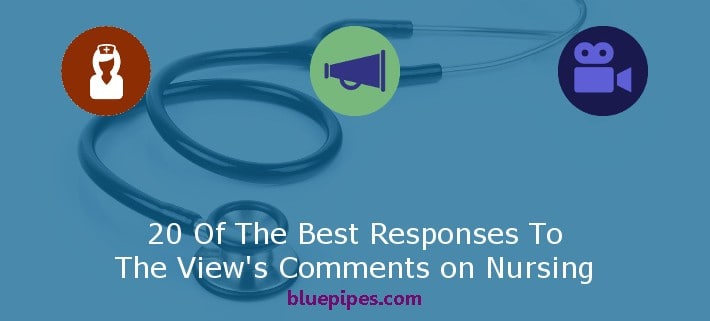 As you're no doubt aware, nurses and their allies have been lashing back at the popular daytime talk show "The View" for some disparaging remarks the co-hosts made about Miss America contestant Kelley Johnson and the nursing profession. In this blog post, we'll take a look at 20 of the best responses from across the web.
First, let's set the stage. Miss Johnson is a Registered Nurse who took a chance with an unconventional approach to the talent portion of the Miss America competition by wearing her nursing uniform and reciting a monologue about her profession. During a subsequent episode of the view, co-host Michelle Collins made the following remarks:
But then there was a girl who umm wrote her own monologue. Which I was like, turn the volume up…this is going to be amazing (jokingly), like, let's listen! And she came in in her nurse's uniform and basically read her eamils out loud and shockingly did not win (LOL)! I was like, that's not a real talent! I swear to God, it was hilarious.
To which co-host Joy Behar replied:
Why did she have a doctor's stethoscope on?!
Co-host Raven chimed in:
Was it even about that?
Collins:
She helps patients with Alzheimer's, which I know, is not funny. But I swear, you had to see it, like google it if you can.
Nurses were understandably outraged as were many others. After all, nurses are consistently rated as the most honest and ethical professionals in America by an annual Gallup poll. The outrage prompted an "apology" that was more of an explanation than an apology, which only made matters worse. Below is the full transcript of the "apology".
Collins:
I actually want to say something because something happened Monday on the show that was really, you know, I think, taken out of context. We were talking about, um, the Miss America Pageant. And we were talking about the talent competition. And one of the girls, Miss Colorado, gorgeuos girl, she got up and gave a monologue. And we were just talking about the talents.

I just want to say first of all before we even go on, cuz people were very upset about what we said. I, for all of us want to say, we love nurses. Nurses, if you're watching we adore you, we respect you, clap for the nurses, really! You guys are wonderful, you're the most compassionate people. And I think, you know, I just think we have to have a moment about that.

I was not talking about her as a nurse. We were talking about the talent competition. And it got misconstrued. So, there was an example where I think people kind of, you know Joy…
Raven:
Sensitive and not listening to the whole intent.
Paula:
It's a classic example of what we're talking about.
Collins:
Write, and by the way if you're bosses are watching, you all deserve raises. I want that. This is how much I love nurses! Give them more money, given them everything, take my money, okay?!
Behar:
Nurses…we're all at their mercy, let's face it.
Raven:
But you didn't come for nurses though! Did they hear the conversation? Did they know what you were talking about at all?!
Behar:
You know what? I was just not paying attention. I was looking at a Miss America tape. And there's a woman wearing like an outfit with a stethoscope and I'm thinking is she in a costume? I didn't know she was a nurse.I'm used to seeing them in gowns and bathing suits. It's not like I was being funny. It was just stupid and inattentive on my part. I didn't know what the hell I was talking about.
Whoopi:
I wasn't here.
Behar:
Yeah, I mean, my son in law is a physician assistant. One of my nieces is a nurse. So, I mean, I know they use stethoscopes. It was just, I was just not paying attention.
Collins:
And by the way, they also are hilarious. And every time I used to go to Saint Luke's, one time for rabies, ladies and gentlemen…anyways….the nurses…we'll talk later….the nurses were the funniest, you know, they're just fun, they do great work and they're wonderful people.
Whoppi:
I think they get it. I think they get it.
Behar:
I hope so because we would never…nurses are great.
Collins:
Of course not, you know.
Unknown:
We need comedy.
Whoppi:
Listen, you just…well, no, not even just that.But, you have to listen. You have to pay attention. You have to look at folks and say, "Is that what they said?" Or, did she make a joke?
Raven:
It's intention.
Whoopi:
You know, that's the thing.
Behar:
Mine wasn't even comedy. Mine was just dumb.
So, that's the "apology." We're not even going to comment. Instead, we're going to let the responses from around the web do the talking. As you might expect, the responses run the gamut, from comedy, to sincerity and everything in between.
1) Best Doctor Who Can't Find A "Doctor's Stethoscope" Response: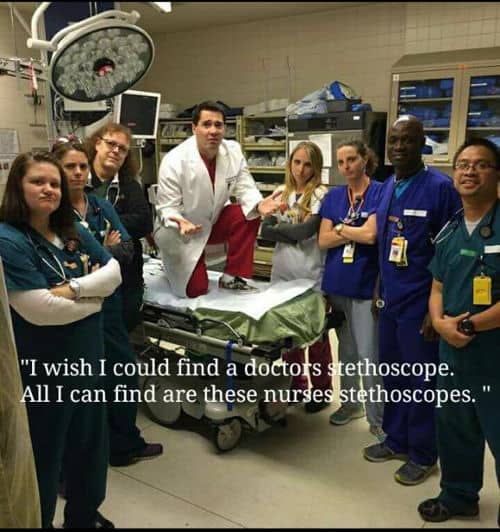 2) Best "Stethoscope Confusion" Response: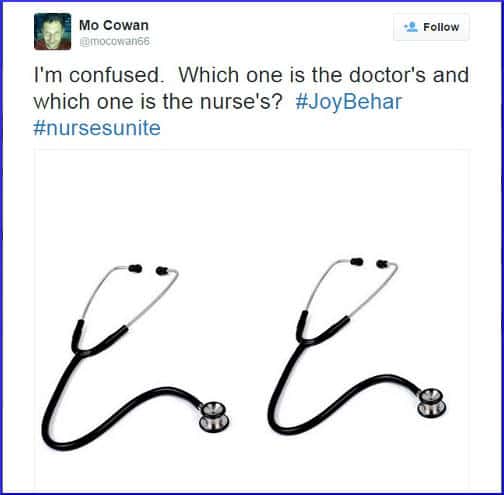 3) Best "Nurse's Costume" Response: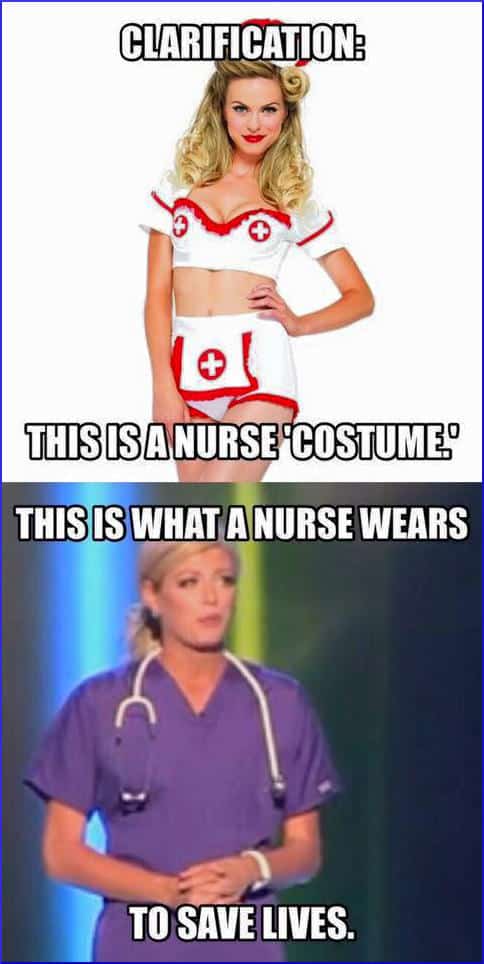 4) Best Technical Response: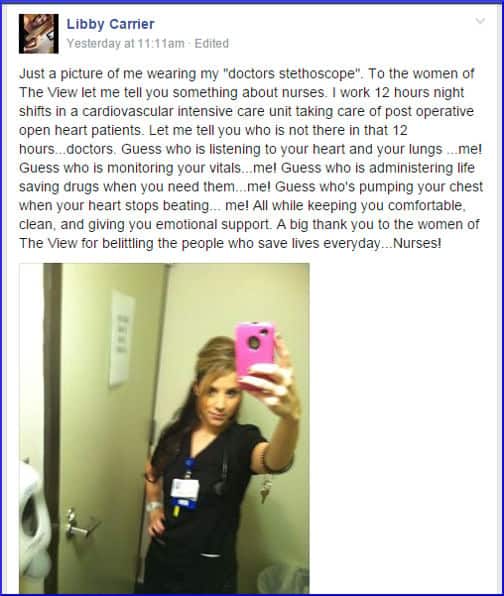 5) Best Sentimental Response: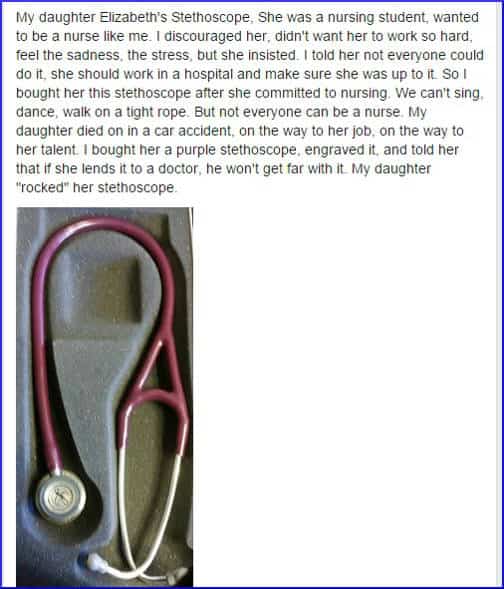 6) Best "Doctor With a Stethoscope" Response: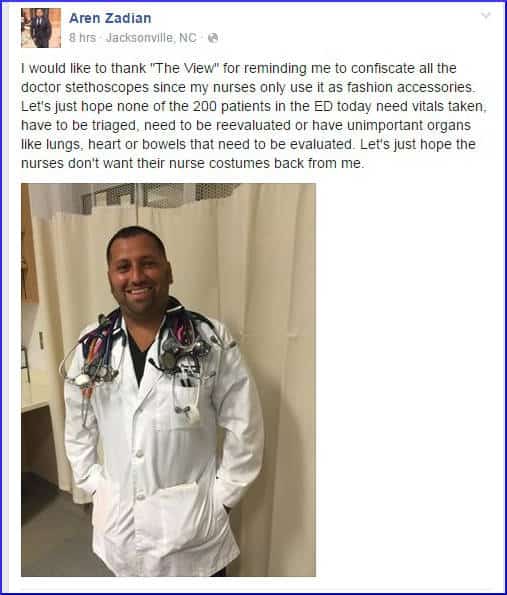 7) Best Doctor Response (Pulmonologist at University of Cincinnati):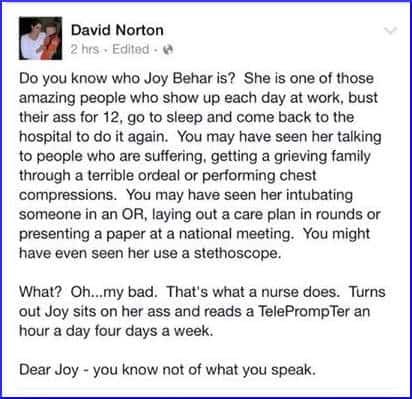 8) Best "Celebrity Doctor" Response: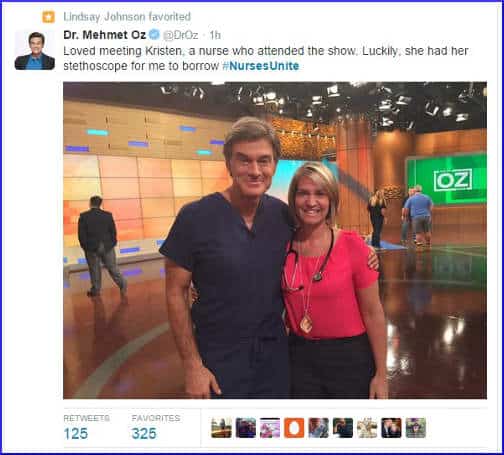 9) Best Corporate Responses: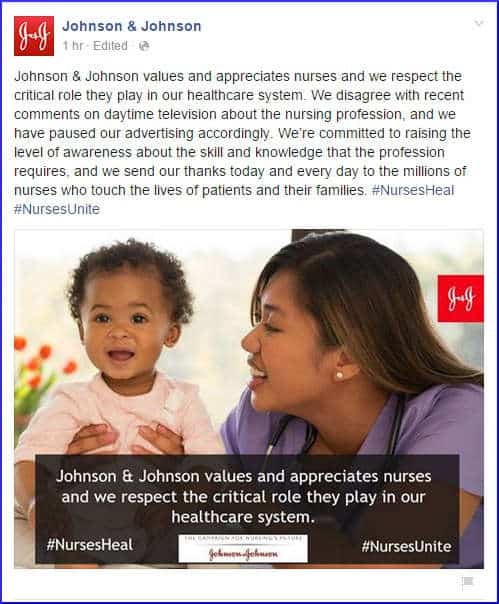 Johnson and Johnson is also running a charity campaign related to the incident. For every photo donated through their "Donate a Photo App" designating The Foundation Of The National Student Nurses Association", they're donating $1 to the association. The goal is $50,000. And the money will be granted as $1,000 scholarships to nursing students. You can learn more here. You can get the iPhone app here. You can get the Android app here.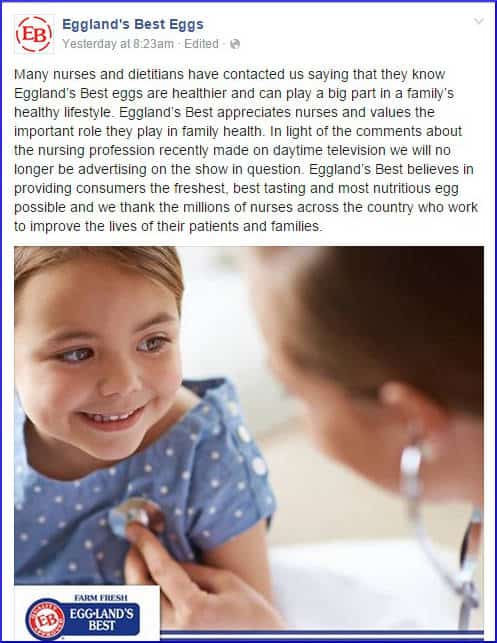 10) Best Response From a Muppet:
11) Best "Teachable Moment" Response: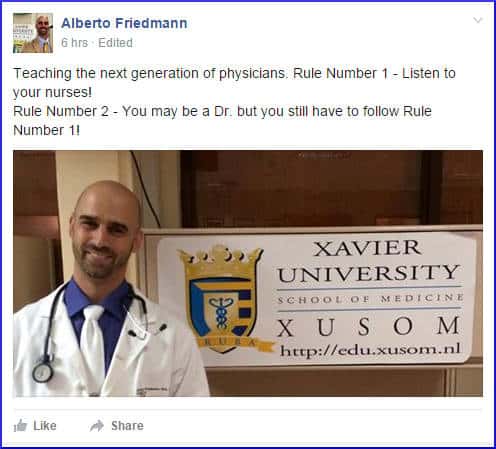 12) Best "Matrix" Response: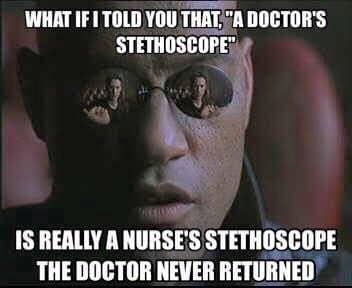 13) Best "Invitation" Response: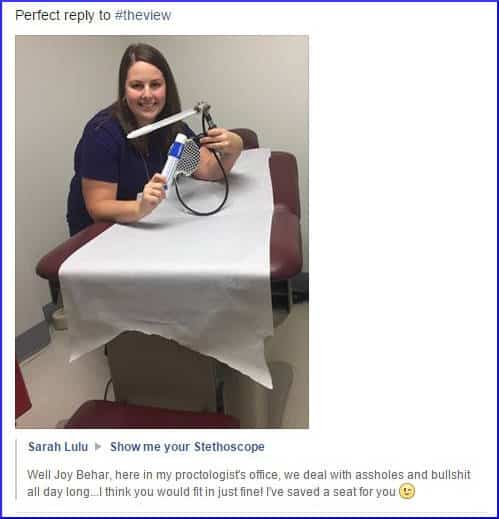 14) Best "Hashtag" Response: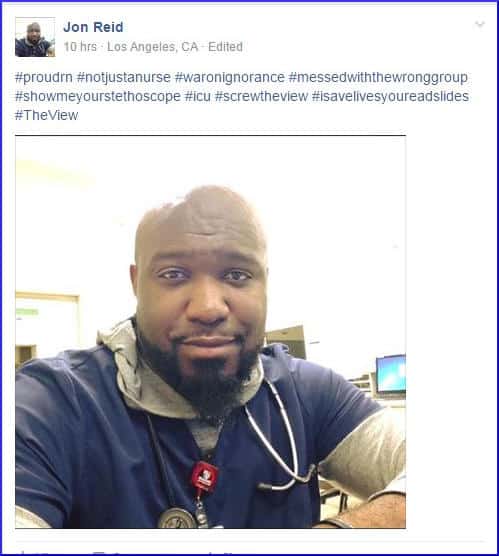 15) Best "How To" Response: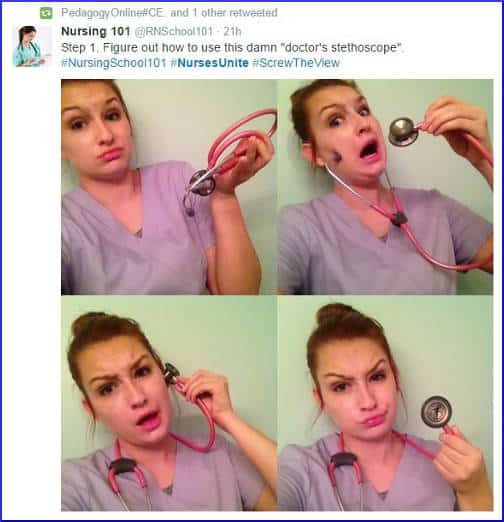 16) Best Response From a Local Weatherman:

17) Best "Boycott The View" Response:
Change.org has a petition requesting an actual apology, in addition to the "apology" the program offered already. It has over 50,000 signatures. You can sign up here.
18) Best "Group" Response:
The Facebook Group "Show Me Your Stethoscope" has over 600,000 members in just over 2 days! That's just amazing!!
19) Best "Nurses Save Lives" Response: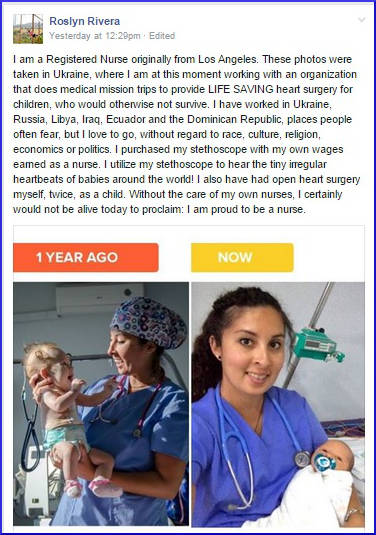 20) Best Written Response To The View:
Now, we read a ton of responses to the view and they're all amazing. So, we're not necessarily singling this one out as "the best". Rather, it's emblematic of the all the amazing responses that nurses everywhere took the time to write. We have given the response it's own page and you can read it in its entirety here. It was written by Katy Shindelus, RN and she was kind enough to let us share it. Here is an excerpt:
I once had a patient in the ER for whom family, along with the medical team, decided no more could be done and it was time to pull the plug. The family could not bear to watch their loved one die so they left the room. The doctor was also too busy to stay. I was also busy but could not imagine leaving this person to die alone in an empty hospital room. My coworkers realized this and took care of my other patients while I held the dying patient's hand and stayed with her until she took their last breath.
Seriously….nurses are freaking awesome. Thanks for everything you do!
As always, we hope you enjoyed this post. Please let us know how you feel about this topic by posting in the comments section below. And please let us know if there is something we missed!
http://blog.bluepipes.com/wp-content/uploads/2015/09/the-view-responses-image.jpg
360
710
Kyle Schmidt
http://blog.bluepipes.com/wp-content/uploads/2013/12/bluepipes-logo-blog-7g7-300x137.png
Kyle Schmidt
20 Of The Best Responses To The View's Remarks On Nursing #NursesUnite