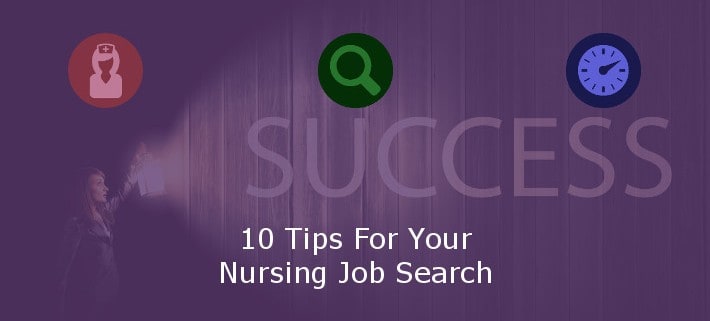 When it comes to searching for new jobs, nurses have the advantage of having a tried and true profession which allows for a focused job search. However, that doesn't mean the job search is easy. Moreover, there is a lack of actionable information available on how to find a nursing job. So in this blog post, we're going to provide 10 tips to help nurses maximize their results with job boards and 2 other useful online tools so they can spend more time engaged with other fruitful job search tactics.
Unfortunately for nurses, much of the information available on how to find nursing jobs is either too general for their unique circumstances or too vague to be of any real use. For example, this article from Lipincott NursingCenter.com tells nurses to prepare their resumes, use search engines like Google, and research potential employers. Thanks!
Meanwhile, NurseTogether.com offers 10 tips from New-Grads who recently landed their first jobs. While these are all nice stories, the information provided is all quite vague or common knowledge.
We cite these websites because they are considered authorities in the field, and rightly so. They are both highly informative and useful resources for nurses and we highly recommend them both. However, this particular subject requires more depth to be truly useful.
Before we begin, we have to point out that the traditional approach to searching for jobs online may be the least productive tactic for landing a job. We're referring specifically to job boards. Estimates indicate that only 10% to 15% of jobs get filled through job boards. This number could be higher or lower for nurses, we have no way of knowing.
While you certainly need to utilize job boards during your job search, you should also try to minimize the time you spend with them in favor of more fruitful tactics like networking. We hope that the tips below will help you accomplish just that!
What Nurses Should Know About Job Boards
Online job boards have become the go-to resource for job seekers in almost every profession. It's important to know everything you can about job boards in order to achieve optimal results with the minimum amount of effort. This way, you're able to get more out of your time.
A Quick History Of Job Boards For Nurses
In order to fully understand job boards, we need to have some idea of how they evolved. So here is a quick and dirty history of job boards for nurses.
They started as general services catering to all job candidates. Companies like Monster.com and CareerBuilder
Then, niche job boards started catering to very specific niches.
Then, job board software started being sold and anyone could easily put up a job board. Now, most hospitals and healthcare employers have their own job boards
Then, "job aggregators" like Indeed and SimplyHired started "scraping" jobs from everywhere and putting them on their "job search engines."
Now, sites like Monster, LinkedIn and others also "aggregate jobs."
Why is any of this important for nurses?!  Well, between all of these different types of job boards, there are tons of duplicate jobs across the web. For example, let's say that a hospital posts a nursing job on their website and also posts the same job to one niche job board like HealthECareers.com. That job will most certainly get picked up by Indeed, SimplyHired and Monster. It may get picked up by LinkedIn and others as well.
The most recent innovation in job boards has been the integration of networking with job boards. LinkedIn is obviously the most well known in this regard. However, some of the old job boards, like Monster.com, are starting to leverage networking in unique ways.
Tips For Using Job Boards For Your Nursing Job Search
Tip #1: Primarily Search Aggregators
One of the big problems with job boards before the advent of job aggregators was that you could get sucked into a rabbit whole and spend your entire day bouncing around different job sites in search of new jobs. Aggregators conveniently put almost everything in one location.
For example, we were able to find jobs indexed on Indeed from Monster.com, CareerBuilder, HealthECareers.com, HealthJobsNationwide.com, HealthcareSource.com, and various hospital websites. While aggregators shouldn't be the only place you search, they should certainly receive the lion's share of the time you devote to job boards because they will save you tons of time in the long run.
Tip #2: Register For All The Job Boards
Most job boards allow users to register and/or upload their resumes. We recommend that you do this for every job board that allows it. Why? Just because the jobs are duplicated doesn't mean the recruitment efforts are duplicated.
You see, job boards also have recruitment services via their back-end software applications. They sell recruitment subscriptions that allow recruiters to search their databases for candidates. And some offer highly sophisticated tools that help recruiters screen candidates. Of course, these tools are expensive so most companies signup for only one or two of them. Therefore, it's a good idea to be on all of them.
Tip #3: Set Up A Job Search Email Address
Of course, you open yourself up for all kinds of spam when you register with job boards and career services. No matter how hard you try to keep yourself opted out of their lists, you will undoubtedly slip up at some point. And when you do, your contact information will be subject to being sold over and over again.
You see, job boards are able to stop their own customers from accessing your information on the job board's site. But, once your information is taken from the job board by one of its customers, which recruitment subscriptions allow them to do, then the job board no longer has control of it. Meanwhile, nursing contact information has a high resale value, so you will get inundated with unwanted messages.
We highly recommend that you use Gmail to create your nursing job search email address because….
Tip #4: Set Up A Job Search Telephone Number
If you set up a Gmail account, then you can set up a free Google Voice account. Simply navigate to the Google Voice signup page after creating your Gmail account. With this service, you'll be able to select a telephone number from any area code. You can then set it up to forward calls to your cell phone. If you are not available, the caller will leave a message on your cell phone. Google Voice will also transcribe the voice message to text, add the text message to your Google Voice Inbox and send an email notification to your Gmail account.
This way, you can keep your personal number private. When your job search is complete, you can turn off the call-forwarding feature so you aren't bothered by any unwanted calls. There are other services that you can use, but Google Voice is perfect for this job.
Prioritizing The Job Boards For Your Nursing Job Search
As mentioned above, we highly recommend the use of Indeed.com or SimplyHired.com as your primary source of online job search activity. Again, this is because the vast majority of the jobs posted online will show up on these sites. However, this doesn't mean that you should rely on these sites ONLY. Again, our goal is to minimize our time but achieve maximum results. So in addition to these aggregators, here are 3 other considerations:
Tip #5: Check Craigslist
This might sound crazy. Craigslist is so 1990's, right? However, a lot of jobs are posted on Craigslist. The site has very reasonable rates compared to other premium job boards and it gets a lot of traffic which makes it an attractive option to many employers.
More importantly, Craigslist prevents job aggregators from indexing its job postings. This means that you will not find jobs posted on Craigslist anywhere else. There are plenty of Nursing jobs posted there including RN and NP jobs. Many smaller employers use the service, but there are also some hospitals on there.
Tip #6: Check LinkUP.com
LinkUp.com is another job aggregator. However, it only aggregates jobs from company websites. This means that it does not index jobs from job boards so there are far fewer duplicate jobs if any at all. Additionally, when you click on a link, you will be directed to the company site. LinkUp.com also has a pretty cool job search app for your smart-phone.
Tip #7: Realize That Job Boards Have a Lag
One of the downsides of job boards is that they're sort of the last ones to hear about the job. For example, before the job is ever posted to a job board, people working with the employer know there is a job opening. Moreover, it's typical for employers to attempt to fill jobs without posting them to a job board. They may solicit their current employees for referrals or they may try to recruit for the job via their social media channels.
Even if the job is posted immediately to the company's job site, there may still be a lag for the job to get picked up by a job aggregator. This is because job aggregators send out "bots" which are computer programs that crawl job boards to find new job postings. These bots may not recognize the new job posting for a day or two, maybe more.
This is one of the reasons that we recommend devoting more time to networking. But in the context of our discussion here, it's also a reason for you to spend a little time trying to stay ahead of the job boards by going directly to the job boards of your targeted employers.
Finding Your Target Nursing Employers
As mentioned above, one of the great things about being a nurse is that you have a legitimate profession. This means that your job search can be more focused. For example, if you're looking for a job in an acute care hospital, then there are only a hand-full in any giver area. Therefore, you should target them to stay ahead of the game.
Now, the more potential employers there are, the more time consuming it will be to target them directly. For example, if you want to work in a Family Physician's office, then there are a lot more of those than there are hospitals. Moreover, they may not even post their jobs on their websites. That said, it's still a good idea to target these types of employers because it's likely that they're more open to networking in order to find their new hires.
That said, here are two excellent ways to track down healthcare employers in your area.
Tip #8: Use the American Hospital Directory's Free Service
The American Hospital Directory is a service that provides data and statistics on over 6,000 hospitals nationwide. They collect data from a variety of public and private sources. They charge clients like pharmaceutical companies and medical device manufacturers for access to their premium content. However, their free service is perfect for nurses looking to track down all the hospitals in their area. You can also use it to get stats on your current or former employers for inclusion on your resume. Here's how it works:
First, go to AHD.com. On the home page you'll see a menu item titled "Free Search". Click it.

You'll be taken to the Free Hospital Profiles page. We want to conduct an "Advanced Search". Select "Seach" next to "Advanced Search".

This will take you to the Advanced Search page. From here, you want to enter the city and state that you're researching. Additionally, you want to conduct searches for all the municipalities that you're willing to consider. For example, if you want to work in the Atlanta, GA area, then you might want to also search for suburb cities like Marietta and Alpharetta.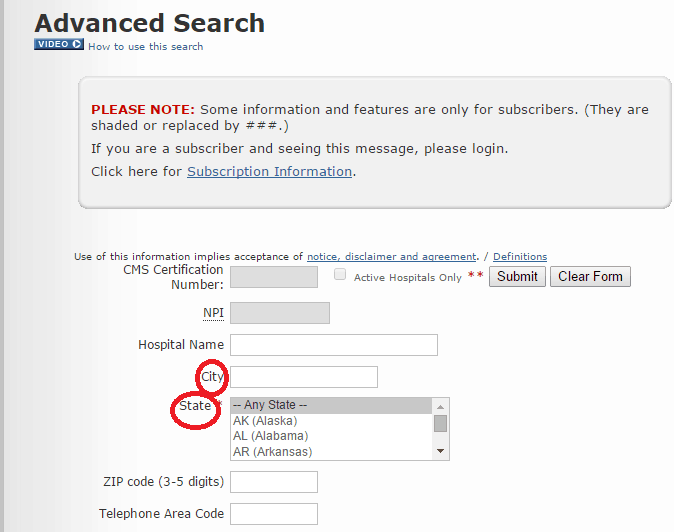 This tool will help you find all of the hospitals in a given area. It also provides their web addresses. You can visit the sites to do research and review their job postings.
Tip #9: Use Insurance Provider Directories
Of course, not every nurse wants to work in a hospital. There are tons of other settings that you may want to work in. How do you track down these other potential employers in your area?
You can use Insurance Provider Directories. These are directories that insurance providers put out so that their customers can find medical professionals who accept the insurance. Sometimes you can find them in PDF format. Other times, you can find them by visiting the insurance company's website.
There are several approaches you can take. First, try to do a Google search for: physicans in Some City, Some State, where the city and state are your desired locations. Or try searching for: SomeCity physicians directory. Using the term directory usually yields the best results.
Second, find the insurance companies that operate in your area and conduct a search for their provider directories. For example, you might search for Anthem Provider Directory Sacramento, CA. You may find a PDF document like this one that lists all the Medi-Cal providers in Sacramento, CA.
You can also try calling the insurance company directly to obtain a copy of their provider directory. They may email you a PDF or mail you a hard copy. Along the same lines, you can contact your own insurance provider to have them send you a copy or ask a friend or relative to do this.
Finally, you can try visiting the insurance company's website directly. The biggest insurance companies typically have provider directories on their sites.
This next part is important. You're looking for a resource that has all the information you need on one page so that you don't have to flip back and forth or click all over the place to find what you're looking for.
Of course, you need to know what you're looking for! If you are looking for a Family Practice Physician's office, an Urgent Care Clinic or another type of small setting, then you need to know whether or not they're affiliated with a larger medical group.
For example, many Family Practice Physicians work through Hospitals or large "Physicians Groups". It's important to know this because if they work through a larger group, then all the hiring most likely gets done through the group as opposed to directly through the practitioner's office.
One example would be a Family Physician that works for/through a hospital. Their jobs will most likely be posted on the hospital's website. On the flip side, independent employers typically maintain complete control over their hiring processes.
My experience indicates that PDF and Hard Copy Provider Directories are typically the best resources for this because they have all the data you need on one page. We found this provider directory from Anthem online. The snippet below will give you an idea of we're talking about.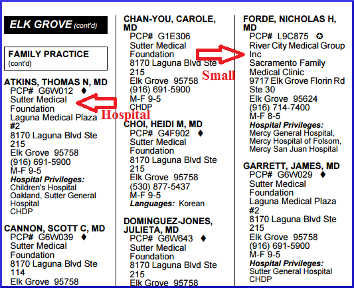 However, insurance company websites can be very useful too. This one from Anthem Blue Cross is really cool. Here's how to use it.
First, select a state and a plan under "Search by Selecting a Plan/Network". I recommend choosing an employer option as the plan because they to have the most providers covered which will give you the largest possible set of data. In this case, I selected the Advantage PPO.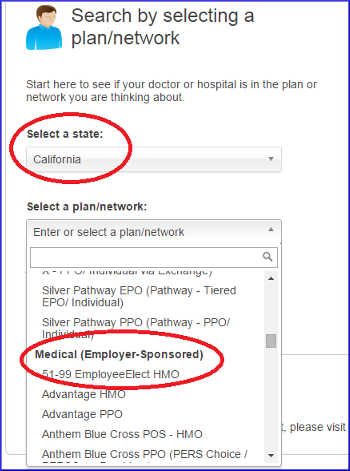 On the next screen, you'll be able to really drill down to find exactly the types of potential employers you're looking for. They have 11 different categories and some of the categories have multiple specialties.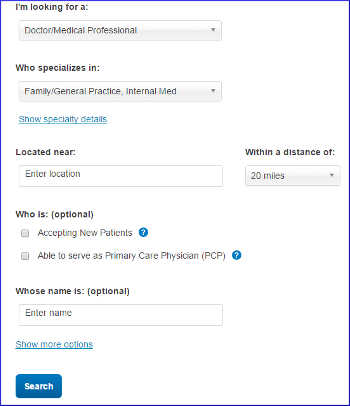 While the search features on this website are absolutely amazing, the downside is that the results pages do not include the affiliation. Therefore, you'll have to click through to find it.
You're probably wondering what you're supposed to do with all of these prospective employers that you'll find. As mentioned previously, many of these employers will be independent or work for very small groups. These employers tend to fill their jobs through word-of-mouth.
I know this sounds old-fashioned, but one thing you can do is pick up the phone and start dialing for dollars. Another option is to track them down on social media and engage them there. Remember, the vast majority of jobs are filled through networking and these are both perfectly acceptable networking approaches. Finally, you can try to find their websites online and see if they post jobs there.
Tip #10: Sign Up For Job Alerts
We left this one for last for a reason. We thought it was important that you have a complete understanding of the hierarchy of job boards. Specifically, job aggregators are the most efficient job boards because they include the vast majority of jobs that are posted online. However, they also have a lag.
With that in mind, it's important to sign up for job alerts with at least one aggregator and as many company websites as you can. Not all company websites have job alert systems, but when they do, you should definitely sign up for them because you could get a head start on applying over candidates who rely only job aggregators. Remember, you'll be signing up with your Job Search Email Address, so you won't need to worry about getting spammed in the future.
We hope you found this information useful. As always, we'd love to about your experiences with this subject or answer any questions you may have. Use the comments section below. And remember, the single best way to land a job is through networking, so join BluePipes, invite your colleagues and start building your professional network while taking advantage of all the great tools designed specifically for nurses!
http://blog.bluepipes.com/wp-content/uploads/2015/03/10-tips-nursing-job-search.jpg
360
710
Kyle Schmidt
http://blog.bluepipes.com/wp-content/uploads/2013/12/bluepipes-logo-blog-7g7-300x137.png
Kyle Schmidt
10 Tips For Your Nursing Job Search