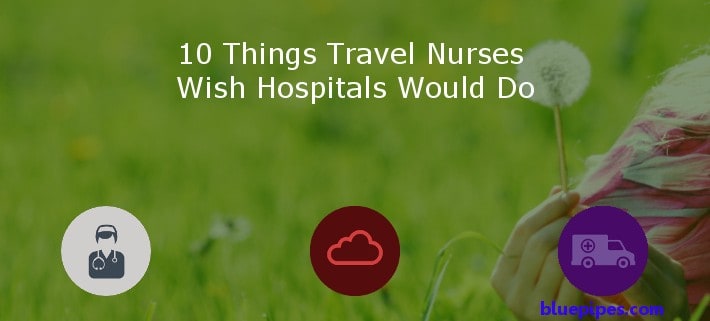 Hospitals utilize travel nurses when in need of highly experienced professionals to cover short-term staffing needs. Of course, temporary work situations always pose challenges for all parties involved and there are many unique challenges when it comes to travel healthcare. In this blog post, we'll take a look at 10 considerations that travel nurses would share with hospitals in an effort to achieve the primary goal of efficiently providing exceptional patient care.
Before we begin, it's important to stress the unique circumstances that hospitals and travelers face when engaging in travel contracts. Simply put, hospitals are counting on travelers to immediately become highly productive team members and travelers share this goal. After all, the average travel nursing contract is typically 13 weeks which is a very short period of time in and of itself.
Getting up to speed quickly isn't much of a problem in many work settings. However, hospital work is highly technical and specialized. Add to that the dire stakes inherent in hospital settings and we're actually faced with a very daunting challenge.
Many of the suggestions in this blog post are made with these unique circumstances in mind. Many of them are intended to achieve greater results in less time. And all of them are intended to achieve the primary goal of delivering exceptional patient care.
1) Make Orientation Information Relevant To Travel Nurses
It's fair to say that a significant percentage of hospitals put their travel nurses through the same orientation that permanent staff go through. Hospitals do this for several reasons. First, it might be viewed as more cost effective to orient all employees through one orientation program as opposed to conducting multiple orientations. Moreover, holding just one orientation makes it easier to ensure that all the required bases are covered for all employees.
However, this means that travel nurses sit through presentations on benefit packages and other subjects that are not pertinent to them. Travel nurses would prefer to spend this time in a more productive manner. After all, they're being counted on to become productive team members more quickly than the newly hired permanent staff.
The middle ground would be to schedule orientation subjects in blocks according to their relevance to travelers. This way, travelers can be scheduled in and out of pertinent blocks and spend the unscheduled blocks of time engaged in more productive activities. For example, many travelers would love a little extra floor orientation or a full hospital tour to bring them up to speed more quickly.
2) Provide Some Equipment Time for Travel Nurses
A lot of the equipment used in hospitals is commonplace throughout the industry. However, there are many manufacturers and models which means that there are small differences in how things function. As a result, many travel nurses would love to have access to the common equipment they'll be using while it's not attached to a patient. Just a short period of time is all that's needed to gain full proficiency.
3) Make Access A Priority For Your Travel Nurses
Travel nurses often hit the floor without access to the vital tools they need to adequately perform their jobs. Hospitals should make it a priority to ensure that their travelers have their own computer and Automated Dispensing Cabinet access on day one of the assignment.
4) Take Note Of Your Travel Nurses' Email Access
As with all organizations, email is commonly used by hospitals to communicate with staff. Unfortunately, hospitals rarely provide their travelers with a company email address. Many travelers indicate that their Unit Managers and colleagues routinely request staff to check their emails for updates and changes on a wide variety of critical issues. Be sure that your hospital has a plan to ensure that travelers receive these updates in some other format.
5) Broadcast The Travel Nurse's Contract Terms
Travel nursing contracts encompass a set of work related agreements. Some of the agreements, like shifts, start dates, and end dates are an inherent part of every contract. Other agreements can be worked during the interview process on a contract-by-contract basis. For example, travelers might negotiate days off, float agreements or other considerations during the interview with the nursing manager.
Problems can arise when pertinent parties are not informed of the contracted agreements. For example, if the staffing office isn't informed about the contracted days off, then they may schedule the traveler on those dates and ultimately end up having to revise the schedule after it's released. This could end up having a negative impact on staffing levels.
It's important for hospitals to broadcast their contracted agreements with travelers to all the appropriate parties to ensure that everything runs smoothly and productively.
6) Provide Travel Nurses With A Facility Map In Advance
It's important to remember that travel nurses are not local. They often arrive at their assignment destinations one to three days prior to the start date. And there really is no other alternative. They often have a very short time-frame to travel from one assignment to the next. Moreover, their housing typically isn't "move-in ready" until 1 to 2 days before the assignment starts.
As a result, travelers are not able to scout their new facility in the same way a local hire can. And hospitals are big places! Therefore, it's very helpful when hospitals provide a basic map of the facility in advance. The map may include the following information:
Location of the orientation meeting point.
Accessible bathrooms.
Drinking fountain and vending machine locations.
Cafeteria location and hours.
Parking location.
Staffing office location.
Telephone contact information for orientation personnel.
Location of the security office.
7) Provide Travelers With A Facility "Cheat Sheet"
Remember, travelers are expected to be highly productive team members in just a very short period of time. Hospitals have financial and patient care related incentives to get the best results out of the travelers they bring in. In this regard, many travelers feel that detailed cheat sheets would be highly beneficial. The cheat sheets might include:
I list of Doctors with privileges at the hospital along with contact information, specialties and practice/group information. Be sure to use names as they are listed in the hospital's EMR system as well as the preferred names they're referred to by staff.
Steps for admissions and discharges.
Contact numbers for labs, pharmacies and other commonly used resources.
Policies and procedures used on the floor. This might include how to document blood administration, narcotics and other common issues.
8) Consider Providing Some Housing Possibilities
Most hospitals are unaware that housing is often a deal breaker for travel nursing assignments. In some locations, agencies and travelers are unable to locate affordable housing options. This typically happens in larger metropolitan areas like San Fancisco or New York City. In other locations, agencies and travelers are unable to find adequate housing. This typically happens in small towns and rural areas.
Of course, hospitals are counting on agencies to take control of housing. After all, that's part of what agencies are paid to do! However, agencies commonly work with thousands of different markets and they simply aren't able to become experts in every market. Some hospitals might find it advantageous to offer a little local expertise by providing some standard housing possibilities in the area.
9) Things to Consider When Floating Travel Nurses
Most travel nurses accept and understand that floating is part of the job. However, travelers often make the following suggestions:
Try not to float travelers right from the start. Give them a couple of weeks to familiarize themselves with the hospital and their unit. This will help ensure smooth transitions and quality patient care.
Refrain from floating travelers in specialties they aren't experienced with. For example, most ICU nurses aren't experienced with MedSurg floor nursing. L&D, NICU, PEDS and PICU nurses typically have no experience caring for adult patients.
Add travel nurses to the floating rotation with the rest of the staff to prevent burnout and inspire team work.
10) Welcome Travel Nurses As Part Of The Team
Different hospitals relate to travel nurses in different ways. Some hospitals welcome travelers as part of the team. They introduce them to all staff including doctors and support staff. They include them in team activities and after hours events.
By contrast, other hospitals view travelers simply as temporary relief. They assign travelers all of the most difficult patients. They always float travelers first. They neglect to introduce them to staff members or include them in team activities. Ultimately, the traveler winds up on an island, marginalized from from the group.
It's important to remember that providing quality patient care requires a team effort. Instituting a welcoming atmosphere ensures that everyone can truly be part of the team.
At the end of the day, it's important to remember that travel nurses have hundreds of things on their minds when entering a new hospital. And given the limited amount of time they're dealing with, they can't really afford to push these things off to the future. Volumes of research indicates that clear minds perform better. Therefore, the more that hospitals can do to address these factors quickly, the quicker their travelers will become productive members of the team.
As always, we hope you found this blog post useful. Please share your experiences with this issue along with any questions you may have in the comments section below. And please let us know if we missed something important!
http://blog.bluepipes.com/wp-content/uploads/2015/10/travel-nurse-wish-hospitals-would.jpg
360
710
Kyle Schmidt
http://blog.bluepipes.com/wp-content/uploads/2013/12/bluepipes-logo-blog-7g7-300x137.png
Kyle Schmidt
10 Things Travel Nurses Wish Hospitals Would Do