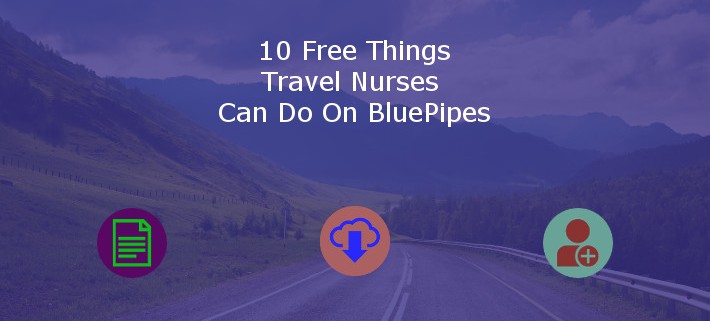 BluePipes is a professional networking website designed specifically for healthcare professionals. As such, it's able to provide unique features that solve many of the problems healthcare professionals face when managing their careers. There are a host of features on BluePipes that are highly beneficial for travel nurses and travel allied professionals. We've been contacted by many travelers wanting to find out exactly what the site does, so in this blog post, we'll discuss 10 things that travelers can do for free on BluePipes.
Before we start, I thought it would be best to let you know about something that BluePipes doesn't do. BluePipes does not sell your contact information to third parties. Additionally, BluePipes doesn't sell access to any documentation you store on the service. This marks a huge difference between BluePipes and most other services designed for travel healthcare professionals.
With BluePipes, you'll see that you have a minimal public profile akin to what you would expect with a service like LinkedIn. This minimal public profile is all anyone will ever be able to see, unless you grant them access to see more. This will never change. With that in mind, let's take a look at all the awesome things you can do for free on BluePipes.
1: Create a Resume That Recruiters and Unit Managers Will LOVE
Hospital and other healthcare employers require very specific details regarding the candidates that healthcare staffing agencies submit for open jobs. In fact, we highlighted 33 different details in this blog post on how to write travel nursing resumes. Standard resume formats and details just won't cut it.
So the BluePipes profile builder was designed to help you recognize and record all of the details that hospitals and hiring managers typically require. The system conveniently walks you through the process so that you know exactly how to record everything that needs to be recorded. Here is what some of our members have to say about the resume feature:
BluePipes made creating a resume as easy as filling in the blanks, and has transformed my resume to one that generates numerous compliments.
For me it's easier than doing my own. I don't have to keep a copy on my computer or on a jump drive, easier for me to update from any computer since I don't have to worry about formatting.
As we've mentioned before, agencies typically don't send a traveler's resume to hospitals. Instead, many agencies send resumes that are generated by their Applicant Tracking Systems. These are the systems that you typically use to fill out an agency's online job application.
However, one of the main reasons that agencies use these applicant tracking systems is because the systems help capture all the information that is commonly required. In other words, many agencies would gladly use a traveler's resume if it had it all the details they needed.
You can view a sample BluePipes resume here.
2: Create A Job Application With All The Signing Statements And Background Questions
The BluePipes profile builder also allows travelers to create their own job application complete with all of the standard signing statements and background questions that agencies need. This is another reason that agencies are determined to get candidates to complete their online applications. They need to get your agreement to allow them to conduct background checks, reference checks and other standard checkups. They also need to have you answer some common background questions that are typically required by hospitals.
BluePipes provides you with the ability to render all of this information, along with the rest of your profile data as a full PDF job application. Again, the BluePipes document was modeled after common Applicant Tracking System documents.
You can view a sample BluePipes job application here.
3: Create Your Own Travel Nursing Skills Checklists
BluePipes has comprehensive skills checklists for over 100 physician, nursing, and allied specialties. Members can complete them at their convenience and save them for later use. You can view a sample nursing skills checklist here. Just like the resumes and job applications, the skills checklists can be downloaded as PDF documents. Or, they can be conveniently emailed from your BluePipes File Cabinet.
4: Store Copies Of Your Licenses and Certifications
That brings us to the BluePipes File Cabinet. The File Cabinet feature lets you upload and store up to 100 megabytes of documents. You can easily store copies of your licenses, certifications, and clinical records with that much storage space.
Moreover, the feature was designed with travel healthcare professionals in mind. We know that travelers typically make copies of multiple documents on a single file. For example, you might copy your RN license, ACLS, BLS, Drivers License, and Social Security Card on page. The BluePipes file cabinet allows you to tag that document with each of those titles so that you can stay organized. You won't have to wonder what is included in the document because it will be tagged. You also won't need to upload a separate copy for each document like many other services require.
Once your documents are uploaded, you can conveniently email them to anyone you choose. Moreover, you can email them along with your resume, application and skills checklists. This way, all of your travel nursing documentation is conveniently stored in one location that can be accessed from anywhere you have an internet connection.
5: Utilize the Advanced Search Feature
BluePipes provides members with access to an advanced search feature to help them find people they might be interested in communicating with. For example, if you're looking for a recruiter, then you can search for the term 'recruiter' in the Work History field to view the top 100 results for that search term. Or, maybe you're interested in finding someone who has worked at a particular hospital that you're considering for your next assignment. You might want to ask them how the assignment was. You can search for that hospital in the Work History field to find colleagues who worked there.
6: Send Connection Requests to Other Members
Once you find a member using the search feature, you are able to send them a personalized connection request. Like other social and professional networks, we recommend that you send personalized connection request to members that you know or have something in common with. The great thing about a professional network dedicated to healthcare professionals is that you'll have something in common with pretty much everyone. So you'll be able to inquire about common interests.
7: Send Connection Requests and Messages To Recruiters
Unlike other professional networks, BluePipes differentiates between healthcare professionals and everyone else, like recruiters. As a result, we're able to institute different rules pertaining to communication between the two. And healthcare professionals are able to send messages and connection requests to recruiters at their convenience.
This way, healthcare professionals can use messages to open a line of communication with a recruiter without actually connecting with them. When you're ready to connect, you can send the connection request.
Meanwhile, recruiters have different rules for communicating with healthcare professionals on BluePipes. Recruiters can only send messages and connection requests to a healthcare professional under two scenarios. First, recruiters can initiate contact if they have the email address the healthcare professional used to create their BluePipes account. This is how BluePipes verifies that recruiters know the healthcare professionals they are attempting to communicate with.
Second, recruiters can initiate contact if they have a paid subscription. This is one of the ways that BluePipes generates revenue. Instead of selling the healthcare professional's information to recruiters, BluePipes sells them the ability to message candidates, but only through the BluePipes platform.
8: Display Your Job Availability On Your Profile With Privacy Controls
The BluePipes Availability Feature allows you to display your job availability on your profile so that you can leverage your professional network to help you land your next job. The feature includes privacy controls so you can control who is able to see your availability settings. You can even keep your availability completely private if you wish. LinkedIn offers a similar service, but it requires a paid subscription to use.
We know that travelers are looking for their next job more frequently than other professionals. As former recruiters, we routinely heard travelers express frustration with the amount of time they spent conducting job searches. The Availability Feature helps simplify this process by providing you with a mechanism to leverage your professional network to land your next assignment.
9: Invite Recruiters and Fellow Travelers To Connect
Of course, leveraging your professional network requires that you have one in the first place. Like other professional networks BluePipes lets you invite your recruiters and colleagues to connect with you. Of course, you maybe wondering why you would want to do this on BluePipes when you can do the same thing everywhere else.
The reason is that the unique features available on BluePipes make it a much more powerful professional networking platform than any other service. As mentioned above, you can display your availability on your profile so that your recruiters and colleagues can see what you're looking for in your next assignment.
Moreover, you have access to advanced search tools that will allow you to search for recruiters and colleagues who might be able to help you in your job search process. And because BluePipes lets members print their profiles as resumes and applications, they have an incentive to include more detailed information about their careers. So if you're looking for someone who has worked in San Antonio, Texas, then you're bound to have better luck on BluePipes than on Facebook or LinkedIn.
10: Participate In The BluePipes Forum
A networking website wouldn't be a networking website without the ability to communicate. BluePipes currently has a Q&A forum that will soon be changed to a full fledged forum. This way, you can keep your personal life and professional life separate, and do it on a site dedicated to healthcare professionals. Of course, we'll continue to expand this feature as we progress.
BluePipes currently has thousands of members and the feedback has been overwhelmingly positive. We have even had over 25 agencies contact us to verify that they will accept your BluePipes documentation in lieu of completing their. In fact, some of the highest rated companies in the business will accept your BluePipes documents. Join for free and find out what all the fuss is about!
http://blog.bluepipes.com/wp-content/uploads/2015/03/travel-nurses-for-free.jpg
360
710
Kyle Schmidt
http://blog.bluepipes.com/wp-content/uploads/2013/12/bluepipes-logo-blog-7g7-300x137.png
Kyle Schmidt
10 Free Things Travel Nurses Can Do On BluePipes